The shared sentiment amongst the greater coffee community is that non-dairy milk is a customization, and it is priced as such. No matter the order—be it a four-ounce cortado or a 16-ounce iced latte—customers are expected to pay between 50 cents to a dollar to swap cow's milk for a non-dairy alternative. 
While we could argue several points against this arbitrary charge (trust us, we're really close to a full-on rant), we'll side-step the soap box for now. When navigating the world of chain coffee shops, here's what you need to know when in search of your next oat milk cappuccino.
Why do places charge extra for non-dairy milk?
If you're vegan, or just prefer non-dairy milk in your coffee, treating yourself to an on-the-go caffeine fix only to be hit with an extra charge can be very frustrating. This may be because the price of plant-based milk is more expensive. According to The Guardian, vegan milk costs twice the price of cow's milk, despite the fact that research suggests they are better for our health, the planet, and for animal welfare, too.
That said, some coffee shops are making changes. Some of the entries on the list below have stopped charging extra for alternative milk completely, while others have trialed dropping the charge for environmental reasons. And while we're still waiting for the US to catch up, in the UK, Starbucks has even stopped charging customers extra for vegan milk. 
To avoid surprises (especially in this economy), preparation is key. Here's what to expect when you head to one of the top coffee shops in the country to grab your go-to latte or cappuccino order.
Dairy-free milk charges at 10 national coffee shops
Starbucks
1 Starbucks
On the bright side, Starbucks carries a plethora of solid non-dairy milks, and its Oatly supply seems to have finally stabilized. Unfortunately, this array of plant milk is going to cost you. Most Starbucks locations charge 70 cents for soy, oat, almond, coconut, or almond milk; however, the upcharge can soar up to 80 cents in certain key areas such as New York City.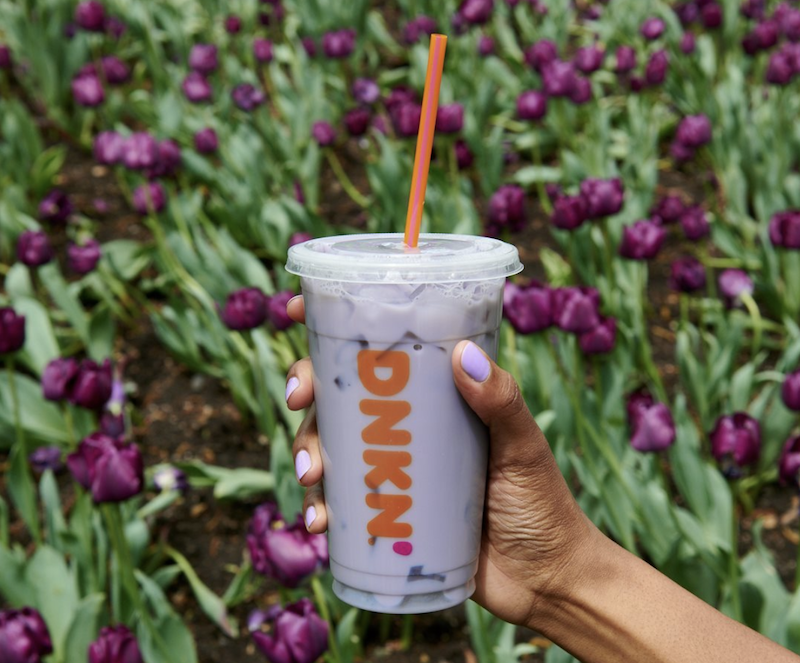 Dunkin'
2 Dunkin'
Dunkin' fans who stick to just coffee are in the clear here. The chain doesn't charge extra for adding oat, almond, or coconut milk to hot or iced coffee. A 50-cent upcharge is only placed on lattes and other milk-based espresso beverages. Pro tip: Order your usual Medium Regular with oat milk and opt for a latte elsewhere.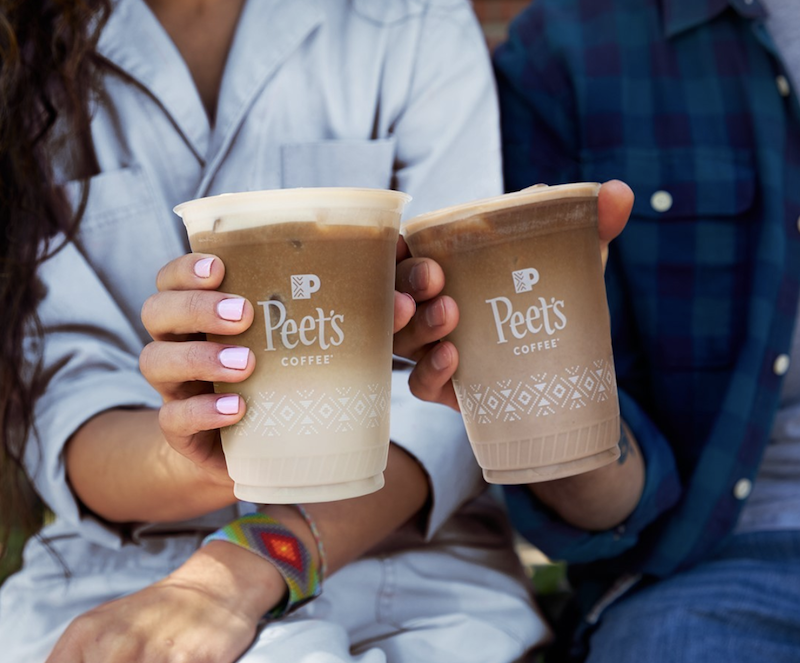 Peet's Coffee and Tea
3 Peet's Coffee and Tea
We applaud Peet's for its efforts to keep up with the plant-based movement. While discontinued, the chain carried vegan whipped cream beginning in 2016, and it has carried vegan cookies and muffins for years. We also can't get enough of the new Plant-Based Breakfast Sandwich made with Beyond Meat Breakfast Sausage and JUST Egg. Peet's could only improve by dropping its 80-cent dairy alternative upcharge.
That said, the chain has been making progress. In April 2023, it dropped the charge for Earth Month in a bid to gain more insight into dropping the charge for good."While we would love to make a permanent change for pricing, this is a conscious start," said a spokesperson. "Our Earth Month Free Dairy-Free program will help us better understand demand among Peet's customers in the future."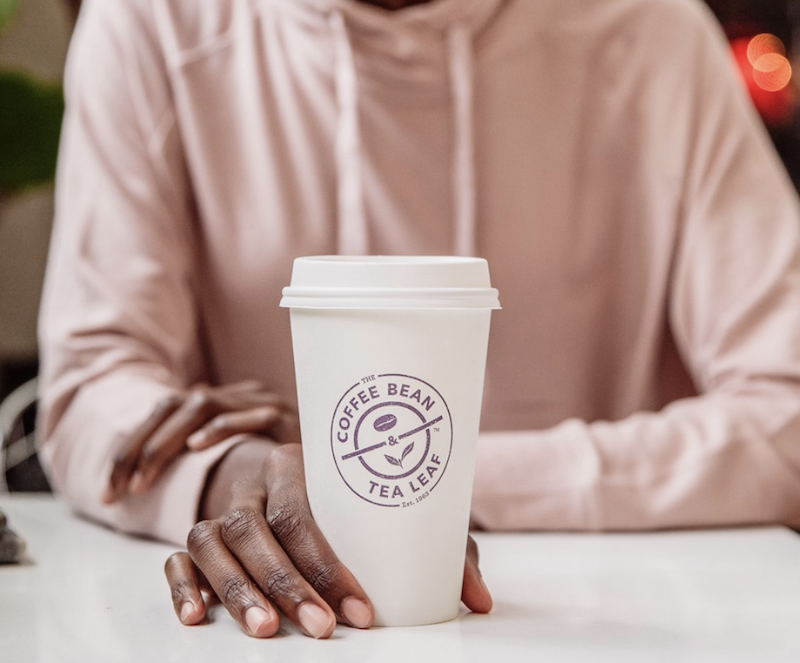 Coffee Bean and Tea Leaf
4 Coffee Bean and Tea Leaf
Dairy-free patrons do not have a lack of options here—the chain known for its Ice Blended Drinks carries soy, almond, coconut, and oat milk. It'll just cost you 60 cents extra for that oat milk flat white with vanilla bean sauce (avoid the powdered flavorings as they all contain dairy).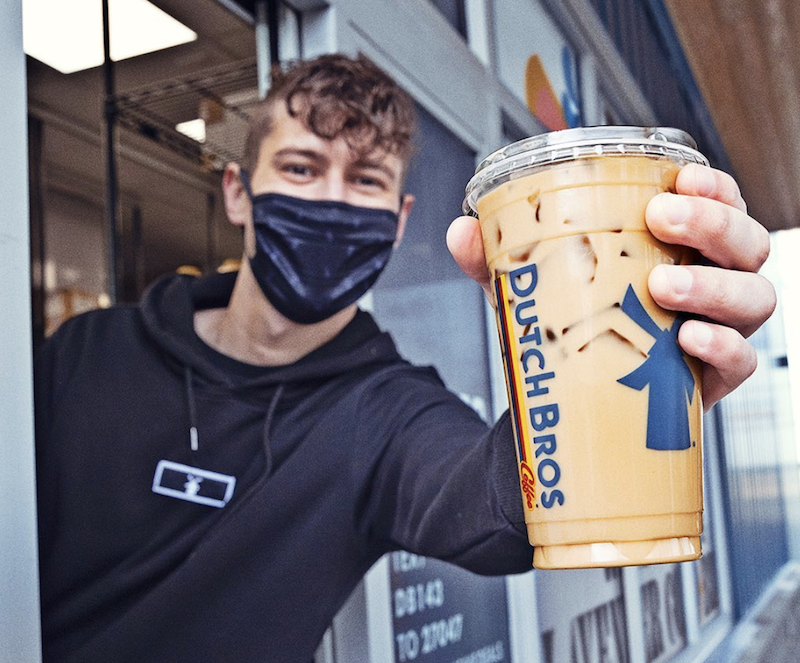 Dutch Bros
5 Dutch Bros
If you're really on the move, swing by a Dutch Bros. This drive-thru-only coffee chain carries oat, almond, and coconut milk as well as soy milk in select locations. Before you hand over your credit card, know that it'll cost you 50 cents extra for that almond milk latte with chocolate macadamia nut syrup.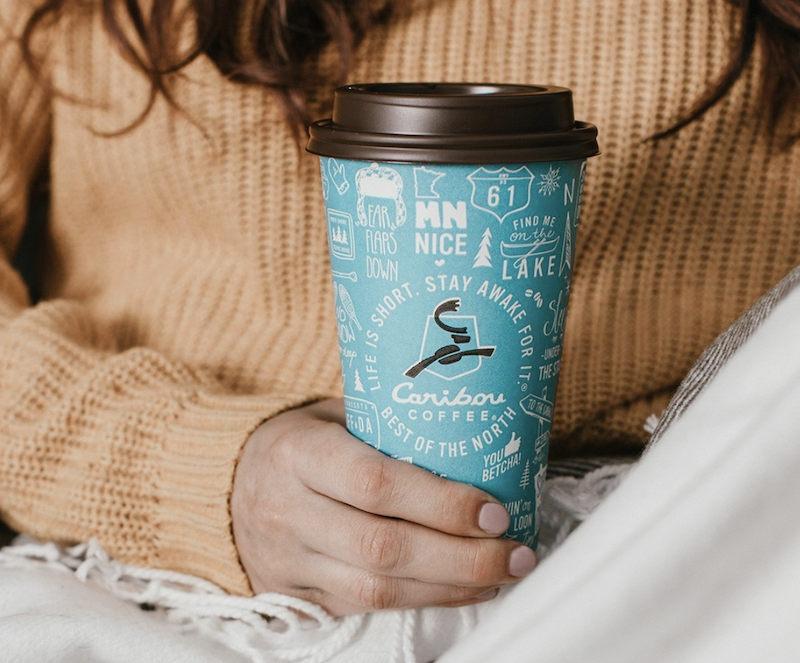 Caribou Coffee
6 Caribou Coffee
There must be gold flakes infused in this chain's soy and almond milk supplier because you'll pay an extra 80 cents for any milk-based espresso beverage ordered with a dairy-free alternative. However, in April 2023, the chain introduced a new policy for users of its customer rewards program. If you're a member and you order your latte through the Caribou app, you won't have to pay the extra charge.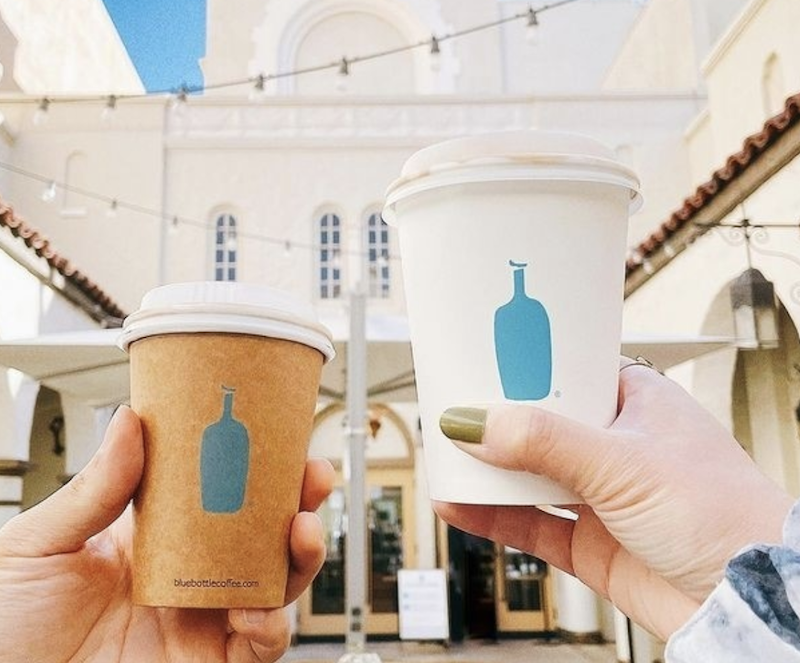 Munching with Megan
7 Blue Bottle
For a third-wave coffee shop with 90 locations, we were shocked to discover that almond and oat milk are free of charge at Blue Bottle. We've become regulars, naturally.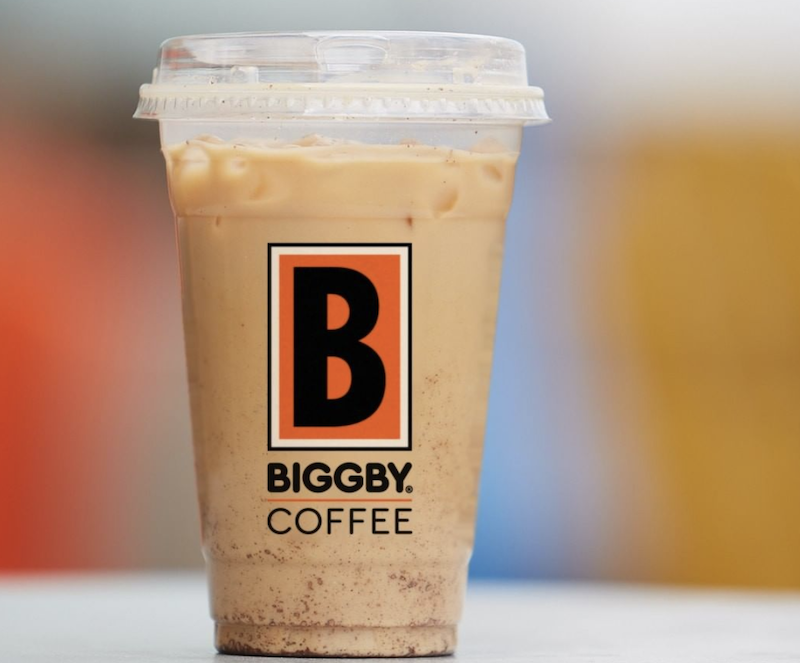 Biggby Coffee
8 Biggby Coffee
This Midwest coffee shop puts a premium on almond and oat milk, but if you order soy or coconut, you can avoid the 50-cent upcharge. Remember that next time you visit for a uniquely flavored latte.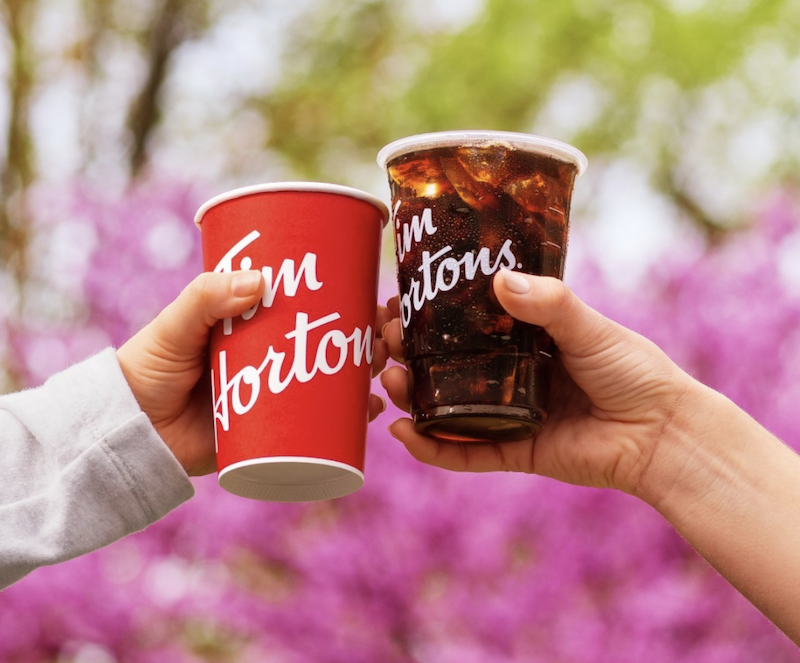 Tim Hortons
9 Tim Hortons
Tim Hortons for the win! While a bit late to the non-dairy party, this chain has never implemented an upcharge for its soy or almond milk. Note: Not all locations carry both alternatives.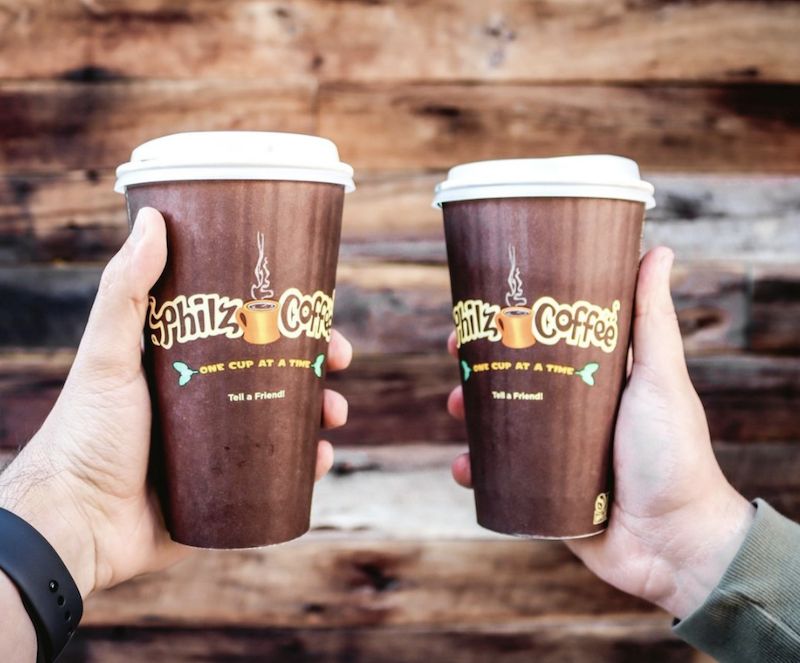 Philz Coffee
10 Philz Coffee
Hat's off to this coffee-focused chain. Not only does it not upcharge for its oat, soy, or almond milk options, but it actually removed two-percent milk from its menu to make way for these high-demand plant milks. Take note, Starbucks.
For more about non-dairy milk, read: