In the last few years, the word "flexitarian" has become more popular in the US. In a nutshell, those who identify as such choose to eat plant-based a few days a week, in a bid to cut down on their meat consumption for health or environmental reasons. But this concept is not new. In fact, in places like Ethiopia, eating only vegan food for a few days out of the week is a way of life.
Research suggests that more than 43 percent of the population in Ethiopia are Orthodox Christians. And in the Ethiopian Orthodox Tewahedo Church, Wednesdays and Fridays are fasting days. But Ethiopians who fast aren't going without food completely these days, instead, they're just avoiding animal products. This means that many of the country's traditional dishes are totally vegan by default, and they're also delicious, too.
Here's more about why Ethiopian food is mostly vegan, what type of dishes you can expect from the country's cuisine, where to get it, and how to make it yourself.

Why is Ethiopian food mostly vegan?
As highlighted above, a significant number of Ethiopians are Orthodox Christians and choose to partake in fasting days.
"The strictest Ethiopian Orthodox Christians eat nothing from getting up in the morning until about 3pm on fasting days," explains Cathy, a vegan who lived in Addis Ababa, Ethiopia for two years, for The Vegan Society. These fasting days happen on Wednesday, the day that Christ "was betrayed," and Friday, "when he was crucified."
"When you look at the variety and tastiness of the 'fasting' food on offer, fasting periods are not really a hardship at all," she continues. "And for visiting vegans, the food on offer is a delight."
Ethiopian Orthodox Christians also eat vegan food for several weeks before major festivals, including Easter and Christmas. This means that they are vegan for around 208 days out of 365.
What is Ethiopian food?
Ethiopian food encompasses a number of different dishes. While there are some meals that include meat (like beef stew, for example), a significant number of traditional dishes consist of just vegetables. 
Misir wot, for example, is a spiced red lentil stew, and atakilt wat features cabbage, potatoes, and carrots. There's also gomen wat, which features collard greens and azifa, a lentil salad with mustard. In general, when it comes to vegan Ethiopian food, expect to find plenty of vegetables, like leafy greens and lentils, which are cooked in plenty of spices to produce a flavorful, aromatic dish.
But one of the most common foods in Ethiopia, which is vegan by default, has to be injera.

What is injera?
Most Ethiopian dishes, including the ones described above, are served alongside injera, which is a type of soft, spongy bread, often made with teff, a species of lovegrass native to Ethiopia. It's totally vegan and, similar to naan in India, it serves as an eating utensil, soaking up the flavors and spices of the dish you're eating. Injera isn't just eaten in Ethiopia, but also in neighboring Eritrea, as well as some parts of Sudan.
Where to get great Ethiopian food
If you're in the US, there are a number of great restaurants where you can find vegan Ethiopian food. In California, for example, there's Tadu Ethiopian Kitchen in San Francisco and Awash Ethiopian Restaurant and Market in San Diego. And in New York, head to spots like Ras Plant Based and Makina Cafe Ethiopian-Eritrean Eatery. But that's just scratching the surface. For more suggestions, check out our guide to the best vegan Ethiopian food in the US here, and find the best spots in New York specifically here.
Vegan Ethiopian recipes
If you'd like to try your hand at cooking Ethiopian food from home, there are plenty of delicious vegan recipes to try. Here, we've gathered just a handful of the best.
1 Lentils & Collard Greens
This tasty recipe combines two traditional Ethiopian plant-based ingredients: lentils and collard greens. Thanks to the spice mix, which includes cumin, cinnamon, and chili, the dish is bursting with flavor and goodness. It's set to become one of your new go-to healthy meals.
Get the recipe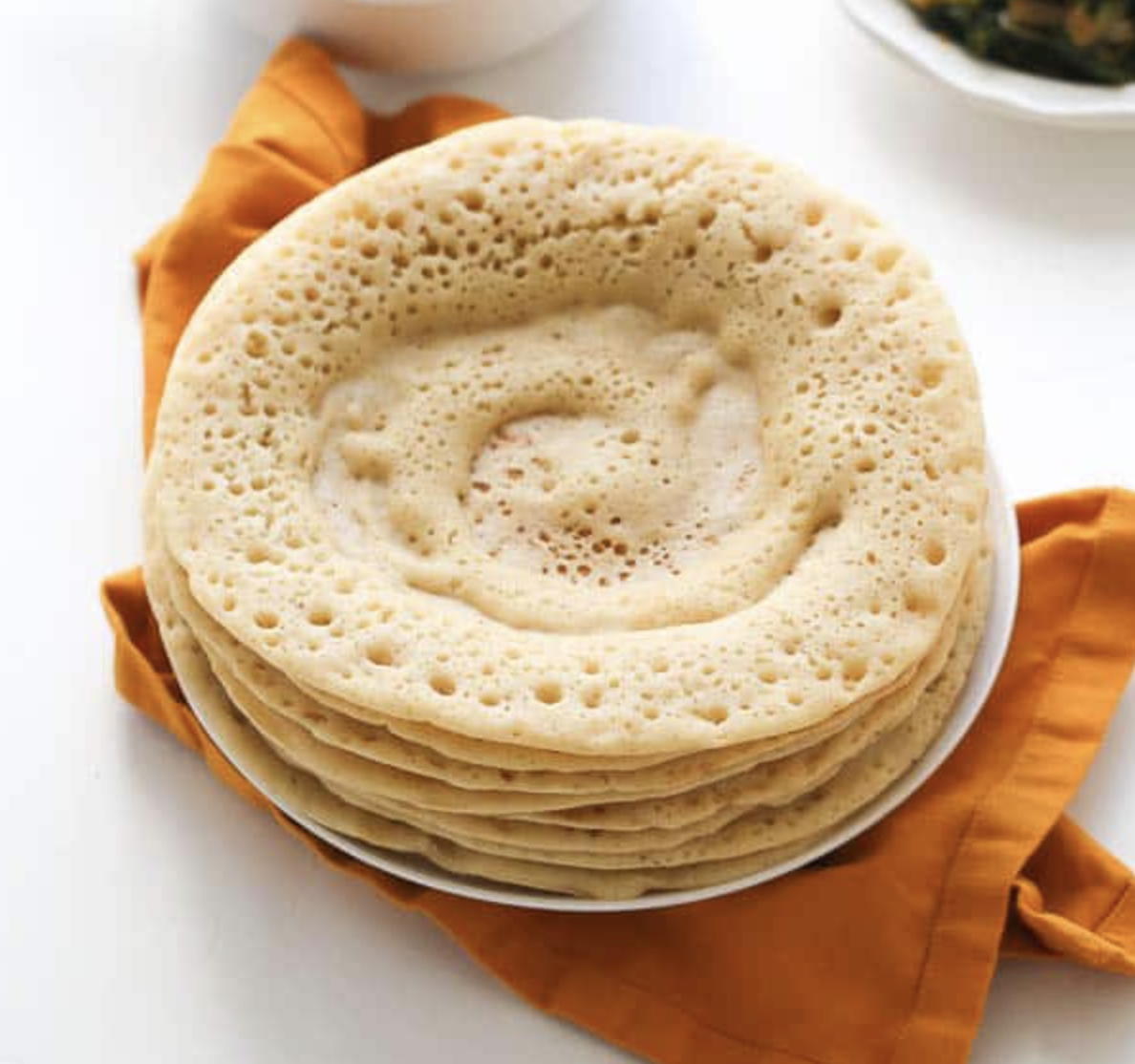 African Bites
2 Injera
Of course, if you're going to eat Ethiopian food properly, you'll need injera. While it is possible to buy the spongy flatbread from places like Amazon and Whole Foods, you can make your own delicious version from home, too.
Get the recipe
Vegan Richa
3 Mushroom Tibs Stir-Fry
While a huge amount of Ethiopian food is vegan, some traditional dishes, like tibs, is made with meat. But that said, even these can be veganized. These plant-based mushroom tibs are meaty, delicious, and sautéed with berbere, a traditional Ethiopian spice mixture.
Get the recipe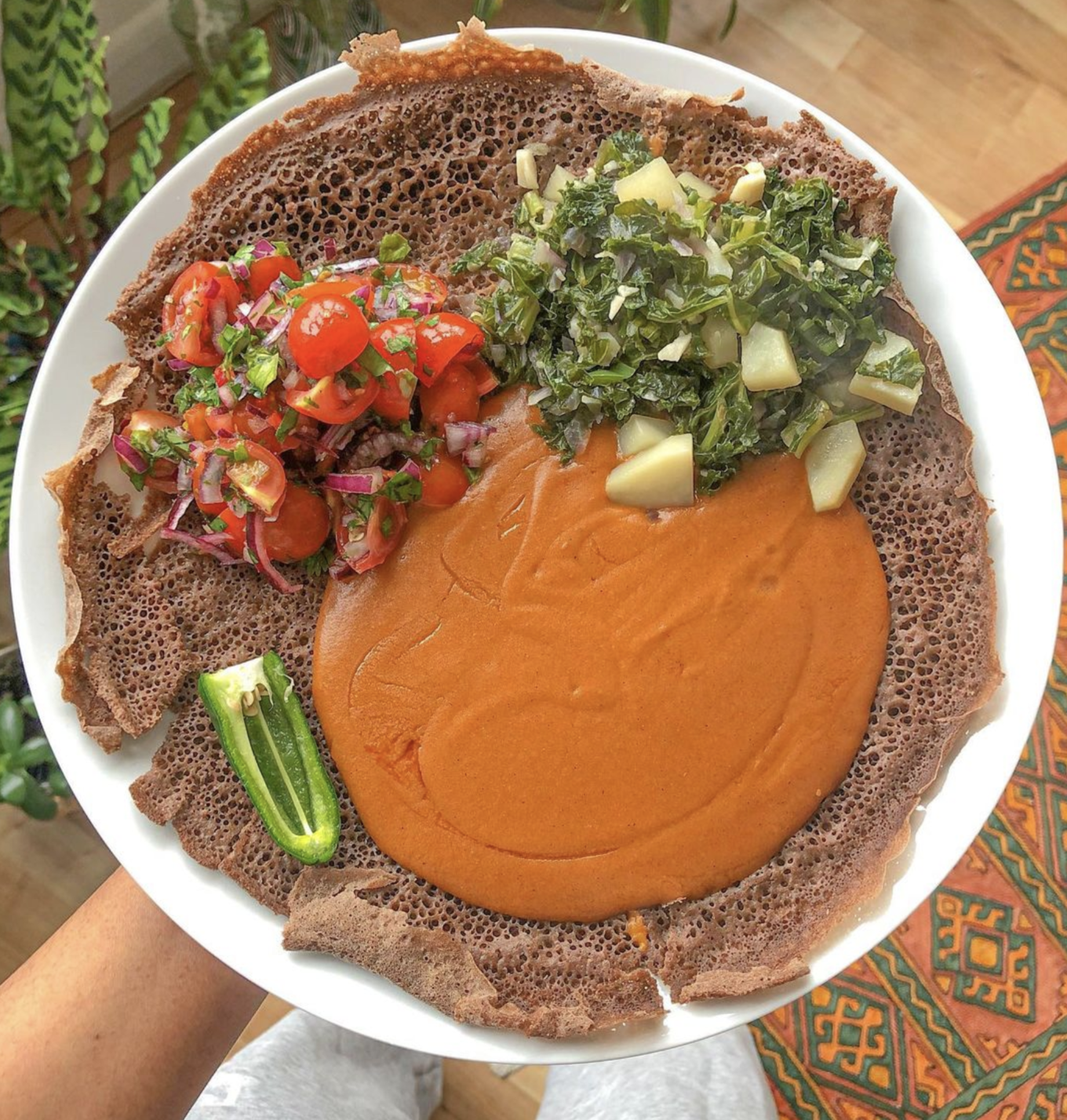 @ethiopianfoodie/Instagram
4 Shiro Wot
According to Helen Mebrate, who runs the blog Amaarech and the vegan recipe-focused Instagram account Ethiopian Foodie, shiro is one of "the most basic, affordable, and important dishes in Ethiopian cuisine." It's often made with roasted chickpeas, as well as garlic, ginger, and sacred basil. "As my grandmother always says, if the chickpeas are seasoned well the actual process of making shiro wot can be as simple as adding water and mixing," she writes.
Get the recipe
Amaarech
5 Fossolia 
This tasty side dish consists of green beans, carrots, and korerima. The latter is also known as black cardamom and features heavily in many Ethiopian spice blends. "The korerima is the star ingredient—together with the sweetness of the carrots and caramelized onions, it gives the dish a nice balance of flavors," Mebrate says.
Get the recipe
For more vegan food, read: