Resorts are a place to escape. These highly curated, meticulously designed experiences should lift the everyday burdens of life off your shoulders and allow you to be free—free of work obligations, free of the everyday slog, and free to enjoy all this luxurious bubble has to offer, including the food. 
While everyone can appreciate soft, sandy beaches or get a thrill from a tour-guided mountain bike ride through the forest, not all can partake in typical resort food. 
When you're vegan and your choices are limited to fresh fruit, grilled vegetables, and black coffee, reality intervenes in your otherwise picturesque getaway.
But good news: these vegan-friendly resorts offer plenty of five-star plant-based options so you can fully immerse yourself in living the high life, if only for a few days. But first, let's take a look at how the fine dining scene has changed over the last few years.
Five Elements
The growth of high-end vegan cuisine
Vegan fine dining started with a few pioneering chef entrepreneurs. We saw it bloom early in the now-shuttered (and topic of the Bad Vegan documentary) Pure Food & Wine in New York, followed by the still-standing novel concepts like Matthew Kenney's Plant Food & Wine in Los Angeles, CA; Tal Ronnen's Crossroads in Hollywood (now in Las Vegas, NV and Calabasas, CA); and Steve Salm's Planta in Miami, among a few others. 
After the success of these polished restaurants, all clearly attracting more than just a vegan clientele, we began to see vegan cuisine in high-end hotel restaurants. 
Las Vegas' The Wynn Encore now offers at least one plant-based option in every single of its dining venues, and the Aria in Vegas has followed suit. Thanks to consultants like chefs Leslie Durso and Matthew Kenney, the Four Seasons is another high-end hotel chain making efforts to offer plenty of plant-based menu items that appeal to a wide variety of travelers, not just vegans. 
Finally, while not a hotel, we cannot omit the rebirth of Eleven Madison Park following the global pandemic. The emblematic New York City restaurant reopened with a vegan menu, eschewing many of the animal products it relied upon pre-pandemic. Despite, or perhaps because of this dramatic pivot, the restaurant retained its three Michelin stars in 2022.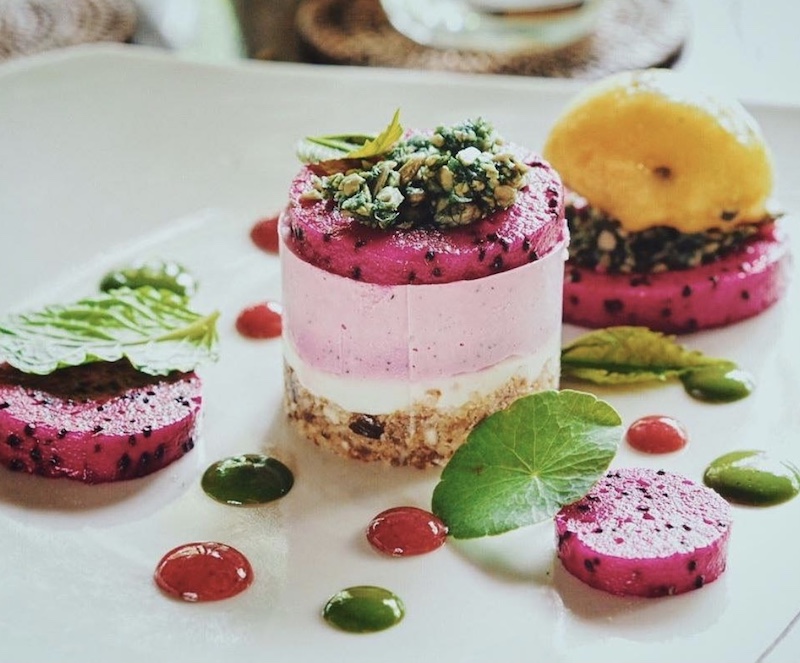 Marina Bussandri
Planning a vegan vaction? Here's how to find a resort 
When looking for a vegan-friendly resort, it's best to start with wellness-centered companies. 
Many of the resorts listed below are meant to be centers of health and wellness transformation, and a robust plant-based food program is integral to this mission. Club Med is a recent example. The 72-year-old business that spans across Mexico and the Caribbean employed chef Chole Coscarelli to create vegan dishes for all of its menus. 
Other hotels may not be exclusively wellness-centered but offer wellness programming, like The Peninsula Beverly Hills or The Four Seasons. There's an advantage to choosing a resort based on its commitment to healing: it's very likely to have an incredible spa! 
The 16 best vegan-friendly resorts around the world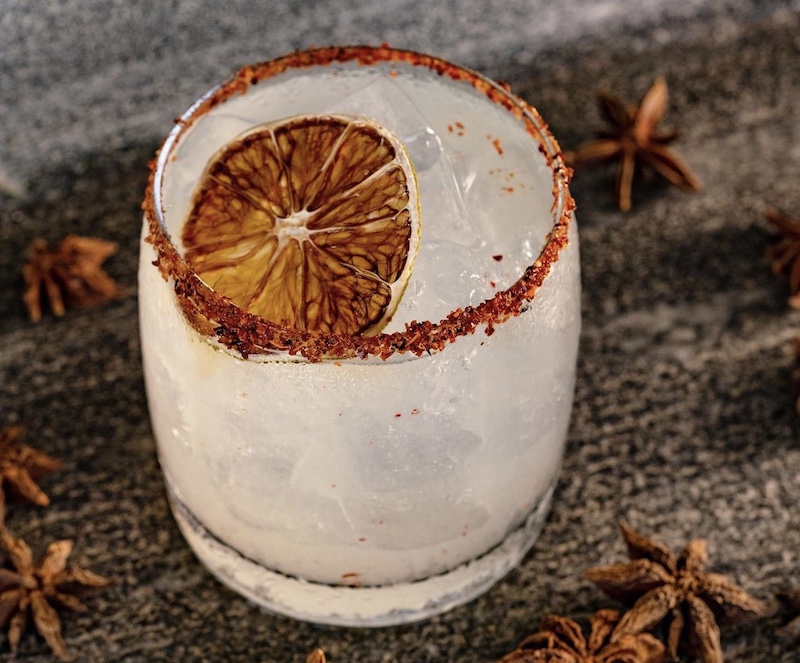 Four Seasons Punta Mita
1 The Four Seasons, Punta Mita
Punta Mita, Mexico
Chef Leslie Durso is responsible for the 250-plus vegan options available at this luxury resort. For the past five years, she's crafted delectable vegan menus for each of the property's restaurants from the oceanfront Dos Catrinas to the swanky Armara. In between sipping your fresh-pressed green juice and your dark chocolate torte ordered à la room service, take a dip in the crystal blue ocean, unwind with a hot stone massage, revive your tennis skills, or sign up for a tequila class. It'll take a while to try all 250 vegan items, so book your stay for as long as you can. Note: The Four Seasons is one of the more progressive resorts in regards to plant-based cuisine. No matter where you stay in the world, The Four Seasons can likely accommodate your dietary needs beyond grilled vegetables and sad salad.
Find out more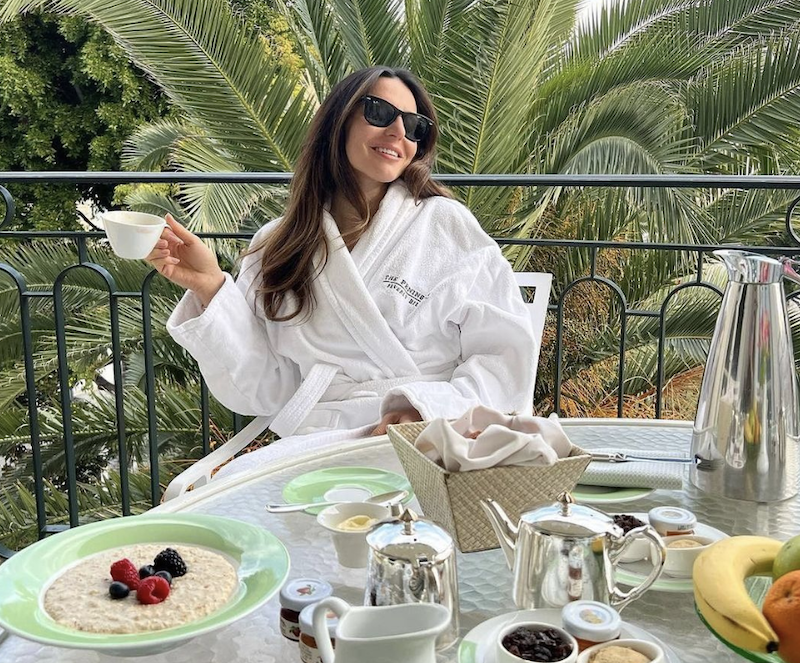 The Peninsula Beverly Hills
2 The Peninsula Beverly Hills
Beverly Hills, CA
Looking for a five-star experience without a passport? This metropolitan hotel offers resort-style luxury accommodations in the heart of Los Angeles. The wellness offerings—from meditations to a best-in-class spa—are accompanied by a stellar vegan culinary program that includes a five-course prix-fixe menu and a plant-based tea service upon request. Bask in the glorious California sun at the rooftop pool, see the sights of Beverly Hills and beyond, then retire to the Belvedere for a sublime dinner inspired by the produce of the season.
Find out more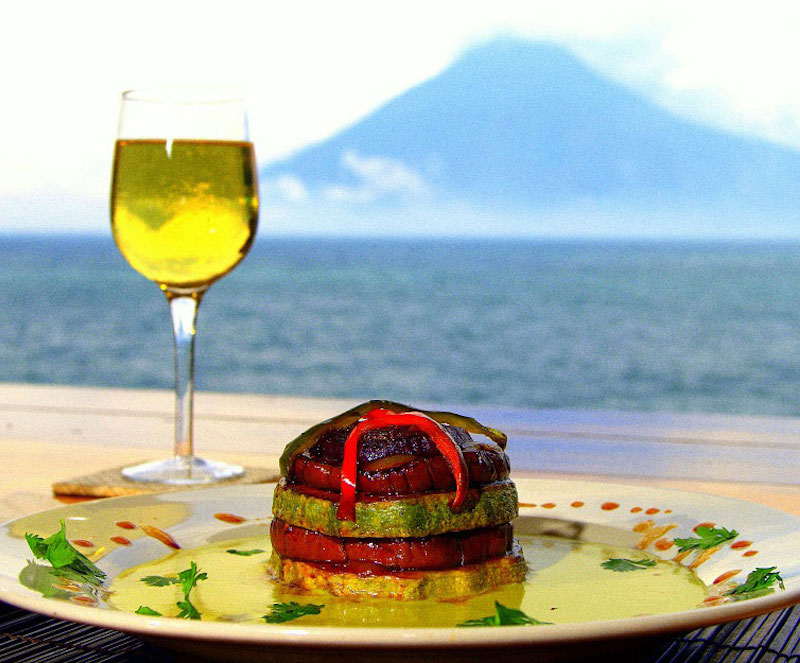 Laguna Lodge
3 Laguna Lodge
Santa Cruz La Laguna, Guatemala
This lakeside Guatemalan eco-resort only serves vegan and vegetarian options, so you can relax about what's for dinner and instead take in the unbelievable atmosphere. You'll enter the property—which sits on a nature preserve—via canoe and immediately be struck by the gorgeously blue water and towering volcanoes. The business is astutely dedicated to nature conversation and holistic wellness, which is why you'll never see meat on the menu. Options rotate seasonally but focus heavily on vegetables and local produce along with craft cocktails, wine, and house-roasted coffee. In between meals, hike the San Pedro volcano, explore the lake via kayak, visit the nearby village of Santa Cruz, zipline off a mountaintop, or smooth out those sore muscles at the spa.
Find out more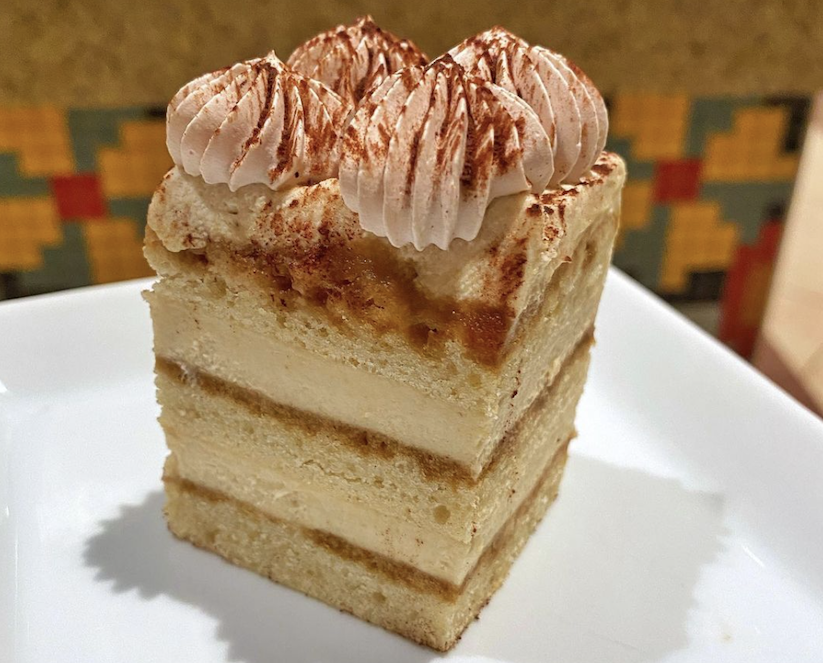 Disney
4 Walt Disney World Resort
Orlando, Florida
Once upon a time, a Disney experience was a little less magical for vegan guests. Since Disney World—and soon after Disneyland—revamped its menus in 2018, it has become a vegan destination for kids and kids at heart (we firmly believe you are never too old for Disney). Vegan renditions of park favorite dishes can be found at nearly every eatery on the expansive property. 
Find out more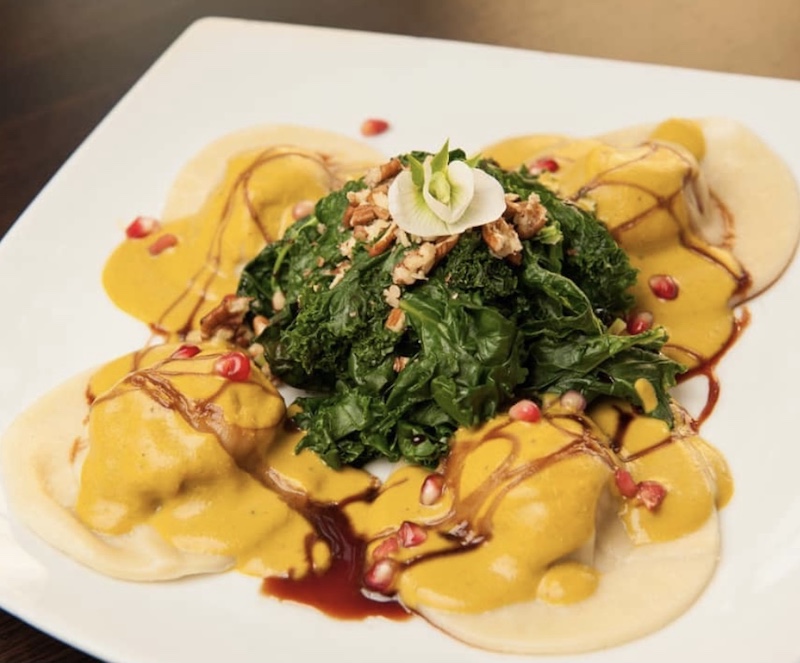 The Stanford Inn
5 The Stanford Inn
Mendocino, California
While this Northern California establishment calls itself an inn, it's truly more of a rustic resort. Nestled in the trees just off The Big River and the Pacific Ocean, the sprawling property houses plenty of things to do within a serene coastal forest. The resort is pet-friendly and completely vegan—from the lotions used in the massage rooms to the esteemed plant-based restaurant, The Raven. In between a savory breakfast crêpe, tea time, and wild mushroom polenta at dinner, hop on mountain bikes or canoes, take a yoga class, reserve a nature tour, say hello to the resident donkey, or book a cooking class. Whether you're looking to relax or get in touch with your outdoorsy self, the Stanford Inn can support that with vegan meals at the ready.  
Find out more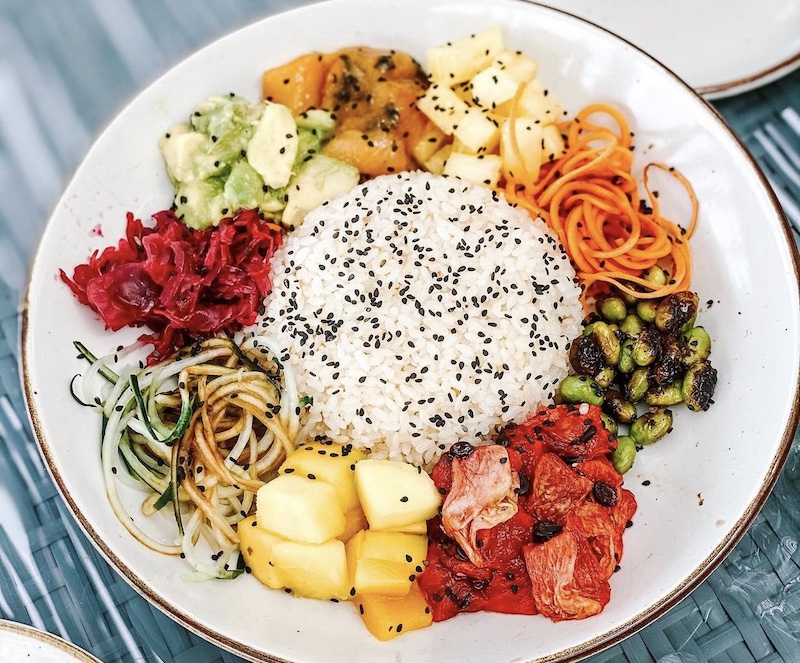 Nikki Sharp
6 Palmaia the House of Aia
Playa del Carmen, Mexico
This resort is meant to make you truly relax. Every service revolves around sustainability, healing, and naturopathic wellness. Beyond the prime beach real estate, amenities include a five-star spa, wellness retreats, multiple yoga modalities, ceremonial sound baths and guided meditations, and other guided tutorials centered around holistic healing. Food-wise, the resort makes plant-based the default. (Those who prefer an animal option just have to ask.) Menus generally follow a plant-based alkaline diet while still delivering impeccable dishes that could double as edible art. A few highlights include Smoked Carrot Toast, Watermelon Poke Bowl, a kitchen-crafted vegan cheeseburger with housemade sauerkraut, and a divine chocolate brownie with mint ice cream. Here, it's easy to find your bliss.
Find out more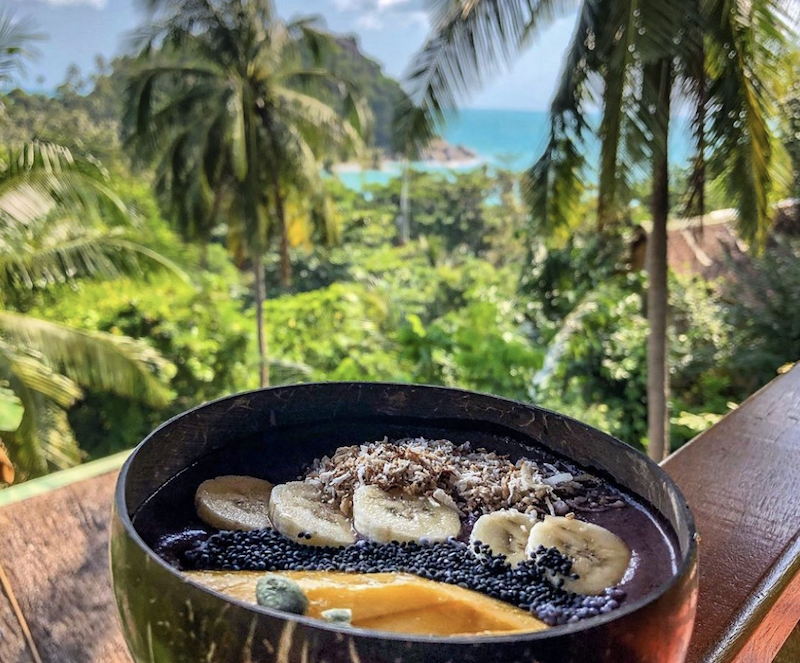 The Sanctuary Thailand
7 The Sanctuary Thailand
Koh Phangan, Thailand
Accessible only by boat, this wellness retreat is for those who truly want to escape. The vibe is focused on relaxation and detoxification, right down to its mostly vegan dining options. Guests can entertain themselves with plenty of yoga classes, a traditional tea ceremony, beachfront activities, and massages. Menu options include traditional Thai dishes (made plant-based), raw items, salads, and more. Note: most accommodations are open air, meaning air conditioning isn't available and a few forest animals may stroll by your lodging. If you prefer a cushier option, book a Garden Suite. 
Find out more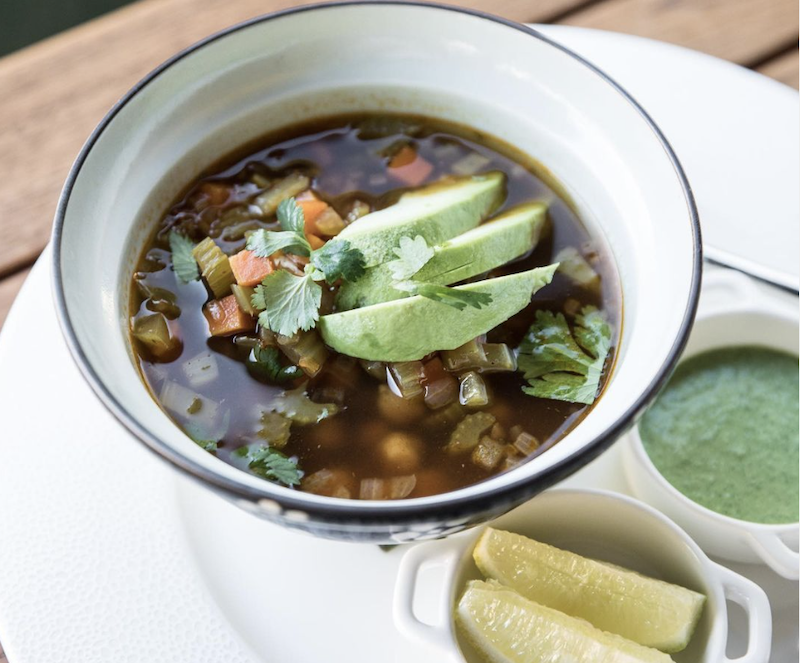 The Golden Door
8 The Golden Door
San Marcos, CA
While legendary among the elite, few know about this truly luxurious oasis. If you're not a celebrity or fabulously wealthy, The Golden Door is something you save up for—a one-week, all-inclusive stay will set you back $10,500. Granted, you get what you pay for. Each hour is scheduled to maximize your stay, from eight-mile morning hikes to in-room massages. If you have a moment to spare, exploring the scenic 600 acres of the property is enough to entertain you for hours—and work up an appetite. Each guest's dietary preferences are tailored to. Guests are provided nourishing yet satisfying meals including breakfast, lunch, dinner, and two snacks. The resort also offers cooking classes to help you take a little Golden Door wellness back home.
Find out more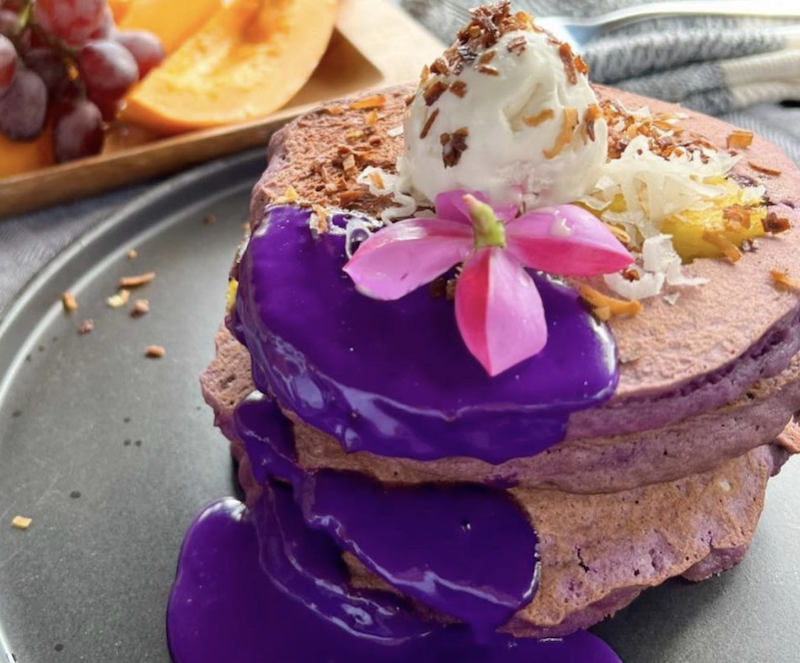 Volcano Eco Retreat
9 Volcano Eco Retreat
Mountain View, HI
Need an adults-only vacation? You'll find it nestled on four acres of Hawaiian forest on the Big Island. This place is remote, but if you have a car, it's a stellar, all-vegan option to wake up and come "home" to after a day of exploring Hilo and other more populated areas of the island. Alternatively, this sustainably minded boutique hotel is an exceptional option for entrepreneurs and other working professionals to go heads-down and crank out some major productivity surrounded by beauty. Go for a hike in the morning, take a dip in the pool for lunch, have a productive afternoon, then sit down and relax to a nourishing vegan dinner. 
Find out more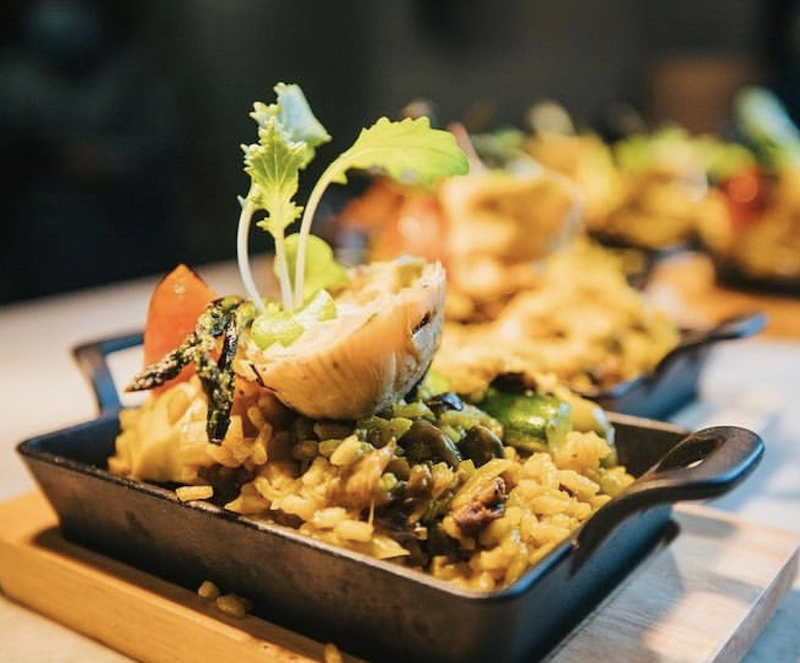 Mother Earth Vegan Hotel
10 Mother Earth Vegan Hotel
Tamarindo, Costa Rica
A stay at this sustainable, outwardly vegan resort is a must. The company offers five-star accommodations with a host of activities and tantalizing plant-based dining. Explore the jungle via ATV, take a surf lesson, or learn a new modality of yoga in the Healing Studio. After working up an appetite, satisfy your cravings with Mushroom Ceviche, Canneollini Primavera, or a messy oyster mushroom Philly cheesesteak. Unwind in your room with a hefty slice of carrot cake or coconut crème brûlée. 
Find out more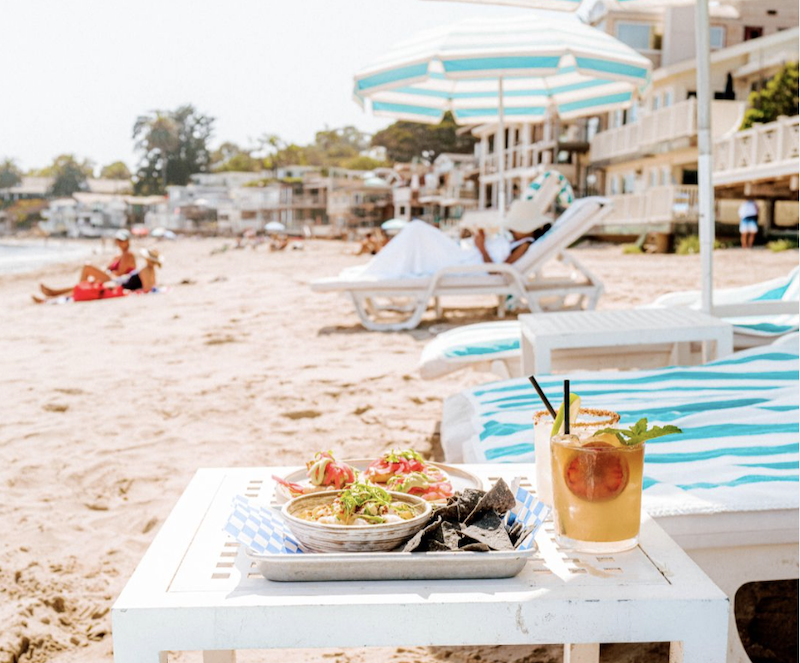 Rosewood Miramar
11 Rosewood Miramar Beach
Santa Barbara, CA
Laid-back, coastal cool meets refined resort at this California resort. The beachfront property offers everything you could want from a vacation perspective: posh accommodations, beach access, gorgeous pools, lawn games (on perfectly manicured grounds), a luxury spa, and vegan options on every menu. For a completely curated dining experience, make your reservations at Caruso's. The Southern Italian-inspired restaurant provides a four-course, vegan prix-fixe menu, and yes, that includes a decadent dessert (spoiler alert: it's peanut butter chocolate mousse). While a great getaway for California residents, it's also an option to consider for all looking at vegan-friendly wedding venues.
Find out more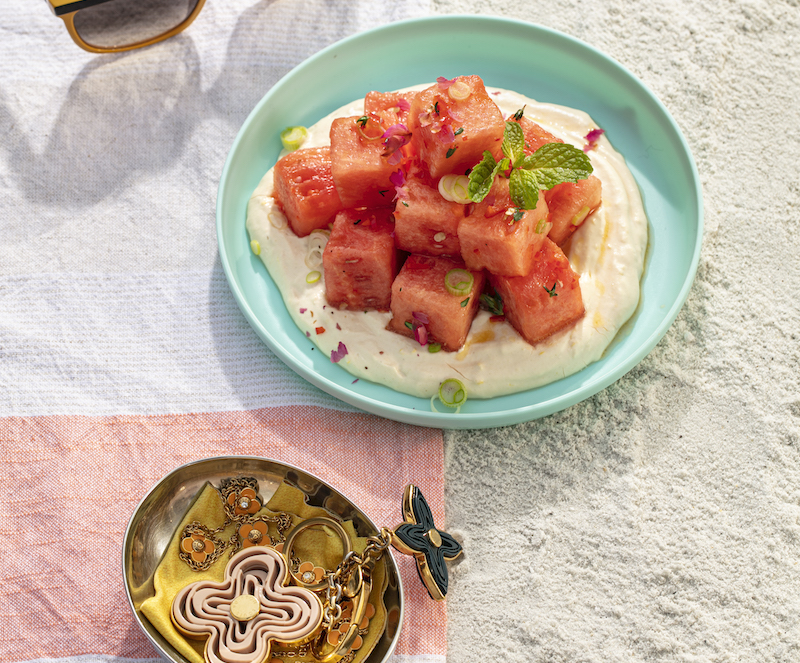 Melissa Hom
12 W Maldives
Fesdu Island, Maldives
Primarily a seafood spot, this luxury resort is changing its tune. While fish will still be on offer, the brand has invited vegan chef Priyanka Naik to create a comprehensive plant-based experience for guests through October 2023. Her sustainability-focused spread is now available at the resort's respected FISH restaurant. The vegan options are extensive—guests certainly aren't limited by a terse selection—but Naik gave us her recommendation for those visiting the restaurant for the first time. Start with the Charred Sweet Potato with Chili Sesame Dressing, savor the ​​Local Kale Pesto Pappardelle with Almond Parmigiana for your entrêe, and polish off your meal with the Coconut Rose Gulab Jamuns with Passion Fruit Syrup, all while leisurely sipping her ingenious 'Scrap' Infused Vodka Melon Spritzer. Not even the most "sustainable seafood" can top that meal!
Find out more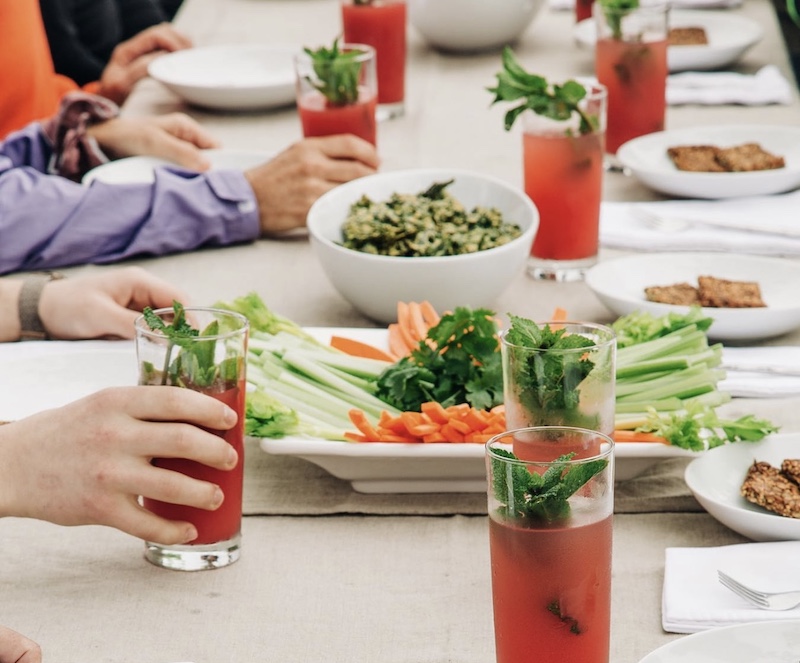 The Ranch Malibu
13 The Ranch
Malibu, CA
Similar to the Golden Door, this Southern California resort is all about wellness transformation. You won't have time to immerse yourself in a beach read while sunbathing; instead, you'll be waking up early for four-hour hikes, stretching out those muscles in a daily restorative yoga session, then hitting the gym for an afternoon strength workout. All of this activity is supplemented with plant-based, nutrient-dense meals. Look forward to spinach and mushroom lasagna, gluten-free pizza, and portobello steaks. A satellite campus of The Ranch is now available in Italy (just outside of Rome) for four and nine-day programs.
Find out more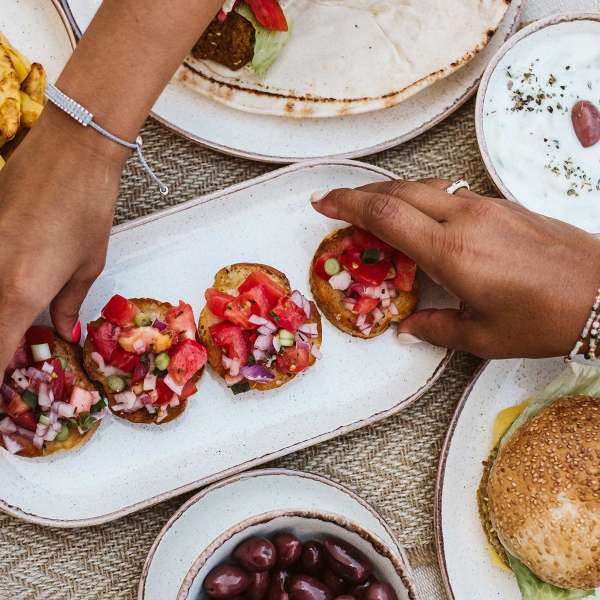 Mod Santorini
14 Mod Santorini
Santorini, Greece
On the dreamy Greek island of Santorini, you'll find Mod, which claims to be the first vegan, sustainable accommodation in the area. Its clean, modern rooms have been designed with a relaxing, restorative experience in mind, and at the on-site restaurant, you'll find a plethora of delicious, nourishing meals made with locally-sourced, plant-based whole foods. The hotel also offers local tours around the island, yoga classes, and a carefully curated selection of natural beauty products.
Find out more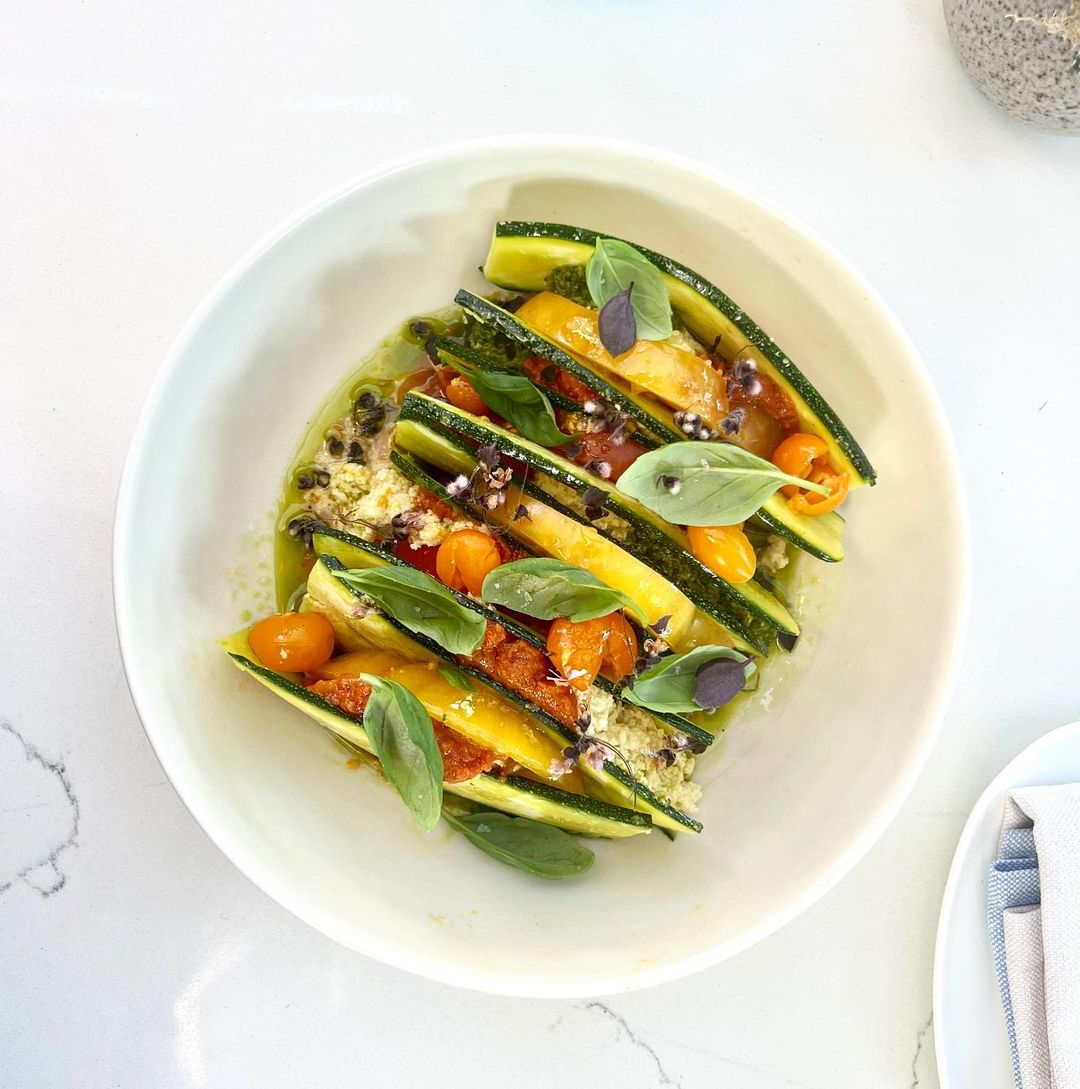 Plant Food + Wine/Instagram
15 Four Seasons Beverly Hills
Los Angeles, CA
Four Seasons' Beverly Hills location is known for elegance, luxury, and now, great vegan food, too. Most of the hotel's restaurants will accommodate plant-based diners, but for a real top-quality, animal-free culinary experience, Matthew Kenney's Plant Food + Wine is a must-visit.
Find out more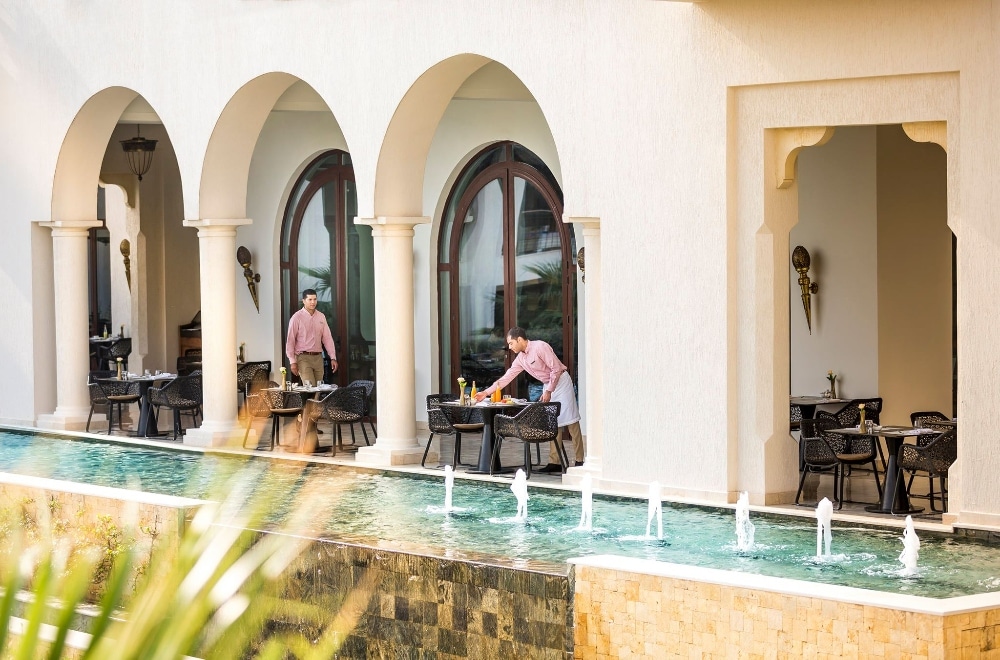 Four Seasons Hotel Tunis
16 Four Seasons Hotel Tunis
Tunis, Tunisia
Beverly Hills and Punta Mita aren't alone. Four Seasons also has a stunning beachfront, vegan-friendly hotel in Tunis, Tunisia. According to satisfied Happy Cow reviewers, the Azur restaurant, in particular, is a vegan paradise, with a whole four-page, plant-based menu.
Find out more 
For the latest on vegan travel, read: