Tucked away on a narrow side street in south Philadelphia, a converted warehouse sits. It's not filled with dusty boxes or storage shelves, but with hanging plant pots dripping with flowering succulents. A rolling glass garage door curls away to reveal a cozy interior of blush pink walls, mismatched hanging picture frames, and less than a dozen petite tables punctuated with flickering candles and Mason glass jars of fresh flowers.
Miss Rachel's Pantry
But you won't find any menus to pore over or to-go diners grabbing takeout orders—the eatery, open only a few nights a week, hosts five-course, set-menu, farmhouse-style meals that guests reserve weeks in advance. This is Miss Rachel's Pantry, and along with completely living up to its slogan as "a sweet little vegan restaurant," it's also easily one of the best in the country.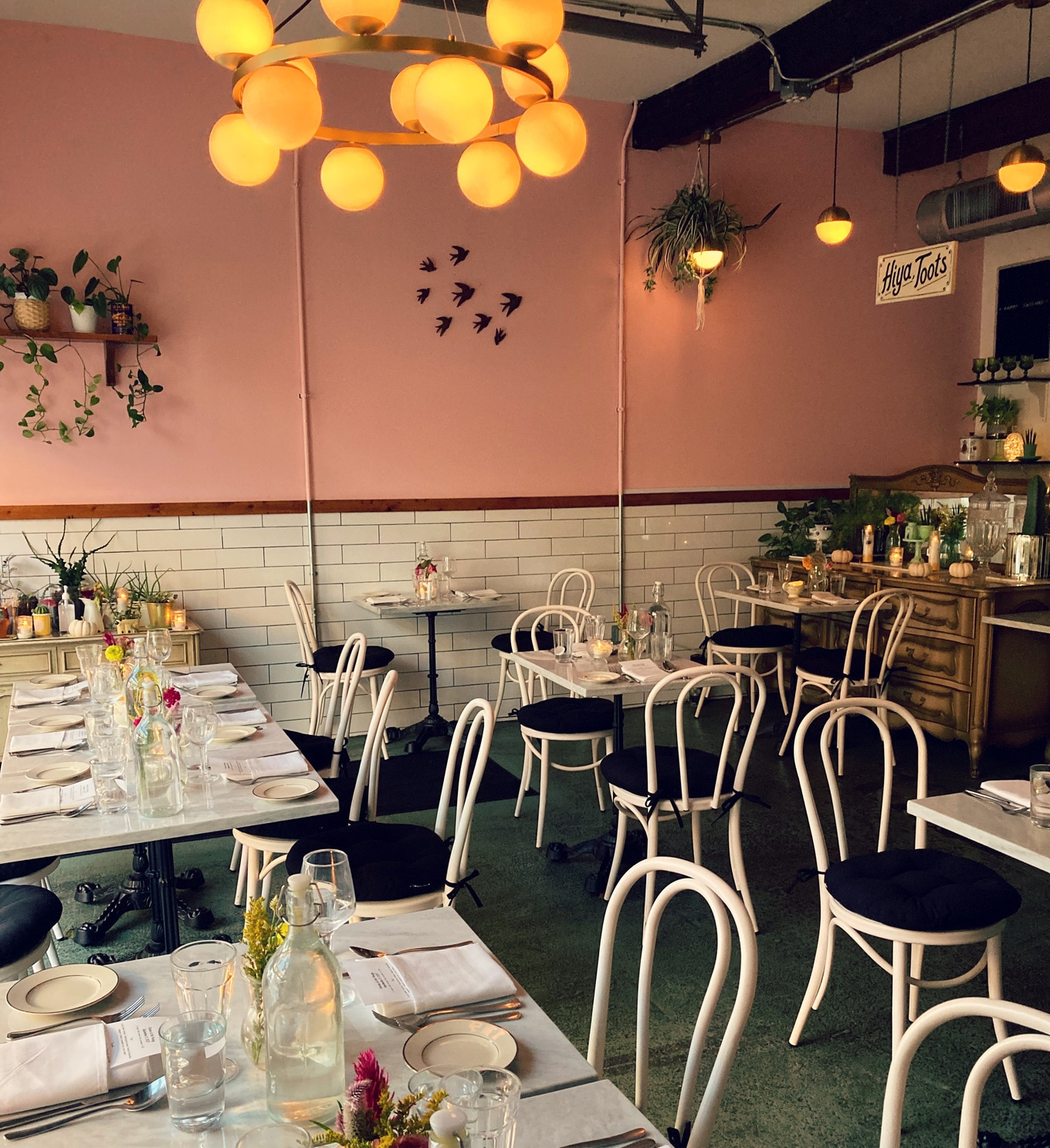 Miss Rachel's Pantry
How did it all begin?
Chef Rachel Klein—Miss Rachel herself and the mastermind behind the meticulously curated weekly menus—began her culinary journey as a vegetarian growing up in a decidedly non-vegetarian household. Between taking occasional cooking classes and alternating through a few front-of-house positions in various restaurants, Klein's passion for the culinary world blossomed. But it wasn't until she began working as a private chef and wedding caterer, selling vegan food at Philly punk shows on the side, that a dream to open her own brick-and-mortar location took hold.
In 2012, after running her catering business through shared kitchens and her own tiny apartment, Miss Rachel's Pantry (a name inspired by her grandparents' 1950s luncheonette, The Pantry) opened its first tiny location in the West Passyunk neighborhood of Philadelphia. Just three years later, the Pantry expanded, moving five minutes away to a much more spacious location in its current neighborhood home.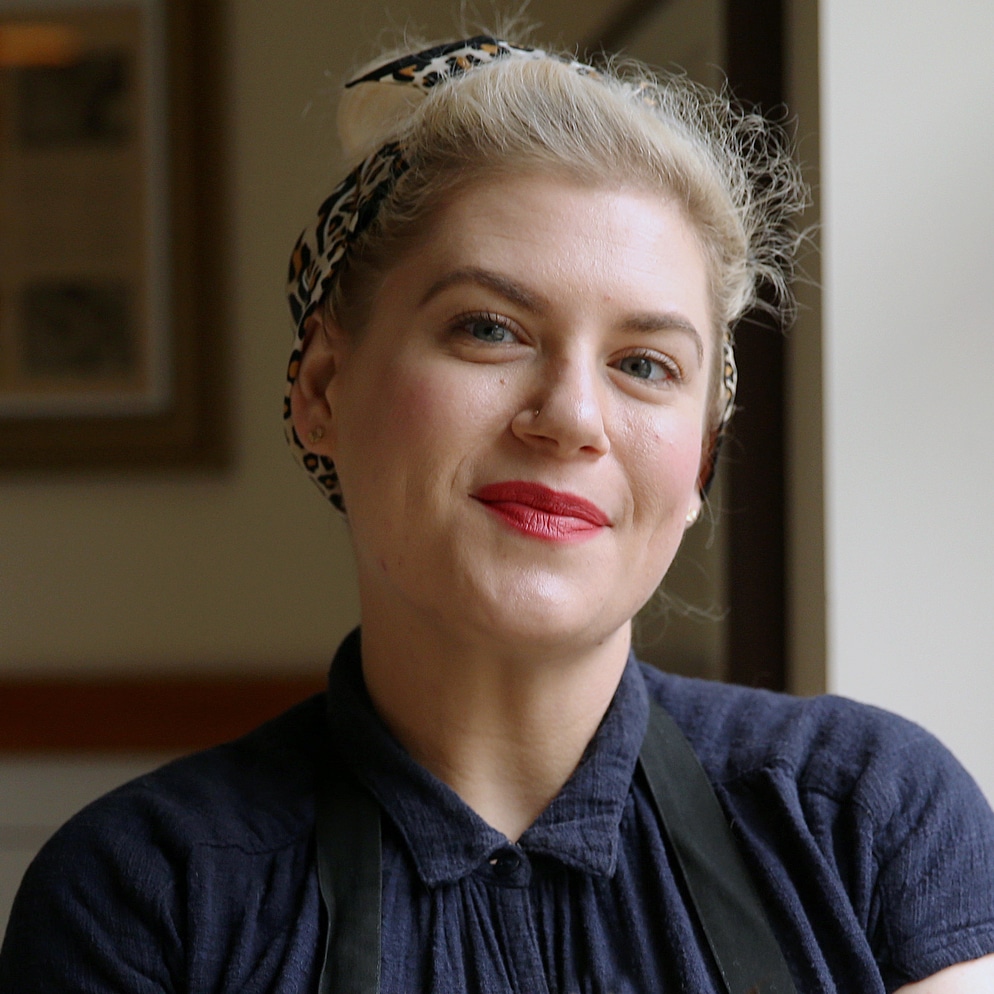 Rachel Klein
Everything about the space is charming, from the retro refrigerator tucked into a corner to the warm glow from the hanging globe lights. But once you take your seat at the white, café-style tables, that's when the comfort truly begins. An elegant place card is laid before each guest, informing them of the five courses for the evening. To ensure no one flavor overpowers another, Klein takes special care to balance salty, spicy, or otherwise pungent flavors in her creations. Heat seekers and lovers of raw onion may be momentarily disappointed, but that's sure to dissipate as the harmony of the meal begins to dawn on them.
The restaurant is BYOB, meaning diners can bring in a bottle (or two) of wine, beer, or cider to enjoy with the pre-fixe menu. Servers circle the room in perfect synchronicity to ensure everyone's drinks are situated before dinner begins, dropping off small plates of flaky biscuits with herbed butter to whet appetites before the meal really kicks into high gear.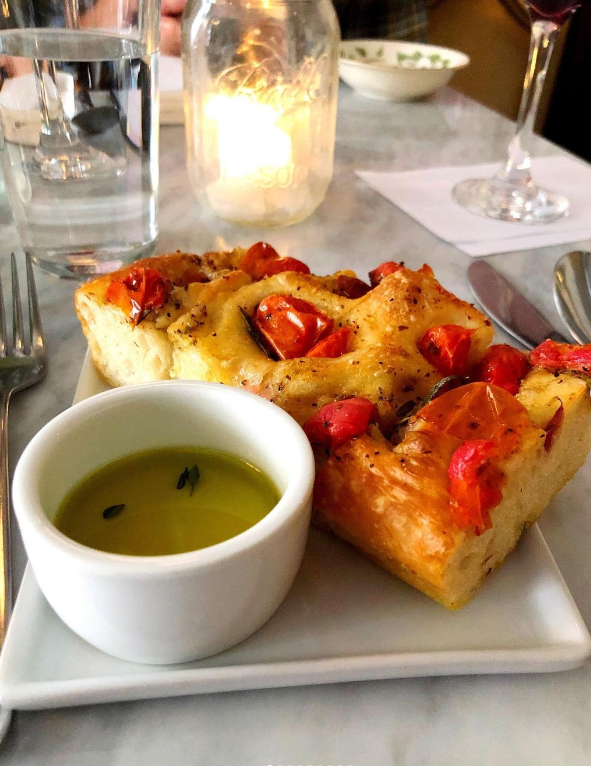 @phillyveganspotlight
Homestyle cooking meets fine dining
While no one dinner is ever the same, a cohesive meal that flows from start to finish is guaranteed, and at Miss Rachel's Pantry that means the first course is always soup. Fresh corn bisque with palmito crab meat (made from hearts of palm) napped with chive-infused oil and sautéed, garlicky corn or local heirloom tomato bisque with golden-fried, ricotta-stuffed squash blossoms dabbed with lemon crema, habanada pepper (a pepper that tastes like habanero, minus the spice), and basil agave honey will dash any misguided belief that soup can't be a stand-out dish. Especially if you happen to luck upon a bowl with meaty additions like apple cider seitan and chestnut sausage served over a smooth celeriac-rutabaga bisque finished with chutney-glazed golden croutons.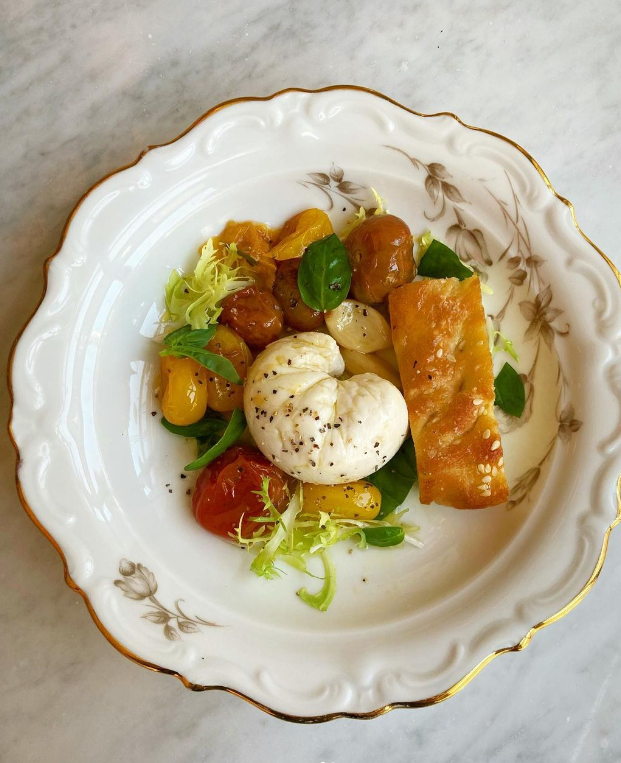 Miss Rachel's Pantry
The second course turns the focus to salads, but don't expect watery iceberg or bland vinaigrettes. Instead, the restaurant's housemade cheeses are often the star of creations such as a fig and cold-smoked watermelon salad with fresh cashew milk mozzarella, tossed in a rich maple-black garlic dressing and showered in a crispy cornmeal topping. In another iteration, buttery cashew burrata sits like a crown jewel on a bed of baby gem lettuce, paper-thin slices of fennel, and juicy, rosé-colored grapefruit segments before being dressed in a fragrant basil vinaigrette and sprinkled with warm, toasted hazelnuts. And sometimes, the salad course is replaced with a bite of vegan frittata served alongside rose radishes infused with smoke over delicate leaves of lettuce, with a pungent caper dressing and tangy-sweet caramelized onion and mustard jam.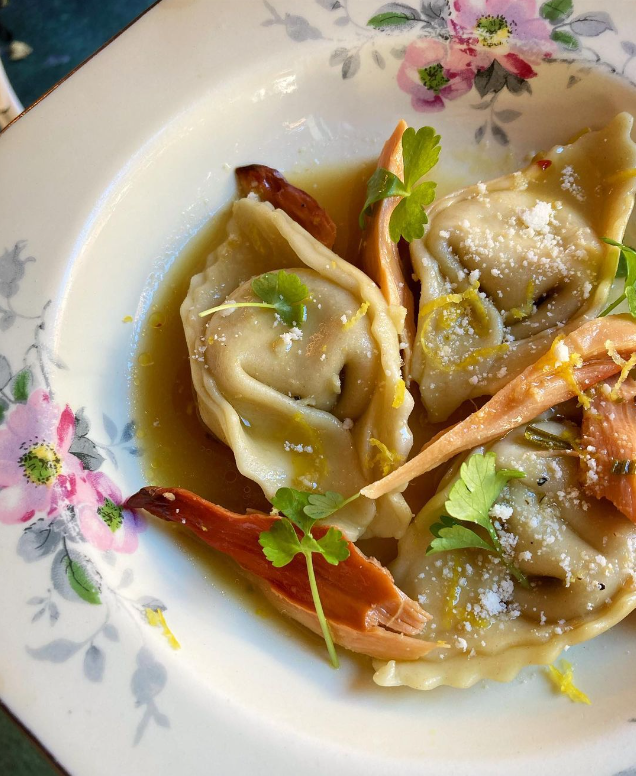 Miss Rachel's Pantry
And while the restaurant focuses heavily on homestyle meals, there is a heavy lean toward Italian fine dining, with an ever-present housemade pasta course. Miss Rachel's Pantry's resident pasta expert Chef Rodger Holst masterfully transforms semolina flour into an assortment of elegant pasta dishes. Think spring pea and lemon ricotta-stuffed cappellacci with a light, bright lemon-butter sauce and parsley caviar. Or casoncelli stuffed with fresh chèvre, caramelized onion, and kabocha squash in a velvety sage cream with apple sausage. The inventiveness doesn't stop there. Rachel's has even mastered a vegan version of squid ink-style, crab-stuffed cappellacci served in a traditional wine-butter sauce with micro-scale, plant-based capesante (a Mediterranean scallop).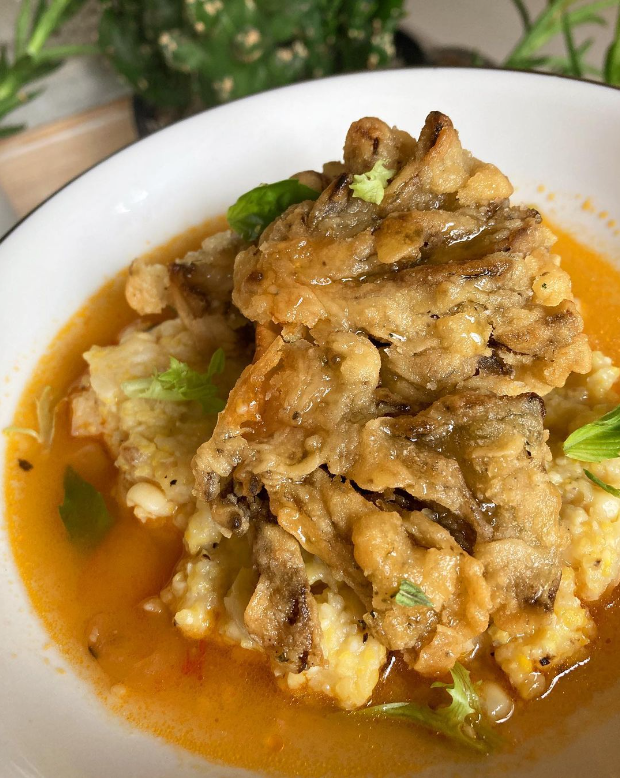 Miss Rachel's Pantry
Moving into the fourth course, plates are cleared to make way for what would traditionally be a "meat course," but of course, at Miss Rachel's Pantry, it's an opportunity to show off the kitchen's incredible transformation of vegetables. Shredded hearts of palm are turned into fried, crispy palmito piccata and served with seared maitake mushrooms over a bed of whipped rutabaga and flash-seared rapini. Whole roasted maitake mushrooms are crafted into a refined and hefty meatloaf featuring a crunchy, Maillard-induced crust—left over from a glazing of sticky-sweet, black garlic ketchup—locking in moisture, while a dousing of mushroom-red wine gravy adds even more unctuous richness. 
In another mouthwatering entrée, a juicy watermelon fillet is coated in a generous crust of crushed pistachios and sesame seeds before being seared and placed over a bed of creamy, whipped eggplant with a bracing lemon-horseradish tzatziki and a side of garlicky green beans. Every meaty main shines bright focus on plants, with everything lovingly made in-house with not a single meat replacement in sight. Even the most veg-skeptic eater would be hard-pressed to leave a lick of the perfectly balanced sauces, whips, or glazes behind on their plates. 
Don't skip dessert
As stuffed diners contentedly lean back in their chairs, forks clinking down onto plates, and a low rumble conversation rising in the dimly lit space, tables are cleared to make way for a truly spectacular dessert course. Miss Rachel's Pantry lets pastry chef Carley Leibowitz lead a sweet finale that's indulgent without being too cloying or heavy.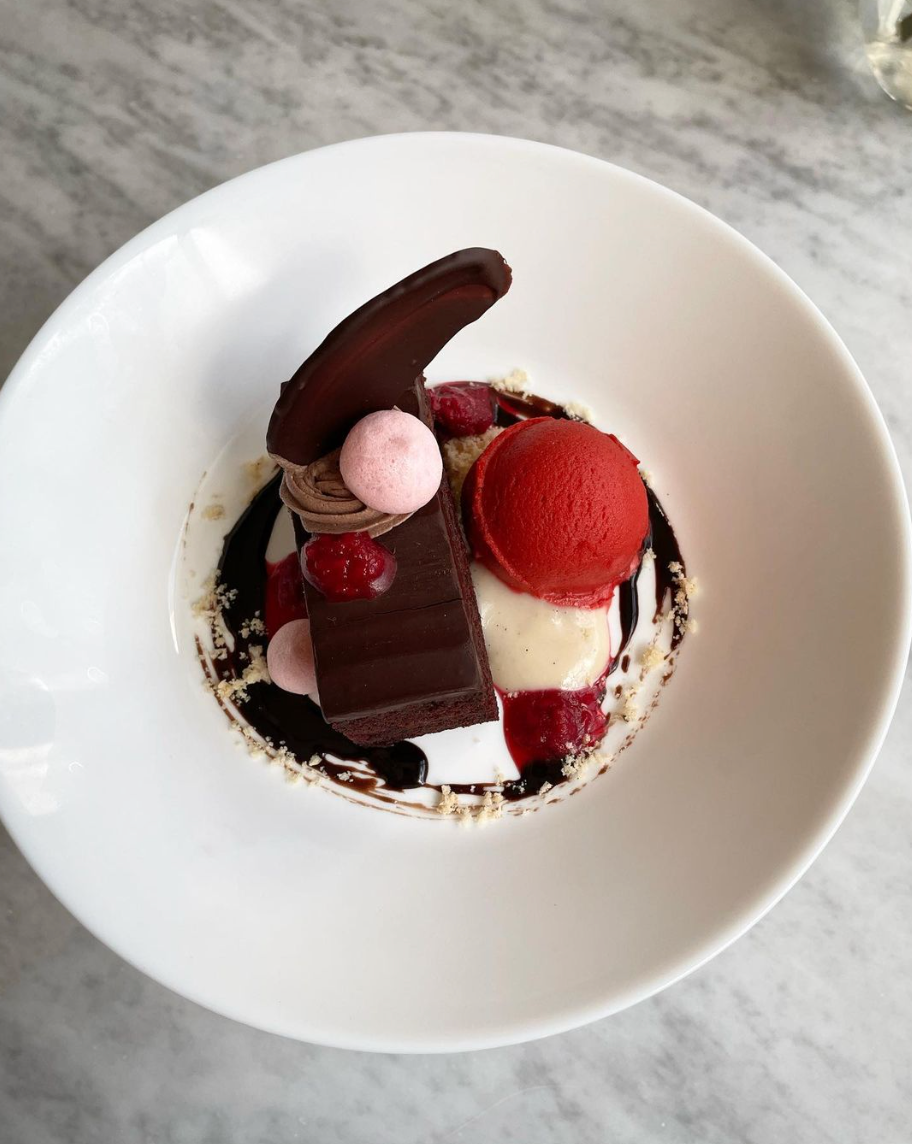 @carley.cakes/Instagram
The course could go chocolaty—like a spongy cacao-hazelnut cake topped with crunchy sugared hazelnut brittle and a scoop of impossibly light vanilla bean ice cream with a generous drizzle of salted caramel sauce. It could go Mexican-inspired. Think moist tres leches cake topped with melt-in-your-mouth, brown sugar ice cream, spiced pears, and candied slivered almonds. Or maybe fruity—the fluffy lemon cake with a thick vanilla buttercream frosting topped with a local blueberry compote and lime leaf-purple basil ice cream will win over even the staunchest of chocoholics.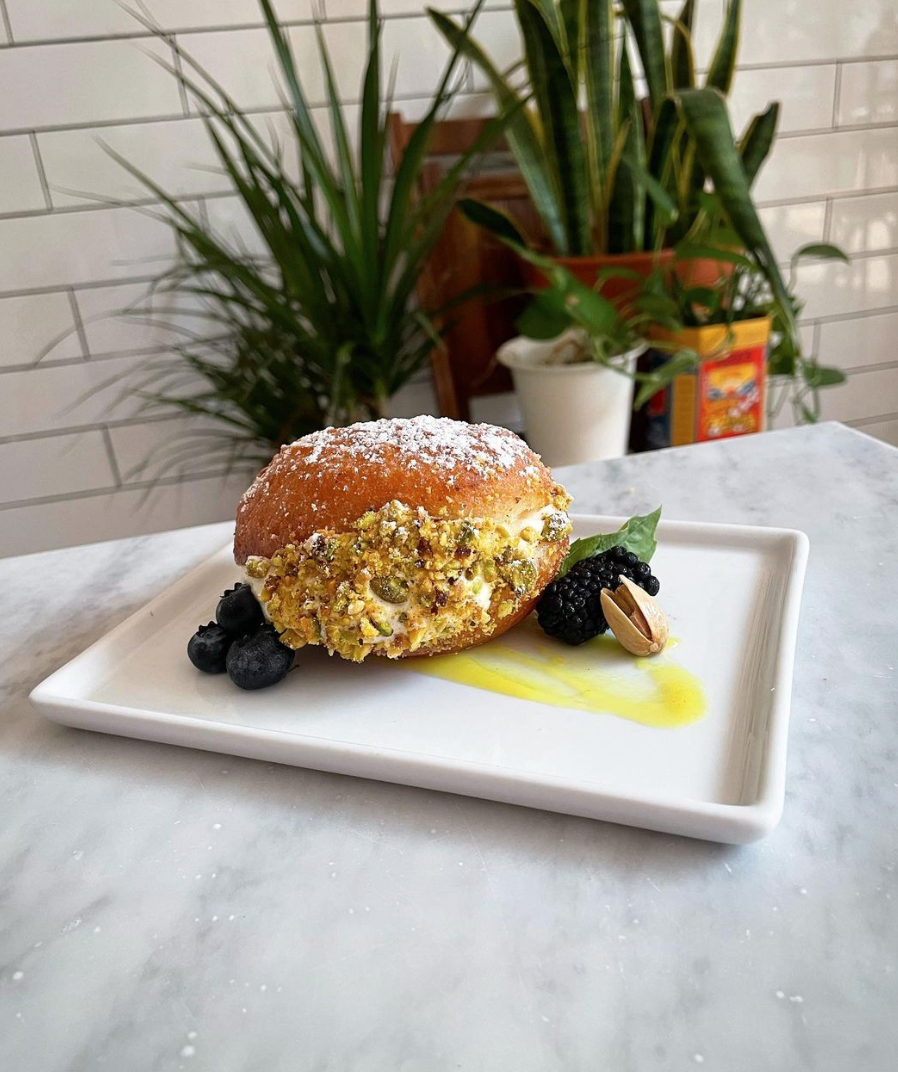 @carley.cakes/Instagram
Each dessert is designed to leave satisfied diners with a sweet note at the end of each meticulously crafted meal. Guests luxuriate over miniature cups of espresso or steaming mugs of tea as they chat with Klein herself, who makes the rounds to thank each party for attending as a gentle hum of conversation softly fills the glowing restaurant. The small converted warehouse feels like a true community gathering for that golden moment in time, and everyone lingers to enjoy it.
As guests rise from their tables and begin to slowly file out of the cozy dining space and back into Philadelphia's buzzing Saturday night, they're left with the lingering tastes of an unforgettable meal and the warmth that comes from Miss Rachel and her sweet little vegan restaurant.
For more restaurant news, read: