If there's any name that is synonymous with golf, it's Tiger Woods. That's because the golf icon has 106 worldwide wins, including 15 major championships. At 21, he became the youngest-ever Masters champion, and at 24, Woods became the youngest golfer to win a career Grand Slam. 
Now 47, Woods overcame extensive leg and ankle injuries from a 2021 car crash to return to the golf course time and again. Unfortunately, Woods withdrew from the 2023 Masters Tournament, citing plantar fasciitis, a common foot condition among competitive golfers.
TigerWoods.com
During all of these career milestones, what was Woods' favorite snack to consume on the golf course? 
"Peanut butter and banana sandwich," Woods responded to that question in a video interview with Bleacher Report. Wood explained that he reached for the classic vegan sandwich to refuel during the tournament, which can be physically demanding. According to one estimate, during an 18-hole game, golfers can burn approximately 1,400 calories—that is, if they opt for walking and carrying their bags. 
"I tend to lose weight when I play," Woods said. "I lose three to four pounds per tournament."
Peanut butter for the win
The humble peanut butter and banana sandwich—Woods' choice of fuel, on the golf course—is a good one when it comes to nutrition. 
Chris Willitts, athlete and founder of VegetarianBodybuilding.com, previously shared a few tips with us about how to fuel workouts the vegan way. The key to pre-workout snacks, Willitts says, is eating complex carbohydrates for energy.
"But because carbs can be heavy, stick to light ones that don't cause stomach cramps or make you feel sluggish. Some good examples of light carbs are bananas, dates, and apples," Willitts says, adding that bananas are great at combating muscle fatigue and preventing soreness. 
That's good news for Woods' favorite golf course snack.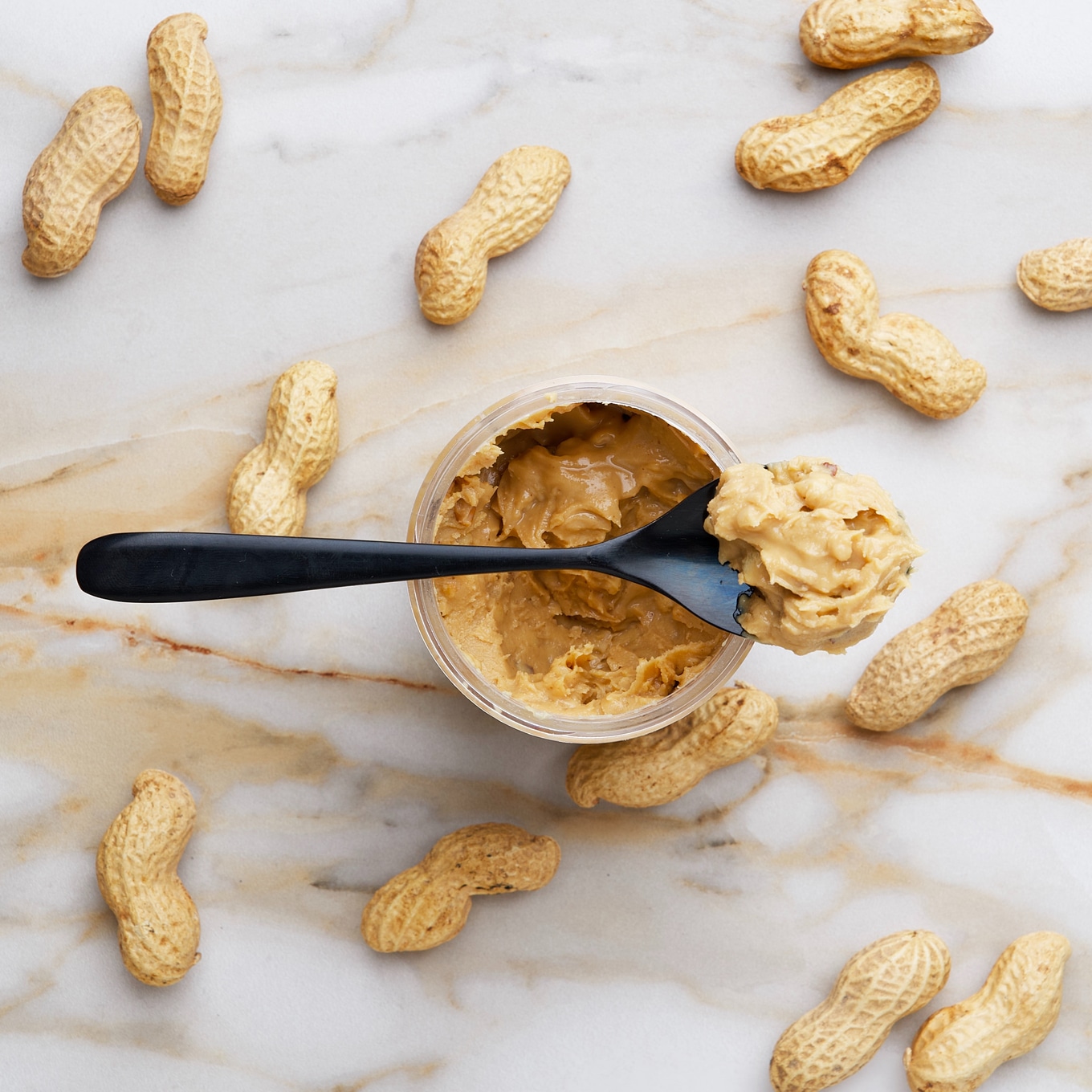 Unsplash
The peanut butter element of the sandwich—which was also revered by Elvis—is known to be a good source of plant protein. However, peanuts are also packed with other health benefits. 
A recent study published in the journal Antioxidants discovered a connection between eating peanuts and peanut butter and enhancements in vascular health. The researchers focused on young individuals, aged 18 to 33, in a group of 63 healthy participants, noting that younger demographics typically show subtler health changes. These participants were given daily servings of peanuts in their usual diet for six months. The findings? Detectable improvements in vascular health.
"The significant rise in urinary phenolic metabolites in those who consumed peanuts and peanut butter versus a control group, along with improved levels of certain lipid molecules, underscores the positive effect on vascular health," Professor Rosa M. Lamuela, study lead, said in a statement. 
The vascular system's health is essential in warding off heart diseases, a major cause of mortality in the United States. Though peanuts are technically legumes, they are the most consumed nuts globally, rich in fatty acids, protein, fiber, and polyphenols, known for their antioxidant attributes.
Plant-powered athletes
While Woods enjoys a peanut butter and banana sandwich on the course, the golfer is decidedly not vegan. He has said he likes traditional meals like steak and potatoes and often consumes fish during lunch, but he also likes to consume a fair share of vegetables.
If Woods decides to lean further into vegan meals and snacks, he will be in good company among a variety of athletes across different sports who have chosen plant-based foods to achieve optimal health.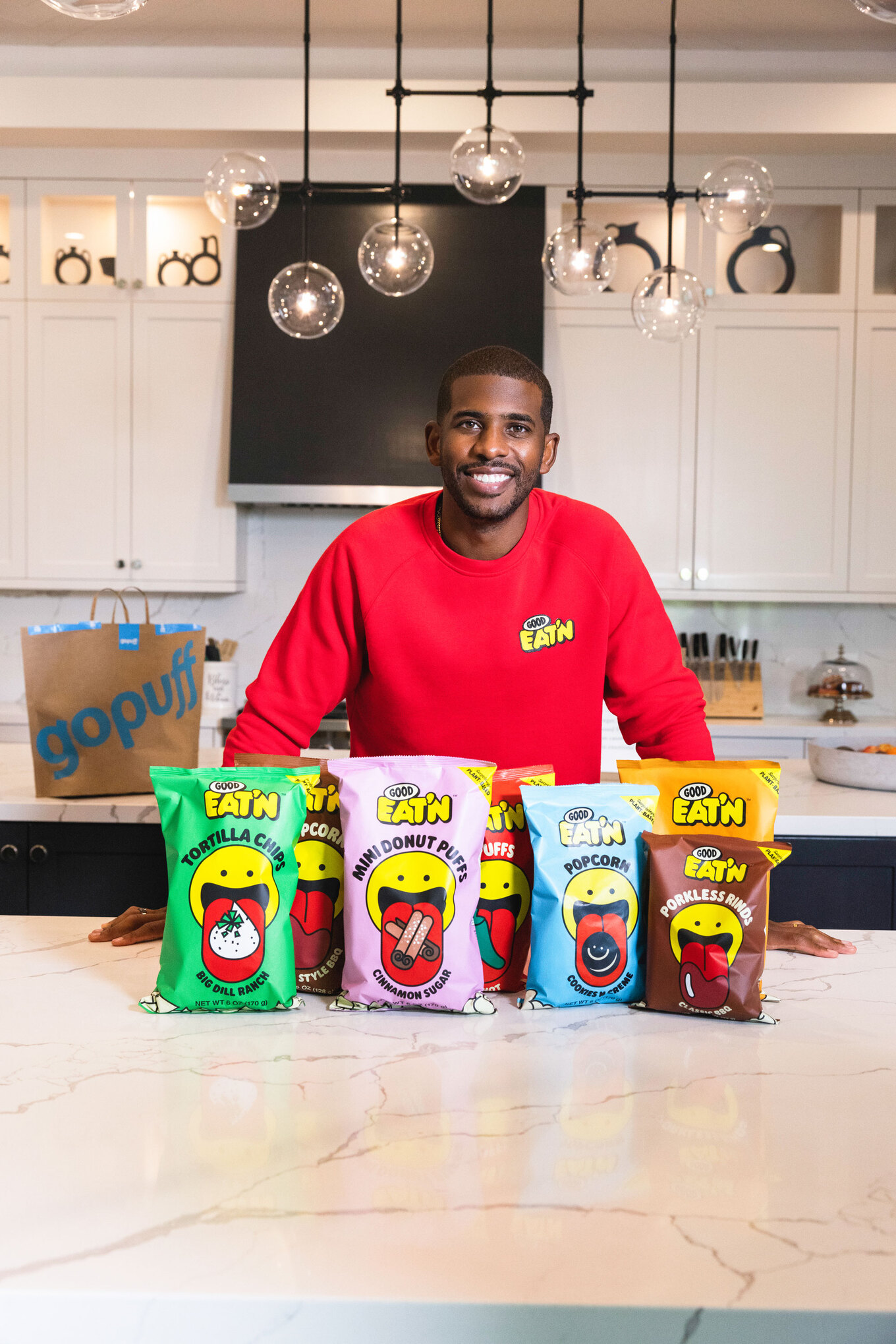 Good Eat'n
This includes professional basketball player Chris Paul, who adopted a plant-based diet back in 2019 and never looked back. Last year, the then-37-year-old NBA player credited his diet for improving soreness after working out extensively, better gut health, and higher energy levels.
"It's literally been a cheat code," Paul told VegNews last year. "I don't believe that I would still be playing at the level that I am playing had I not made that change."
In 2022, Paul got into the vegan snack business with the launch of Good Eat'n, a brand he created together with delivery platform GoPuff. Here, Paul looked to recreate nostalgic treats (think cookies, Doritos, and Hot Cheetos) but made without any animal ingredients. 
And legendary strongman Arnold Schwarzenegger is also turning to plants these days to keep up his physique at age 75. His go-to sources of filling proteins? On a recent episode of his Arnold's Pump Club podcast, Schwarzenegger revealed he reaches for "more and more veggie burgers with lentils and beans."
For the latest vegan news, read: