It seems that every week in the world of vegan food news is more exciting than the last, and this week is no exception. There's a new vegan marshmallow cereal in the breakfast aisle at Sprouts. Insomnia's new vegan cookie option is spiked with cold brew coffee and can be delivered warm to fuel late-night study sessions. Craig's Vegan is hanging on to the last bit of summer with tiny versions of its famous ice cream pints. And if you're already wearing your chunky sweater, these six pumpkin-spiced products—from lattes to caviar—are ready to make everything feel like fall. 
1Vegan marshmallow cereal
Marshmallow-dotted cereal is the kind of thing that can pull you right back into the carefree days of childhood. However, since marshmallows (even the dried kind) usually contain gelatin (derived from animal bones), this nostalgic morning (or evening) meal is off-limits to plant-based eaters … until now. 
OffLimits
Enter aptly named cereal company OffLimits, which has just launched a distinctive Pancake & Marshmallow cereal. Available exclusively at Sprouts locations and online, this innovative flavor includes fluffy pancake puffs and vegan marshmallows. 
The unique cereal promises to offer a crunchy texture that tastes just like a perfect pancake, without any artificial shapes or additives.
Whether it's the taste, the vegan marshmallows, or the emotional connection through FLUF n PUF—its moody mascots—OffLimits aims to offer an immersive and meaningful experience. 
"OffLimits mission is to redefine the cereal aisle for modern generations by proving that cereal can have moody mascots, bold flavor, and nothing artificial," OffLimits Founder Emily Elyse Miller tells VegNews.
"Everyone deserves to have marshmallows in their cereal," Miller says. "Creating the first plant-based marshmallow cereal was a natural extension for us." 
In addition to other cereal flavors, OffLimits offers edible glitter to take your breakfast cereal to the next level. 
2Ice cream pints, miniaturized
To help you savor the last of summer, Craig's Vegan just launched all of its celeb-loved flavors but in tiny containers complete with spoons.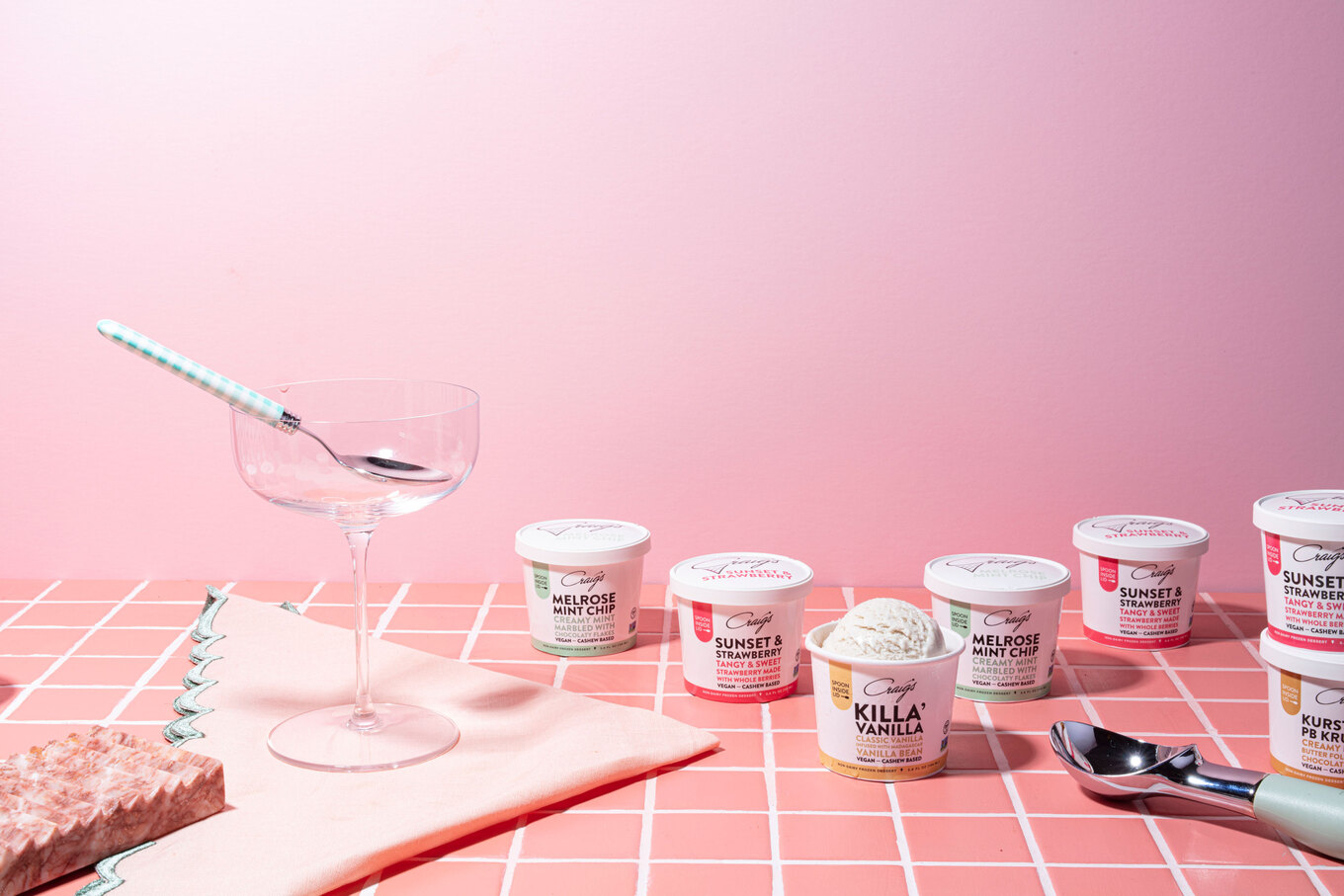 Craig's Vegan
Rolling out to select retailers this month, the 3.6-ounce minis are available in five flavors: Melrose Mint Chip, Kursten's PB Krunch, Perfectly Chocolate, Sunset & Strawberry, and Killa' Vanilla.
"A recipe we've worked on perfecting for years, our plant-based ice cream delivers on both taste and texture thanks to its creamy cashew base," Craig Susser, Craig's Vegan founder and restaurateur, said in a statement. 
"As we continue to see increased demand for dairy-free desserts [in] the frozen novelty space, we're excited to offer our fans the same decadent ice cream experience in a plant-based and nostalgic mini form—no sharing required," Susser said. 
With a retail price of $3.49, Craig's Vegan Minis aim to meet the rising demand for vegan ice cream and plant-based foods, with the aim of targeting a growing market for frozen novelties estimated to be worth $1 billion. 
3Insomnia's new vegan cookies
Insomnia specializes in delivering warm cookies right to your door until 1am or later. The chain first released vegan cookies in 2020 when it launched chocolate chunk, double chocolate chunk, and birthday cake cookie flavors on World Vegan Day. 
New at the late-night cookie business is a treat that's here to help young adults return to college with a little pep in their step. Part of the company's new limited-edition collection, the Vegan White Chocolate Cold Brew Classic cookie is described as "baked meets buzz."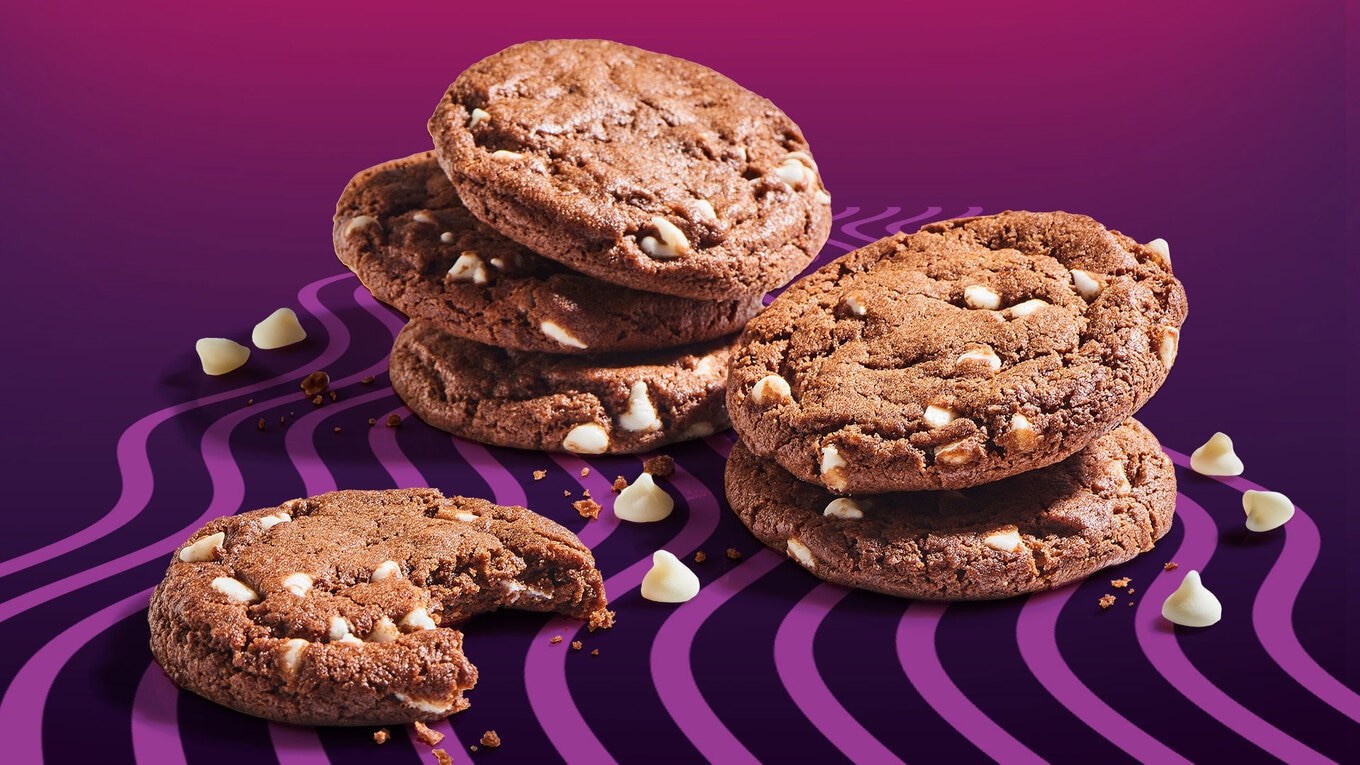 Insomnia Cookies
The chocolate cookie dough here gets a hit of cold brew coffee before being mixed with creamy white chips. 
Another perk? Throughout the month of August, Insomnia—which operates more than 240 locations nationwide—is offering free delivery for orders of $15 and more with code "Back2Cookies."
4Pumpkin spice beverages
Have you put away the swimsuit in preparation for scarves and boots yet? If not, you can get a taste of fall until it's time to truly transition. 
La Colombe, Chobani, and Jamba are all getting into the pumpkin spice mega-trend with beverages that pay homage to the classic flavor of fall.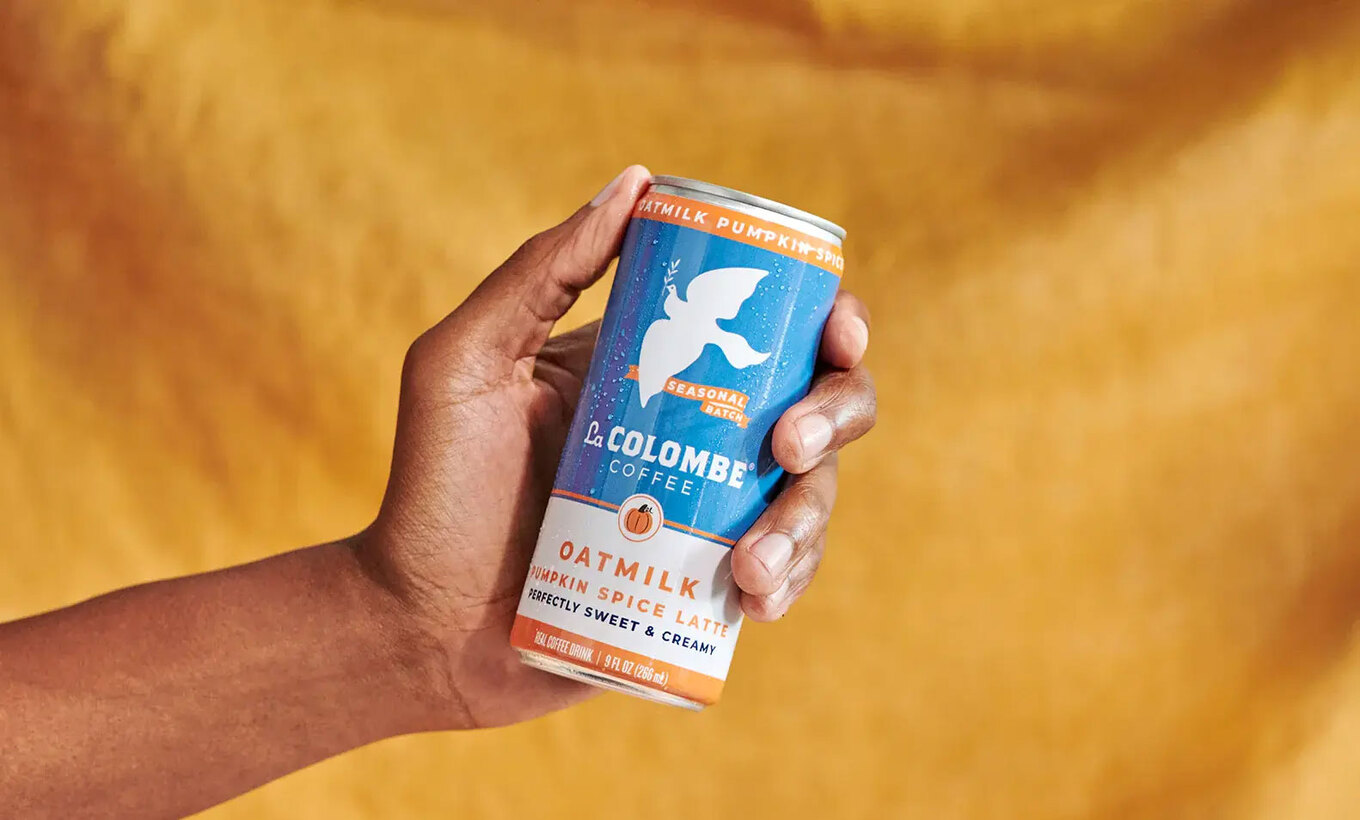 La Colombe
At coffee company La Colombe, a favorite is back for fall. The Oatmilk Pumpkin Spice Latte is made with a blend of cold-pressed coffee, pumpkin puree, and warming spices. 
Chobani is getting into the season with Oatmilk Pumpkin Spice, a vegan-friendly oat drink flavored with pumpkin spice. Made from whole-grain oats, it's dairy- and lactose-free and serves as a good source of calcium. For the fall season, the new oat milk flavor joins the returning Chobani dairy-free creamer that is also made with oat milk and spiked with pumpkin spice.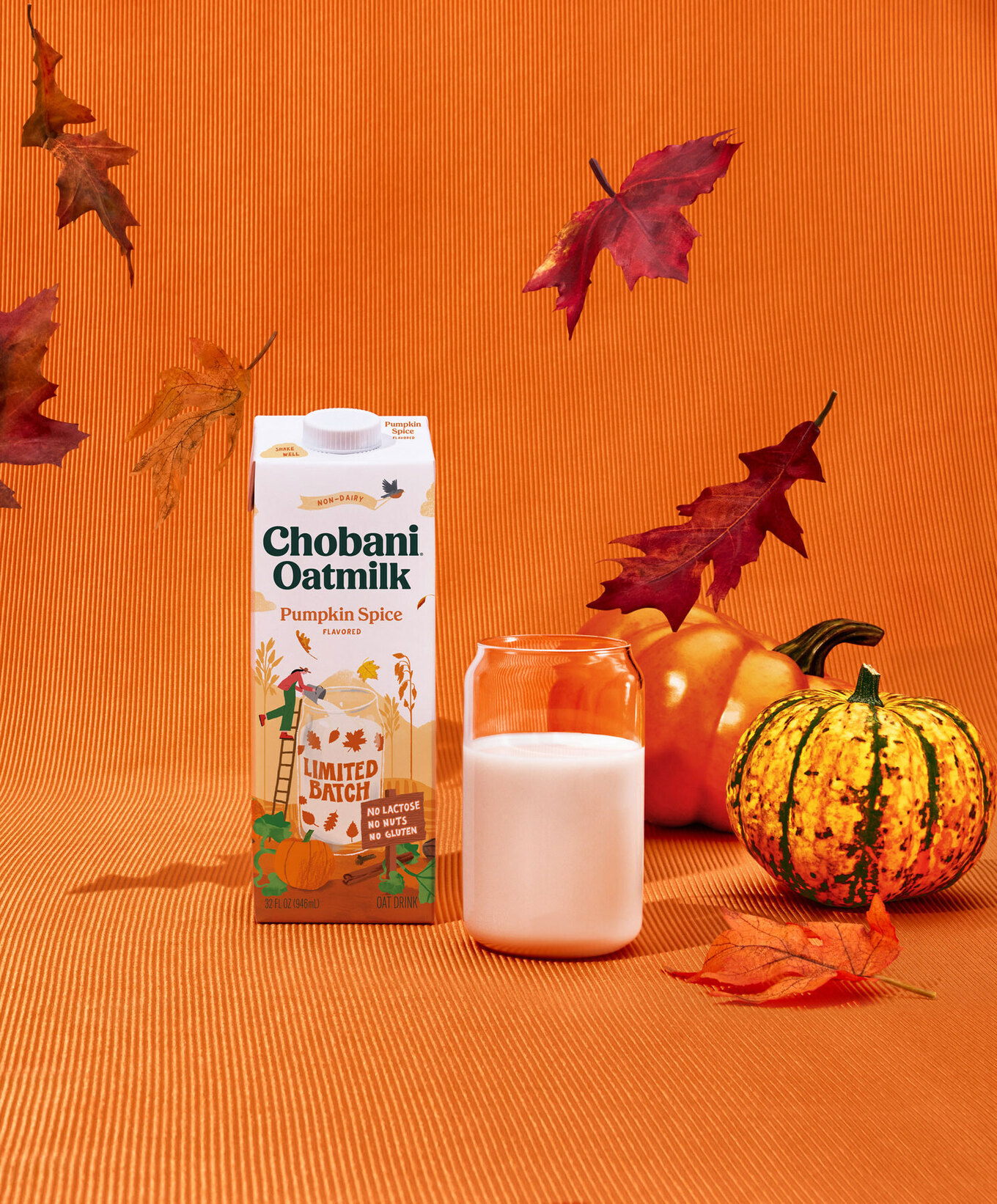 Chobani
"Fall beverages are in demand earlier than ever this year, and in true Chobani fashion, we're continuing to bring newness and excitement to this highly anticipated time of year by welcoming limited-edition Chobani Oatmilk Pumpkin Spice to our robust seasonal line-up," Niel Sandfort, Chobani Chief Innovation Officer, said in a statement. 
"This product is delicious straight up, over ice, or as a pumpkin spice flavor kick to hot and cold coffee, cereal, oatmeal, smoothies, or anywhere else oatmilk is enjoyed," Sandfort said.
And at Jamba, the Pumpkin Smash smoothie is back and can be ordered in a bowl option. To make it plant-based, ask for oat milk and So Delicious Dairy Free oat milk frozen dessert in place of dairy. 
5Pumpkin spiced vegan food
If you're looking to sink your teeth into something pumpkin-spiced, a few new food items are on the way.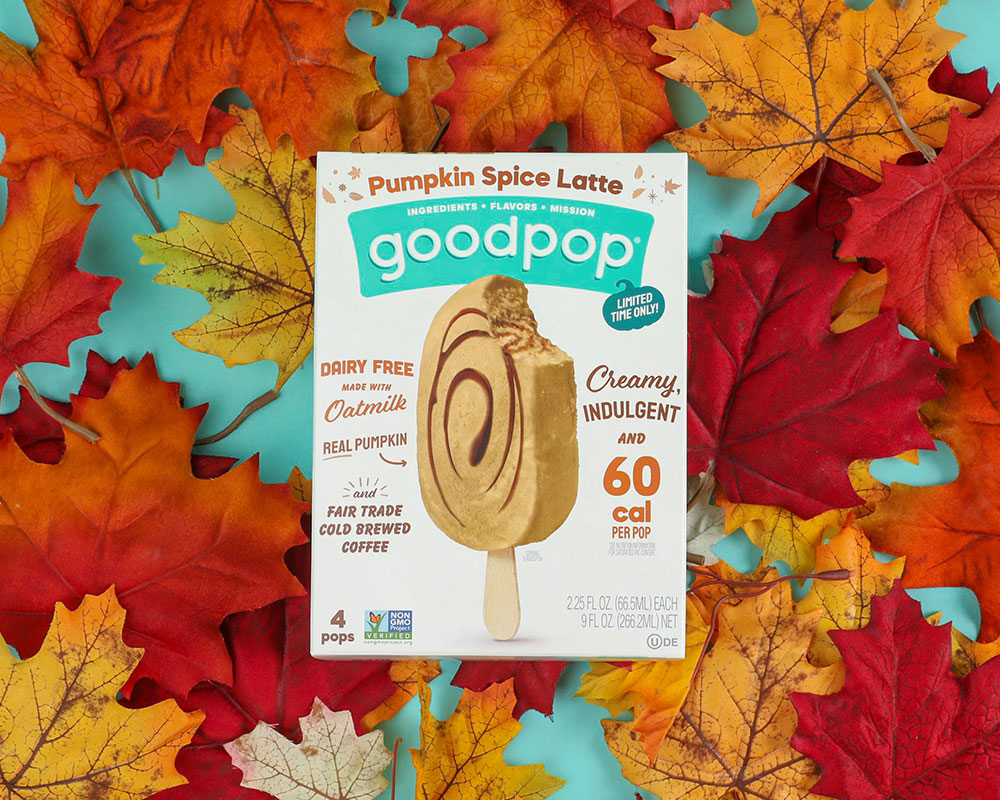 GoodPop
Combining the best of summer and fall, ice cream brand GoodPop just launched its seasonal Pumpkin Spice Latte frozen pop. Made with real pumpkin, fair-trade cold brew coffee, and oat milk, this pop is perfect for what promises to be an unseasonably hot autumn. 
If you're craving something a tad fancier, Chosen Foods just launched a Pumpkin Spice Caviar that is made from avocado oil and spices. The fish-free caviar is an interesting topper on ice cream, pancakes, and anything that can benefit from a hit of pumpkin spice.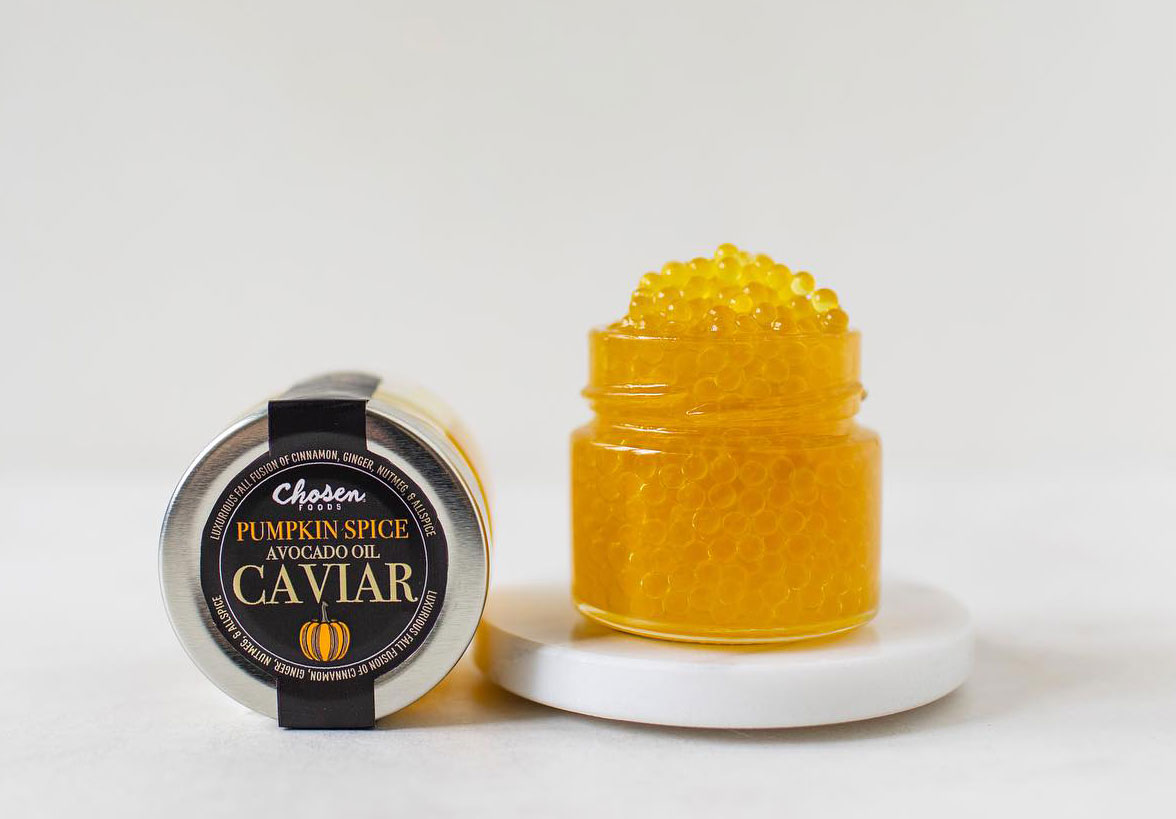 Chosen Foods
Snack brand LesserEvil is launching its take on the PSL: a vegan Pumpkin Spice Popcorn that's made with so much pumpkin that the kernels turned orange. These seasonal snacks will be available on September 5 at Whole Foods, Thrive Market, The Fresh Market, Publix, and on LesserEvil's website.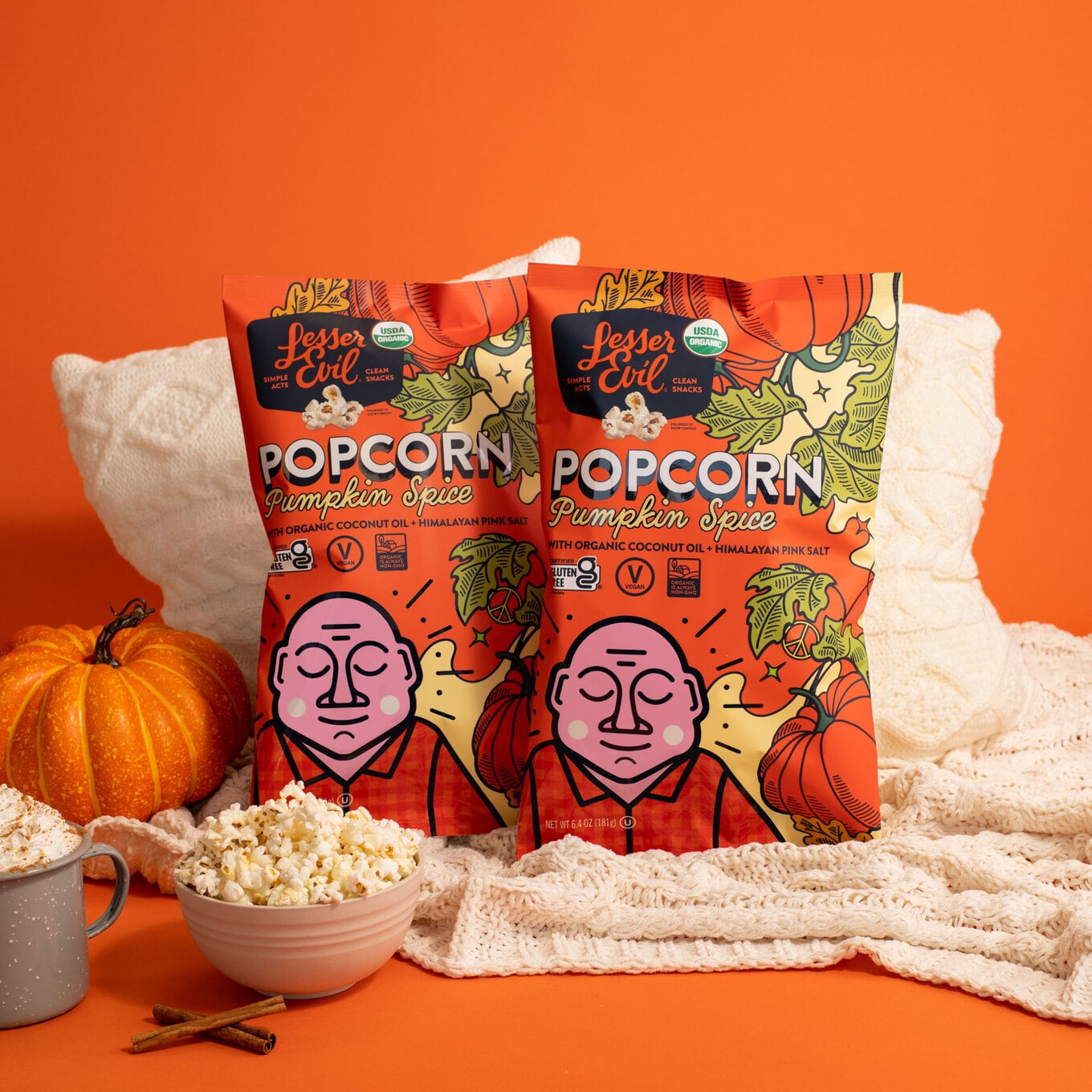 LesserEvil
With all of these pumpkin-spiced food and beverages, we can't imagine ever being short on options come fall. But if Starbucks—the originator of the pumpkin spice trend—finally takes that last bit of dairy out of its PSL, we'd make room for more in a heartbeat.
For the latest vegan news, read: