It seems that every week in the world of vegan food news is more exciting than the last and this week is no exception. Dip legend Bitchin' Sauce is capturing the best of Hatch chile season in the Southwest. Burgerville is showcasing the bounty of the Pacific Northwest with vegan shakes and sundaes made with local marionberries. And the Barbie bonanza has swept through just about everything, including a new vegan sushi roll at LA's popular Niku Nashi. Read on for more. 
1Frank's RedHot hummus
Putting Frank's RedHot sauce on everything is how we live our best lives. Hummus brand Sabra has answered our prayers with its new Frank's RedHot-inspired Sabra Buffalo Hummus, which pairs Frank's RedHot with Sabra's creamy hummus for a perfect blend of flavor and heat. 
"These outstanding dips are for the big flavor fans out there," Olugbenga Diyaolu, Sabra's Global Chief Research, Development, and Sustainability Officer, said in a statement. "As we reach for snacks more often, we want more from them … more intense flavor, more satisfying textures, more fulfilling options."
Sabra
This flavor is part of a line-up that also features Sabra BBQ Hummus inspired by barbecue sauce Stubb's and Sabra Southwest Hummus.
These hummus varieties are Sabra's answer to a growing demand for more intense flavors and satisfying textures in snacks. They mark the brand's first foray into bold-flavor innovations and are aimed at both hummus enthusiasts and newcomers.
"I am really proud of the team for crafting these extraordinary dips," Diyaolu said. "Whether you are new to hummus or already dip in daily, I think you will be blown away by the creamy texture and bold flavor Sabra is bringing to the table."
2Vegan milk made for kids
As many kids are headed back to school, parents have a new dairy-free option to help their little ones thrive with Ripple Kids Unsweetened Original, made by pioneering company Ripple Foods. 
Since the 2021 launch of Ripple Kids Original Milk, the product has experienced remarkable growth, becoming one of the fastest-growing items in the refrigerated plant-based milk sector. This success prompted the creation of the unsweetened version, which retains the 8 grams of plant-based protein and 50 milligrams of DHA omega-3s found in Ripple Kids Original Milk, but with zero added sugars.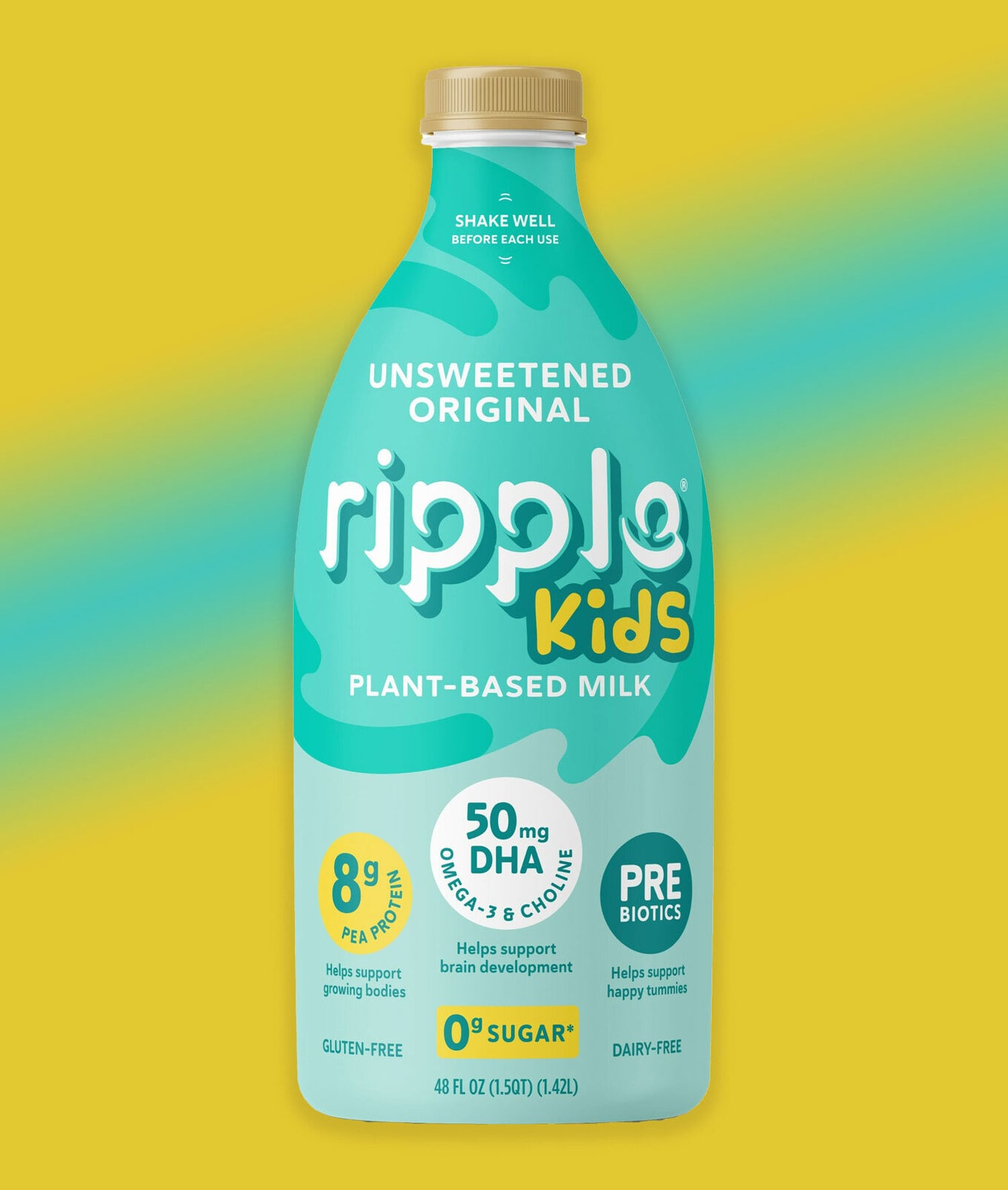 Ripple Foods
Ripple Kids Unsweetened Original also includes prebiotic fiber for digestion support and offers more calcium per serving than dairy milk. Registered Dietitian and Nutritionist Frances Largeman-Roth explained that the new vegan milk is a game-changer for children.
"With so many kids suffering from dairy allergies or lactose intolerance today, it's important to have alternatives to dairy with the right taste and nutritional profile to meet their unique needs at such an important stage of growth and development," Largeman-Roth said in a statement. 
"Ripple Kids plant-based milk offers families a convenient solution, and I'm excited there's now an unsweetened version without the added sugars, to provide even more choices," Largeman-Roth said. 
Available in 48-ounce bottles, Ripple Kids Unsweetened Original is rolling out in the dairy aisle of Target stores and other retailers nationwide. 
3Vegan Barbie-pink sushi rolls
The Barbie movie mania has reached every corner of the globe, including Los Angeles' vegan sushi hotspot Niku Nashi.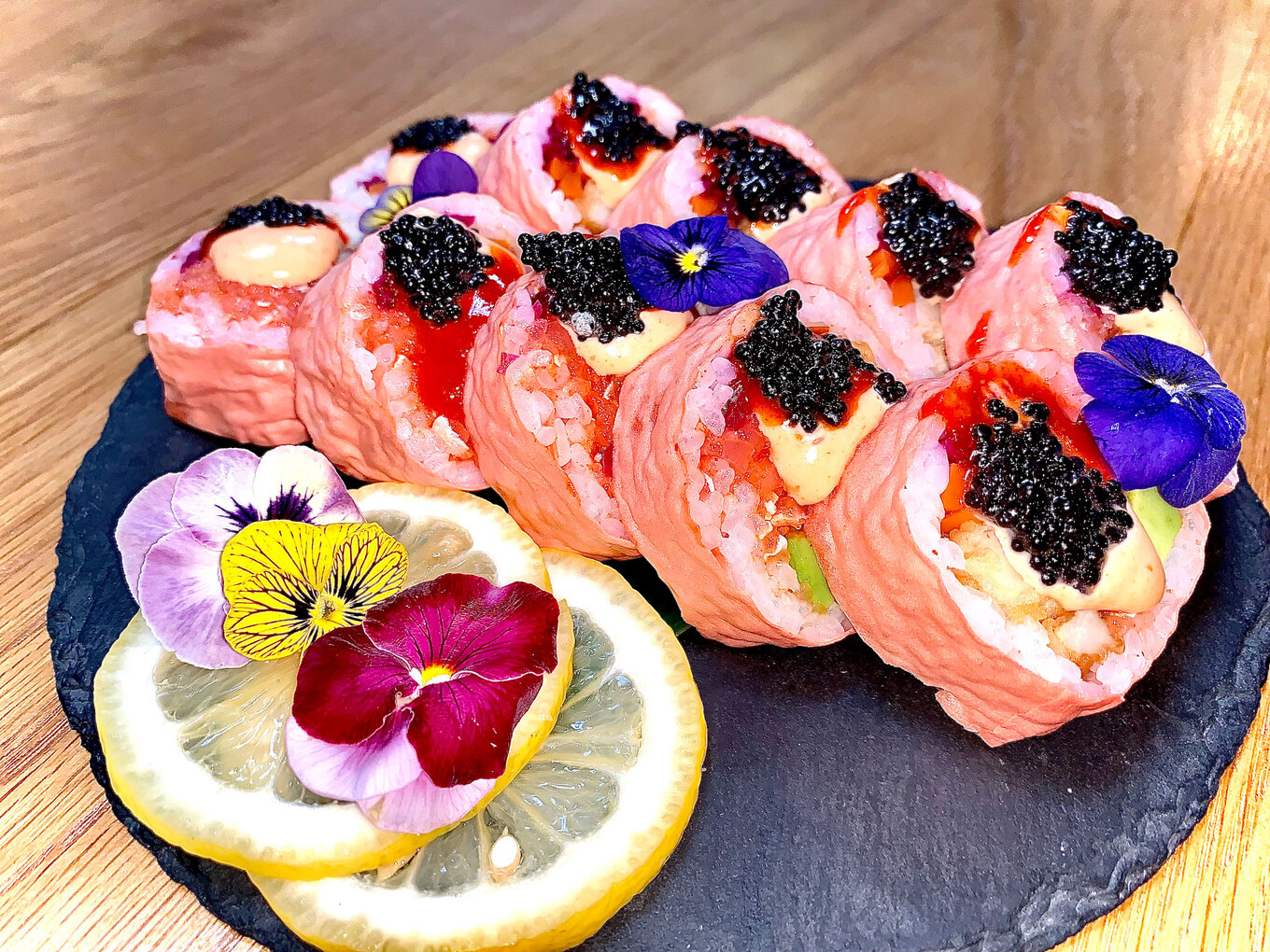 Niku Nashi
New on the menu is the Barbie roll which is filled with fried oyster mushrooms, pickled cabbage, plant-based caviar, plant-based spicy tuna, burdock root, and avocado—all wrapped up in Barbie-pink soy paper. Sesame, spicy aioli, and sriracha serve as accessories to the limited-time dish. 
"I've always believed that Barbie was vegan," Niko Zaragoza, executive chef and co-owner of Niku Nashi, said in a statement. "I suspect her radiant glow and her partner's 'Kenergy' stem from a plant-based diet. If so, they are more than pop-culture icons; they are contributors to a healthier, more sustainable planet."
Nestled inside vegan bar APB on Melrose, Niku Nashi is also home to a variety of vegan sushi options, which you can order packed inside a giant sushi boat.
4Southwest's favorite chile is Bitchin'
Pumpkin spice might signal the start of fall (or, late summer) for many, but in the Southwest, that bell is rung by the Hatch chile—a pepper with a bold flavor and a short growing season. This year, there's a new way to enjoy the elusive pepper with the help of Bitchin' Sauce.
Bitchin' Sauce, known for its almond-based dips, just unveiled a new "Hatch" Green Chile flavor, a limited-run item available at nearly 400 Sprouts Farmers Market stores nationwide from August through September.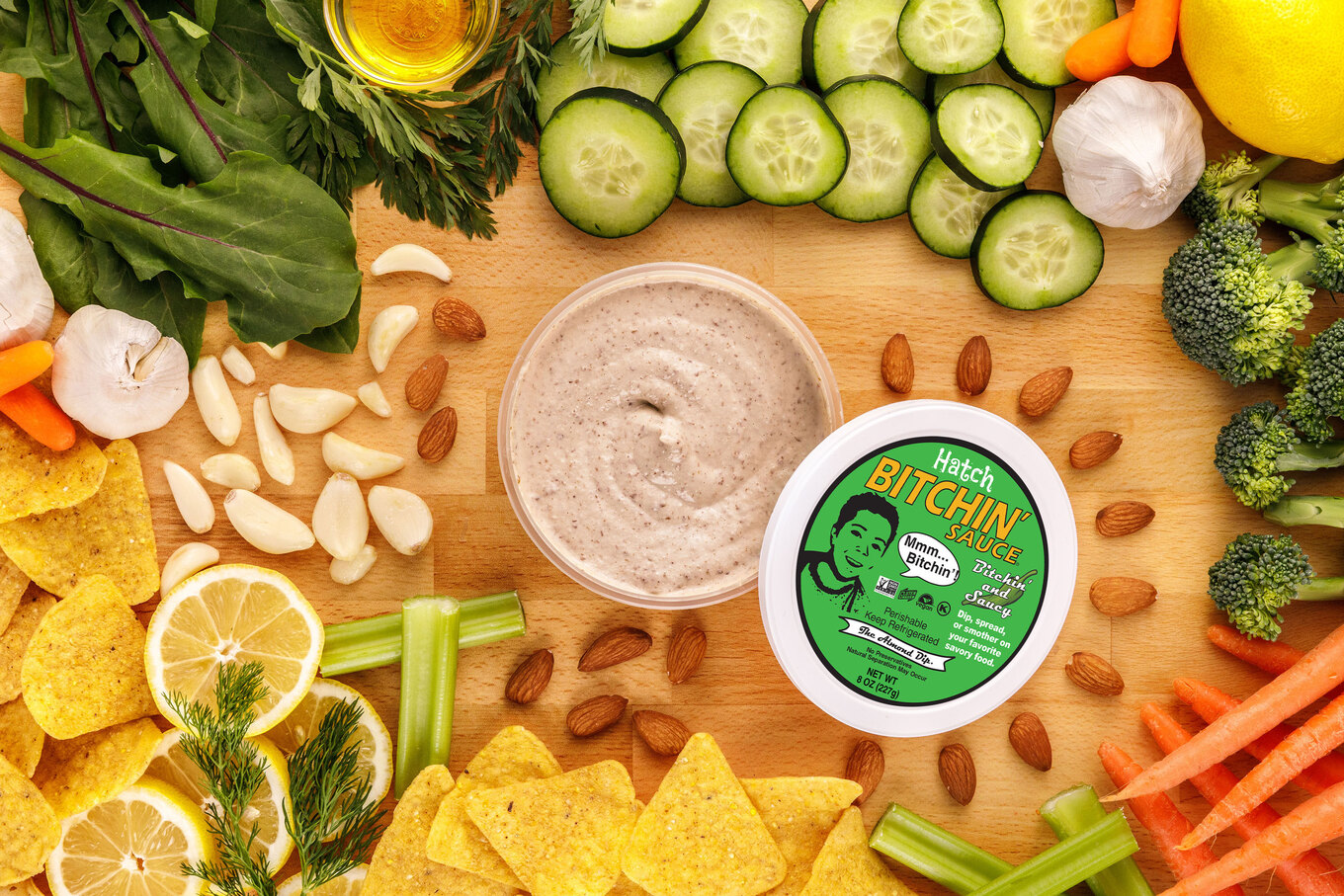 Bitchin' Sauce
The Hatch flavor celebrates the tastes of the American Southwest, following the company's popular spring launch of Thai curry "Panang."
The new flavor is characterized as toasty and subtly sweet, blending the signature fire-roasted green chile peppers with a flavorful blend of pepita seeds and jalapeños.
The release of Hatch Bitchin' Sauce builds on Bitchin's history with Southwestern US flavors, such as the Chipotle and the Cilantro Chili. These flavors, together with the Original Bitchin' Sauce, have contributed to the brand's widespread recognition among grocery shoppers.
5Dairy-free marionberry shakes
While the Southwest is Hatch chile land during this time of year, over in the Pacific Northwest (PNW), the talk of the town is marionberries. And over at PNW-based chain Burgerville, August is all about the local berry. 
New to the menu here are the Oregon Marionberry Shake, Oregon Marionberry Sundae, and Oregon Marionberry Lemonade, created in collaboration with local marionberry legends, Liepold Farms. Burgerville has crafted these seasonal treats to reflect the bounty of the late summer season, and all three are available vegan.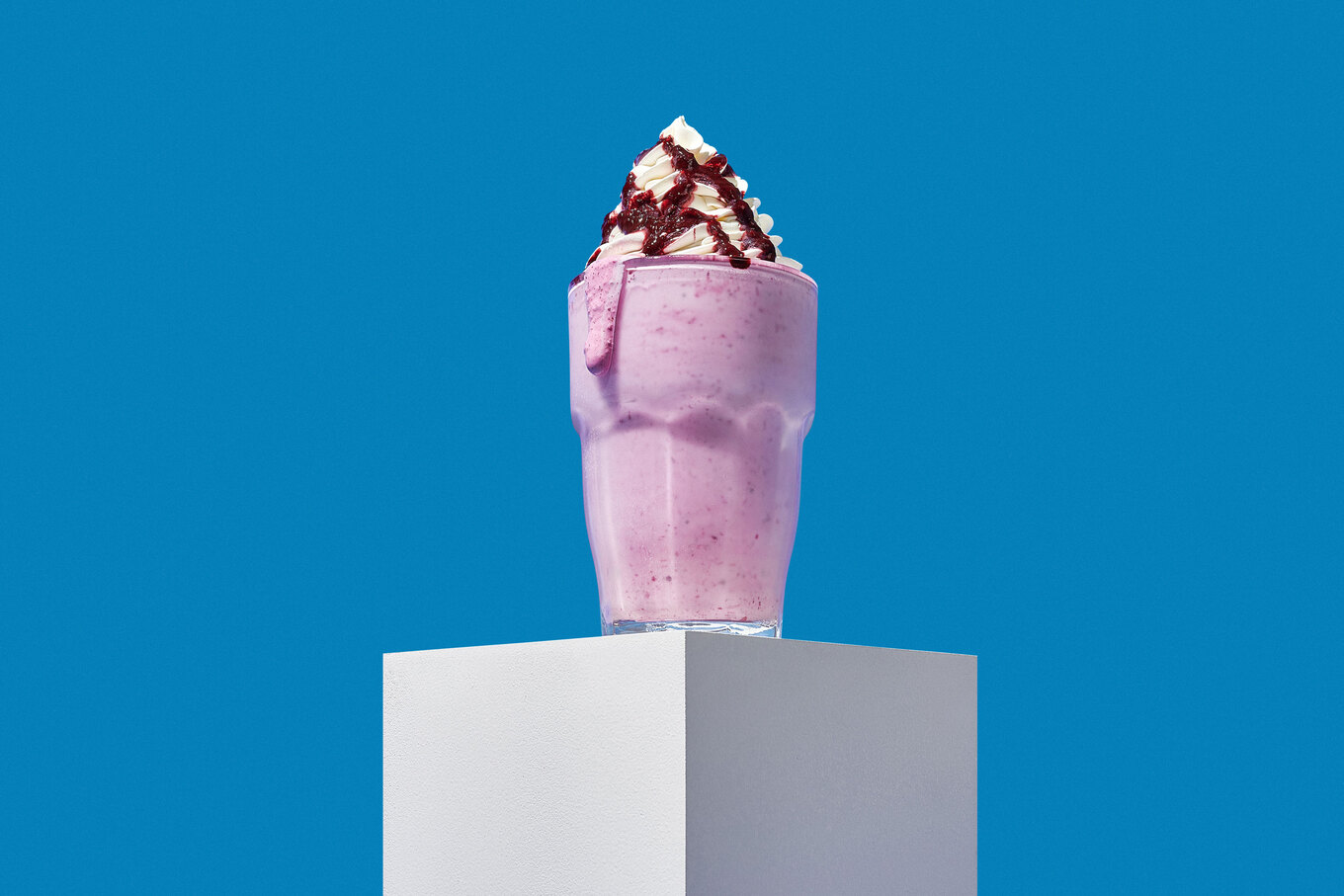 Burgerville
The shake (served with a marionberry drizzle) and sundae (topped with dairy-free sprinkles) are prepared with a vegan ice cream base from local company Cosmic Bliss. Each can be ordered with vegan coconut whipped cream. 
These marionberry beverages are available now and will continue to be offered through September 4, providing a limited-time opportunity to savor the unique taste of Oregon's late summer harvest.
And while both Hatch chiles and marionberries sound like great flavors, we're really ready for a vegan Pumpkin Spice Latte. Starbucks, can you hear us?
For the latest vegan news, read: