The days of boring salad are officially behind us with exciting vegan restaurant news cropping up every week. A Bejitarian (vegetarian) menu with ceviche, nigiri, and veggie stone bowls has hit Miami hotspot Osaka Nikkei, where Peruvian flavors seamlessly fuse with Japanese techniques.
Plus, Veggie Grill embraces Beyond Meat's plant-based steak with three menu additions. And Canada's fine-dining chain Planta is sinking its teeth further into California with a new Los Angeles location. Read on for more. 
1Planta expands in Los Angeles
Upscale vegan restaurant chain Planta is set to open another Los Angeles area location following its debut earlier this year in Marina Del Rey, CA. The new location is set to open on September 28 in Brentwood, with menu highlights such as carrot tartare, crispy mushroom handrolls, and Tagliatelle Carbonara. 
This forthcoming location is a part of the restaurant chain's strategic expansion, helmed by co-founder and executive chef David Lee, which has resulted in locations across the United States, including in Georgia, New York, Illinois, Florida, and Washington, DC, along with locations in its home country of Canada.
Steven Lee
If the Brentwood location is anything like its other outposts, Planta is set to attract a host of celebrity patrons which have previously included Pharell Williams, Jaden Smith, Vanessa Hudgens, and more. 
Other Planta restaurants in the works include another Atlanta area outpost in the Buckhead Village neighborhood and a Washington, DC expansion in the Dupont Circle area. 
2White Castle's Impossible Slider turns five
Five years ago, White Castle beat Burger King to the plant-based burger punch with its Impossible Slider. This move made White Castle the first fast-food hamburger chain to offer a plant-based burger option across all its locations.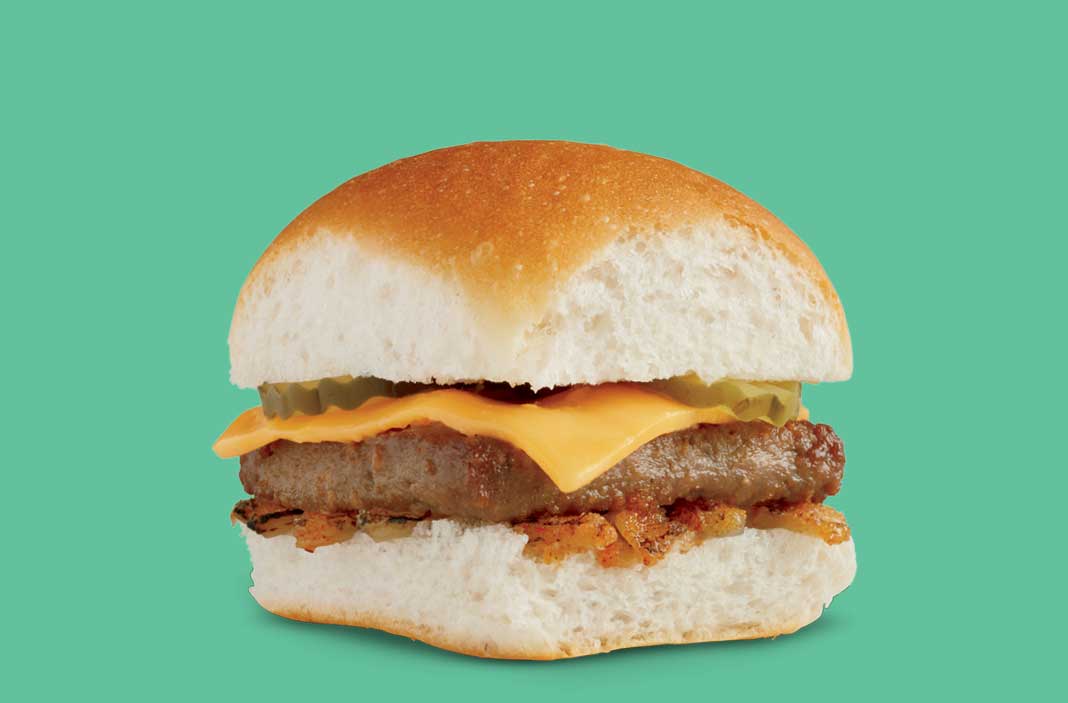 White Castle
The collaboration with Impossible Foods, which began in 2018, marked a seminal moment for plant-based offerings in the fast-food industry. The Impossible Slider is available with White Castle's signature bun, garnished with pickles and onions. Customers have the option to customize the slider further, with or without cheddar cheese. 
Designed to closely mimic the taste, smell, and sizzle of a meat-based burger, the Impossible Slider has cultivated a dedicated following over the last five years. 
"It is in White Castle's soul to be innovative and take pioneering first steps in this industry, and we lived up to the billing with the Impossible Slider," Lynn Blashford, the Chief Marketing Officer at White Castle, said in a statement. 
"The introduction of a plant-based burger systemwide five years ago set a new standard that, like the Original Slider's debut a century ago, others quickly decided to follow," Blashford said. 
As part of its anniversary celebrations, White Castle is rolling out a limited-time offer throughout September, when Craver Nation members can take advantage of a special coupon for $1 Impossible Sliders, available through the White Castle app. 
3Beyond Steak at Veggie Grill
Vegan fast-food chain Veggie Grill is expanding its partnership with Beyond Steak—giving customers more meaty menu choices. 
Initially introduced in April, the plant-based steak garnered an overwhelmingly positive response, leading to its inclusion in three popular dishes. "From day one, our mission at Veggie Grill has been to use plant-based ingredients to reinvent familiar and craveable dishes," T.K. Pillan, co-founder and CEO of Veggie Grill, says.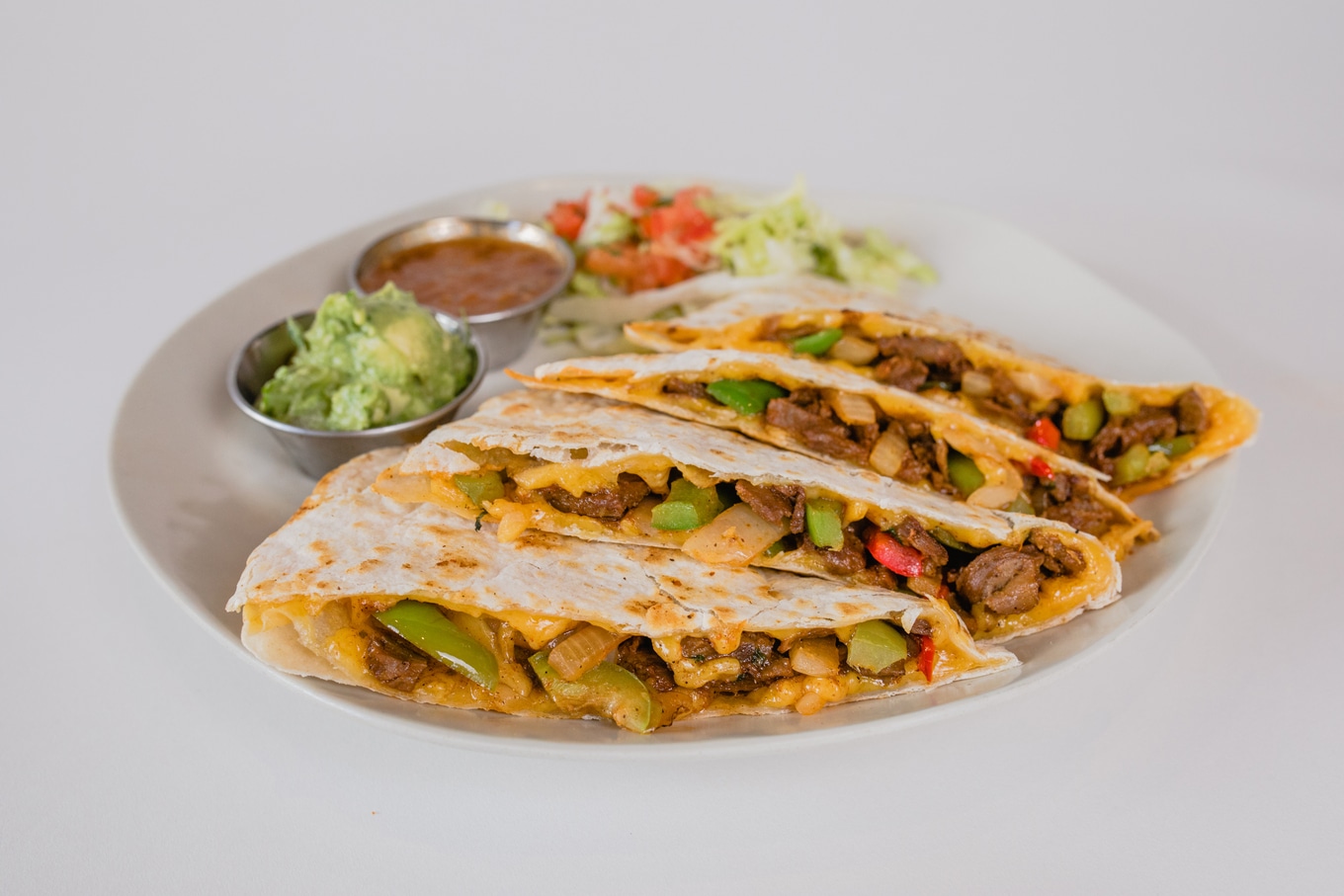 Veggie Grill
Following its release, the Steak Fajita Quesadilla featuring Beyond Steak quickly ascended to become Veggie Grill's third best-selling menu item.
"We were thrilled that our guests loved Beyond Steak as much as we did, and following the success of the Steak Fajita Quesadilla, we're extremely proud to grow our partnership with the Beyond Meat team by diversifying our Beyond Steak lineup," Pillan says. 
"We are confident our Veggie Grill guests will continue to embrace its flavor, versatility and better-for-you health benefits—enjoyed with some of our most popular menu items," Pillan says. 
Available at all 17 nationwide locations, the new offerings include the Steak Fajita Quesadilla, Sonoran Bowl, and Classic Romaine Caesar Salad. Veggie Grill is also offering Beyond Steak as an add-on to other menu items. 
To celebrate the expansion, Veggie Grill is offering promotional pricing. Customers can receive a $5 discount on Beyond Steak dishes through September 10, 2023, using the code "5OffSteak." Additionally, on National Quesadilla Day (September 25), Veggie Grill will offer a free Beyond Steak Quesadilla with any $10 purchase, using the code "FreeQDay."
4Fall for vegan French food in NYC
Vegan French food restaurant Delice & Sarrasin just got a menu revamp for fall, aiming to redefine sustainable and ethical dining in the heart of New York City. In line with the increasing culinary shift toward environmentally responsible options, the restaurant is launching new dishes that uphold the richness of French cuisine, but with a vegan twist.
Head chef Yvette Caron has taken on the challenge of crafting vegan alternatives to classic French dishes, such as Coq au Vin and Ratatouille Niçoise. These dishes are made with locally sourced ingredients like Parisian mushrooms and wild vegetables, underlining the restaurant's commitment to reducing transportation emissions.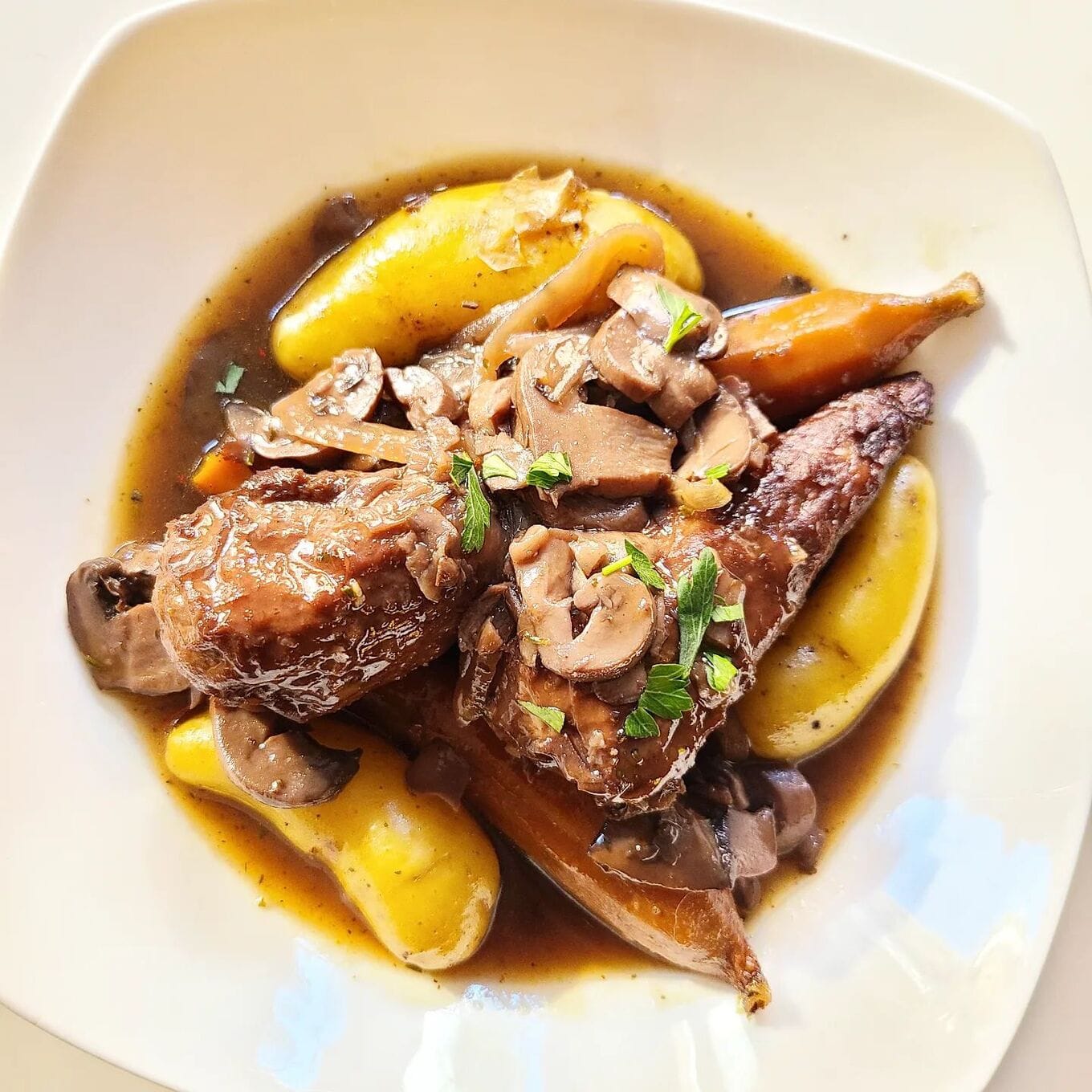 Delice & Sarrasin
The focus is not just on sustainability but also on retaining the authenticity of traditional French flavors.
In addition to the menu changes, the restaurant has adopted other sustainable practices to minimize its carbon footprint. The restaurant now sources ingredients from local organic producers and micro-farms in NYC and implements energy-efficient methods in its kitchen operations. 
These steps are part of the restaurant's broader strategy to reduce waste and contribute to a more sustainable food industry, all while giving diners a chance to taste traditional French dishes that do not harm animals or the environment. 
"Our family-run Manhattan restaurant is committed to creating a truly immersive plant-based and sustainable dining experience where dedicated vegans, curious foodies, or simply someone seeking a taste of France in a compassionate way, can indulge in the rich heritage of French gastronomy," a spokesperson for the restaurant said in a statement. 
Reservations are open for brunch, lunch, and dinner sittings to experience the newly revamped menu. 
5Nikkei vegan food in Miami
Osaka Nikkei, a culinary focal point in the Brickell neighborhood of Miami, specializes in Nikkei cuisine—a fusion of Peruvian flavors with Japanese cooking techniques. 
The restaurant has recently introduced a Bejitarian (Vegetarian) menu that also includes a range of vegan dishes.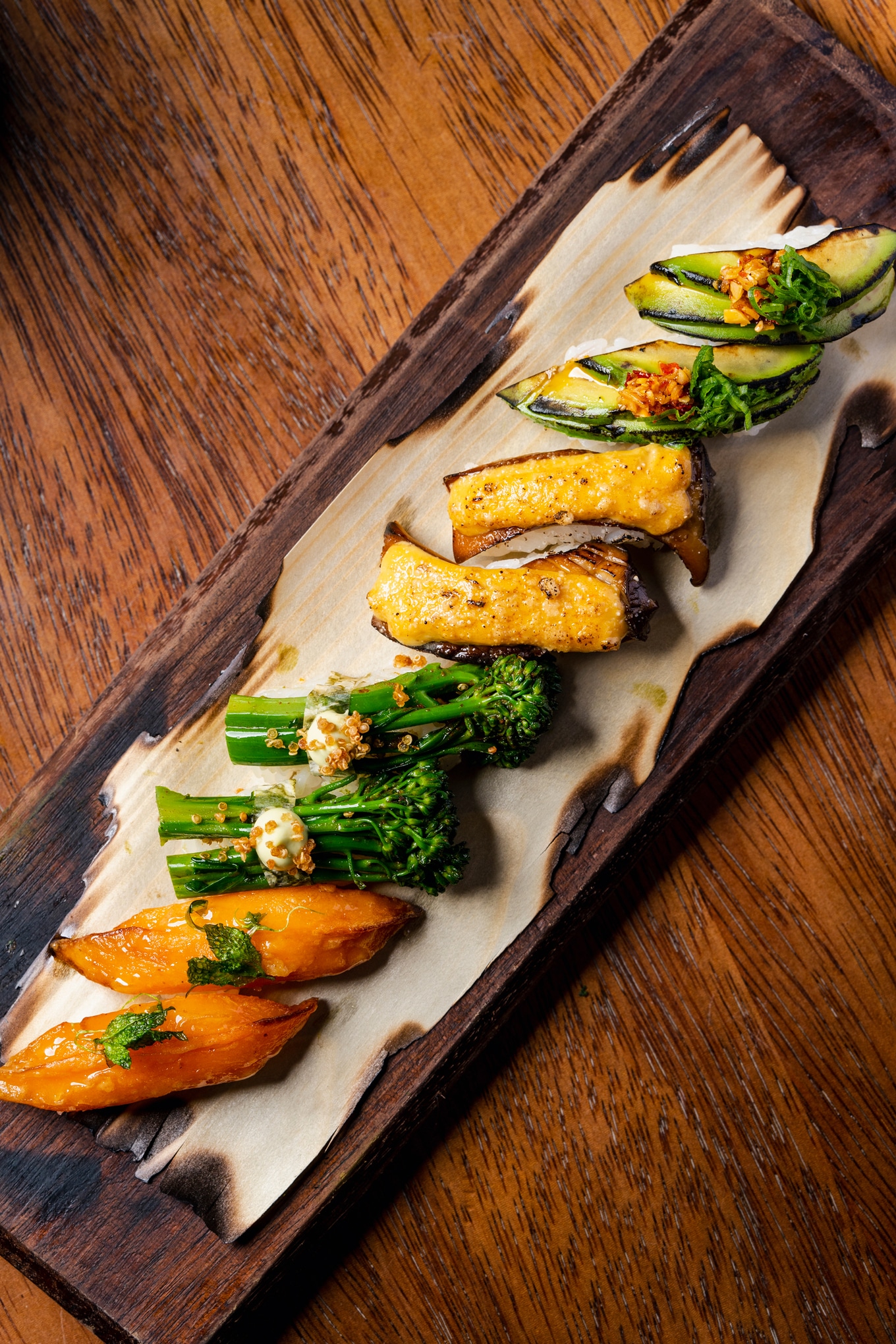 Osaka Nikkei
"The importance of vegan dishes expands beyond increasing our customer base," Sean Benna, General Manager at Osaka Nikkei, tells VegNews. "People have become more health conscious and are leaning toward plant-based diets."
"The stigma that vegetables can't be delicious is gone. In the restaurant industry, this is causing a demand for more vegan and vegetarian options," Benna says.
The Bejitarian menu boasts a selection of innovative dishes crafted to tantalize the taste buds, with vegan highlights that include bar bites such as Yasai Usuzukuri (seasonal vegetables paired with avocado brasa and rocoto emulsion) and Kinoko Ceviche (trumpet mushrooms, kyuri, yuzu ponzu, and crispy quinoa).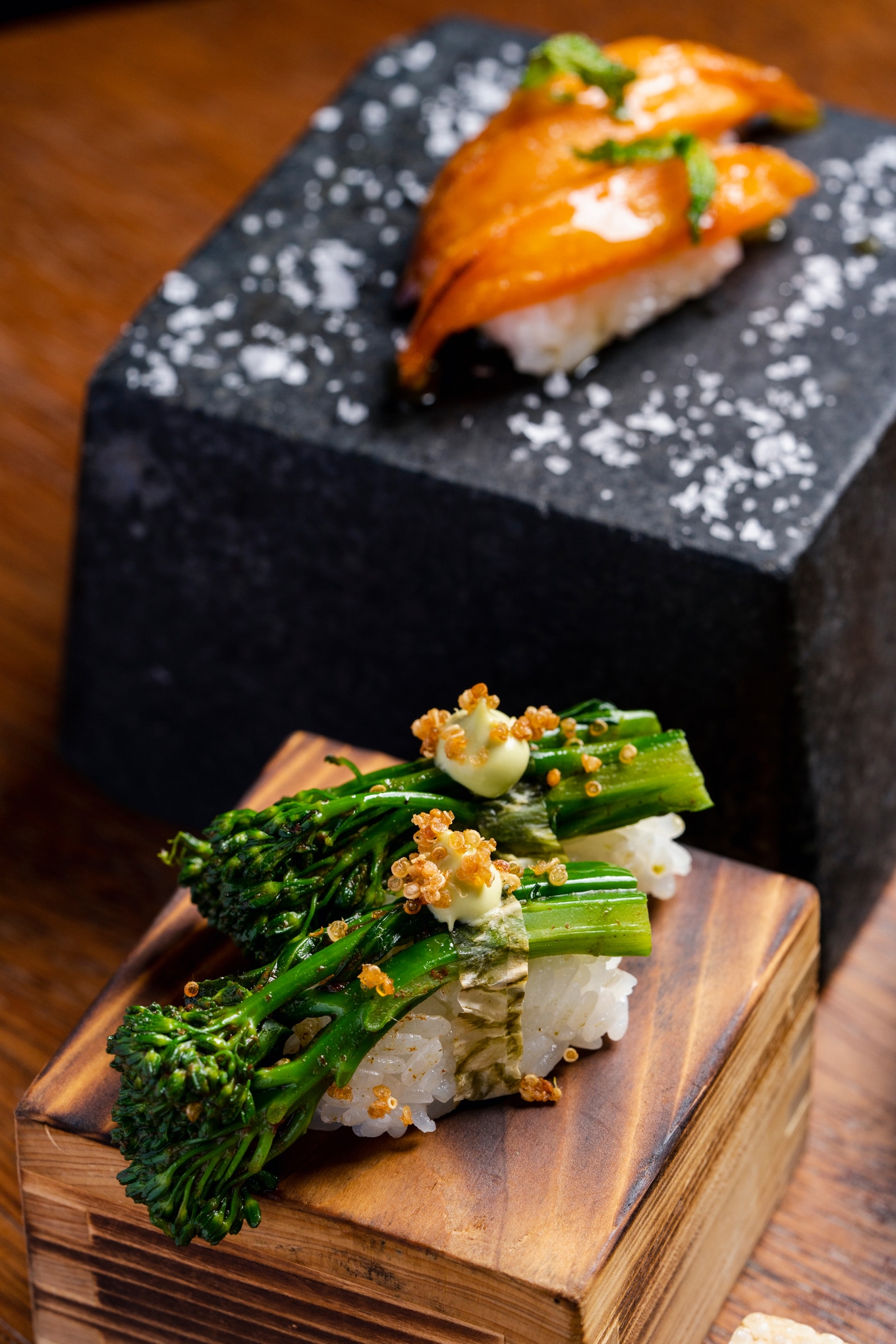 Osaka Nikkei
The new menu also features vegan nigiri rolls such as the Broccolini Huacatay (with pachamanquera sauce, smoked salt, and lime); and Peruvian izakaya items like the Shishito Brasa (smoked ponzu, scallions, and Nikkei rayu sauce) and Veggie Meshi (wok rice and pickled vegetables served over a hot stone bowl). 
"At Osaka, our chefs are able to show innovation in a new way with the Begitarian menu," Benna says. "Our vegetarian menu with some vegan options gives our guests a culinary experience using Nikkei flavors in a unique way." 
For the latest vegan news, read: