If you hate grocery shopping, you're not alone—heading out to the store can be time-consuming and a little dull. But if you're the type who walks around the aisles daydreaming about better ways to spend your time, there is a solution: Hungryroot. The online platform uses AI to figure out the types of foods and recipes that suit your tastes best, without you having to go anywhere. Basically, it does all the hard work for you. Here's how it works, plus some of the best vegan products you can find on its virtual shelves.
What is Hungryroot?
Founded in 2015, Hungryroot is both a unique meal-planning service and an online grocery store. After you sign up, you'll be asked to take a quiz about your likes and dislikes and your dietary requirements, which will help to inform the type of foods the platform recommends to you. After that, it will help you to fill your cart quickly and easily by showing you products and recipes that fit your tastes and needs. If you love it, you can opt for a grocery subscription. 
The platform offers a wide range of sustainably sourced, organic produce, as well as a plethora of vegan dips, plant-based meats, snacks, and treats. It's basically a paradise for plant-based shoppers. But to help you get an idea of what Hungryroot has to offer, below, we've listed just a few of our favorite items.
The best vegan finds at Hungryroot
Hungryroot
1 Mind Blown Plant-Based Crab Cakes
Crab cakes without the crab? The Plant Based Seafood Co. has proven it can be done. Best served with a pile of grilled vegetables and a squeeze of lemon, these vegan patties are packed with flavor. And the texture is so convincing, you won't be able to tell the difference.
Get it here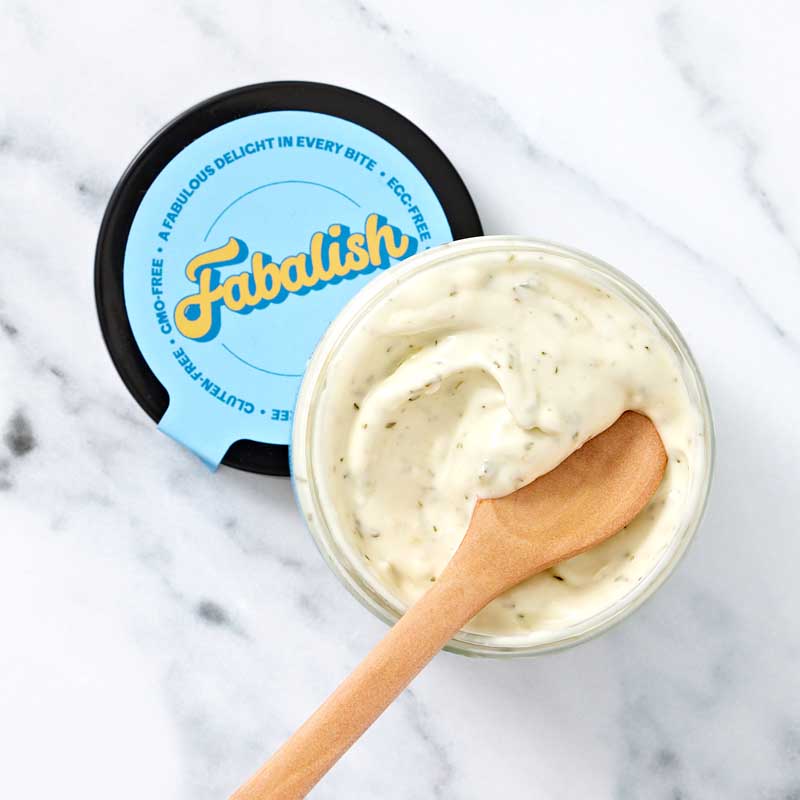 Hungryroot
2 Organic Dairy-Free Tzatziki
Tzatziki is usually made with Greek yogurt, but if you're plant-based and craving this creamy, refreshing dip, you don't have to miss out. Instead, try this dairy-free, organic version from Fabalish, which is made with aquafaba.
Get it here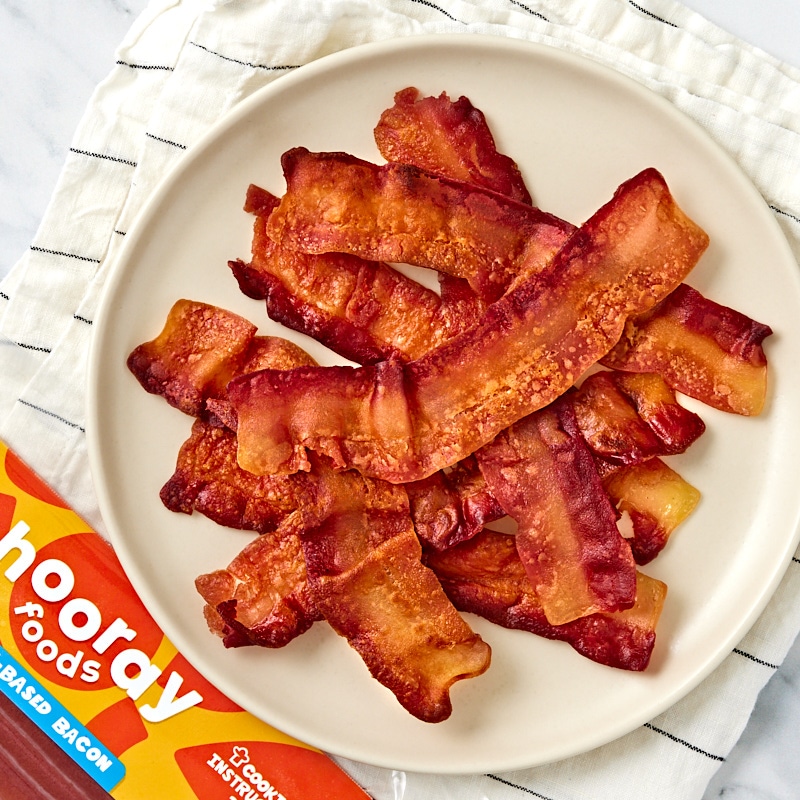 Hooray Foods
3 Hooray Foods Plant-Based Bacon
Bacon is, arguably, the best breakfast or brunchtime treat, especially when it's made with plants instead of animals. This plant-based bacon from Hooray Foods is smoky, crispy, chewy, and full of flavor.
Get it here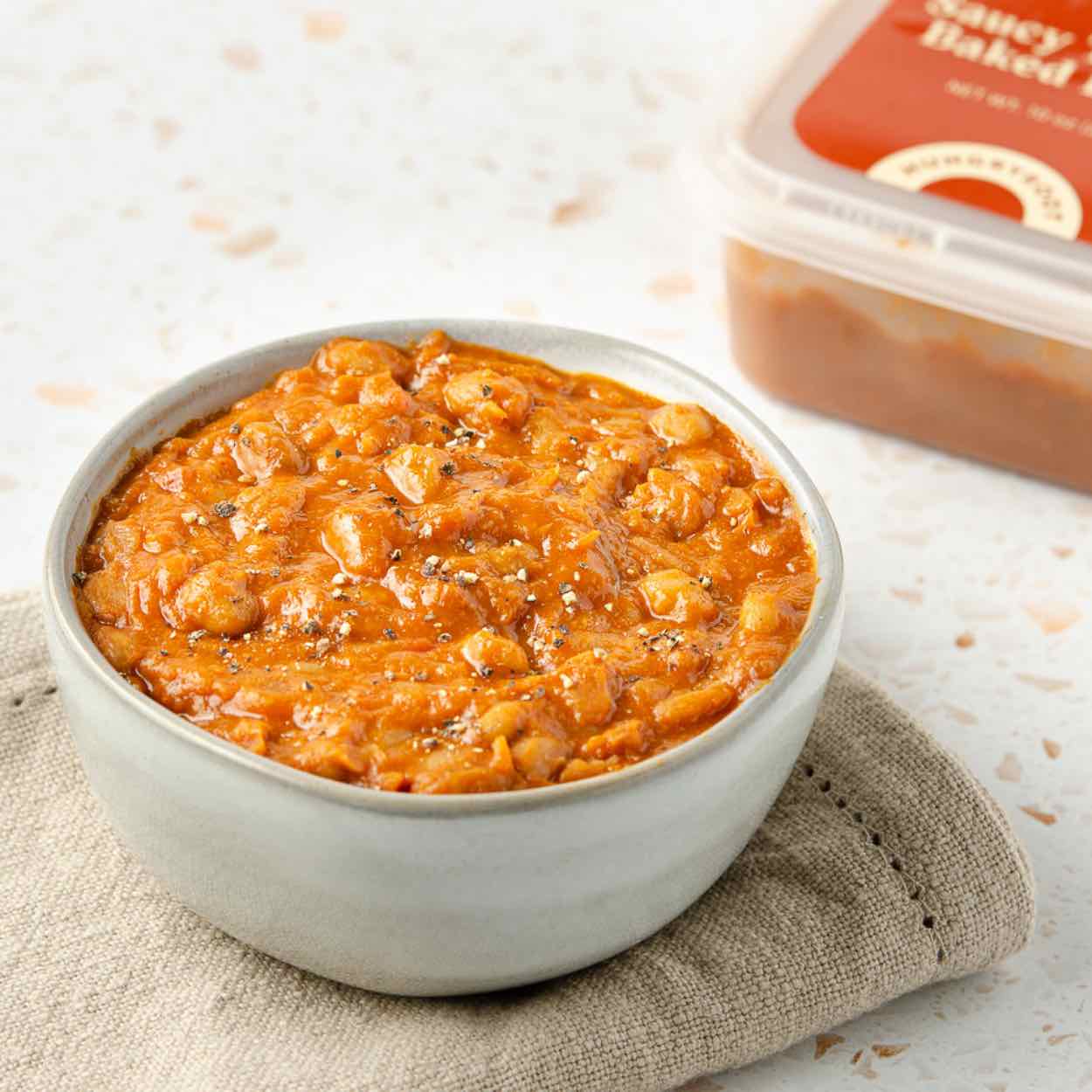 Hungryroot
4 Saucy Tomato Baked Beans
A barbecue isn't complete without a plethora of delicious side dishes, let's be honest. Save yourself the hassle of cooking everything from scratch by ordering some of Hungryroot's own pre-made saucy, smoky tomato baked beans. You don't even have to confess you didn't whip them up yourself.
Get it here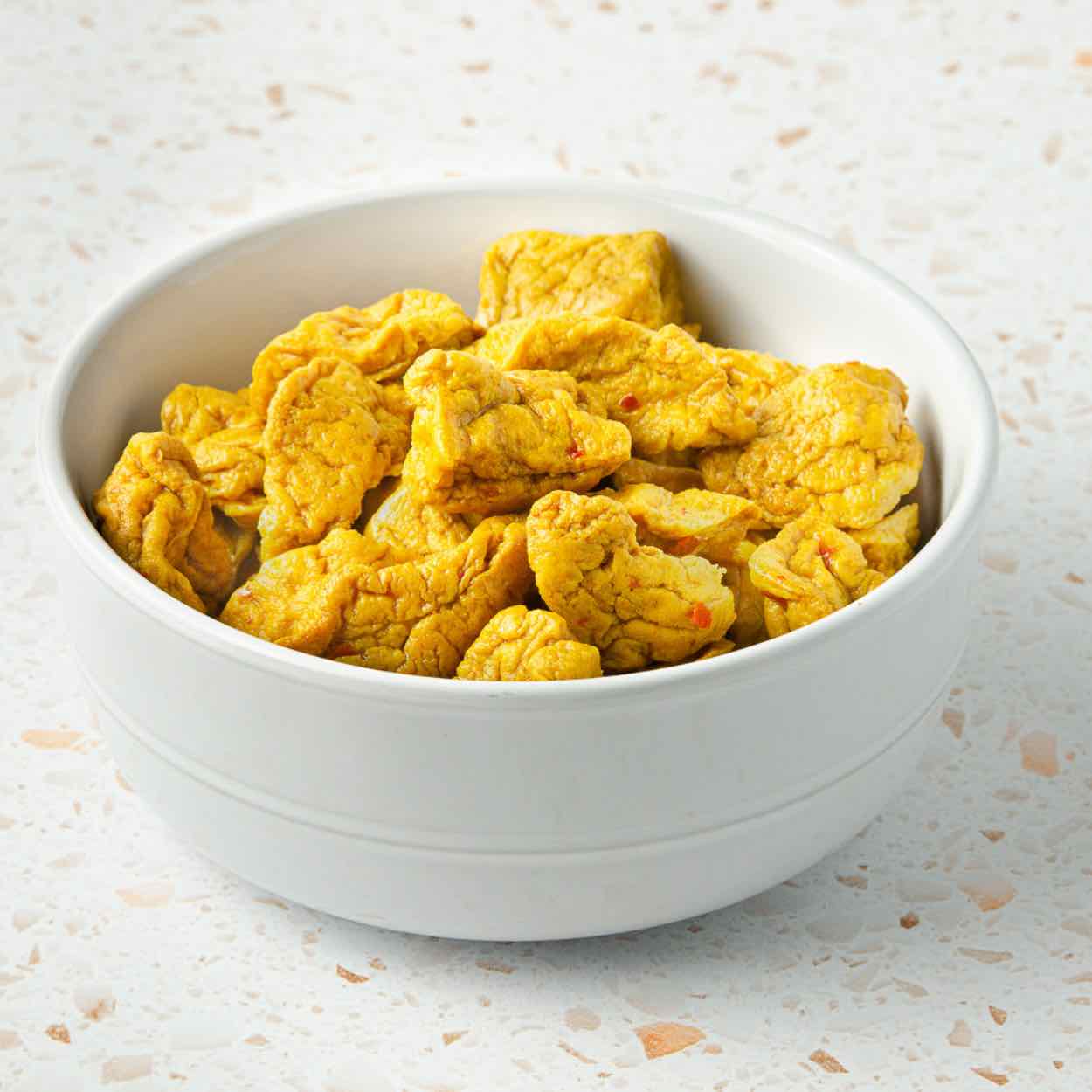 Hungryroot
5 Braised Lemongrass Tofu Nuggets
Tofu is a protein-packed plant-based staple, which is also incredibly versatile—it can take on any flavor you pair it with. For these braised nuggets, Hungryroot has marinated organic tofu in a blend of herbs and spices like lemongrass, fenugreek, cumin, and cayenne, with delicious results.
Get it here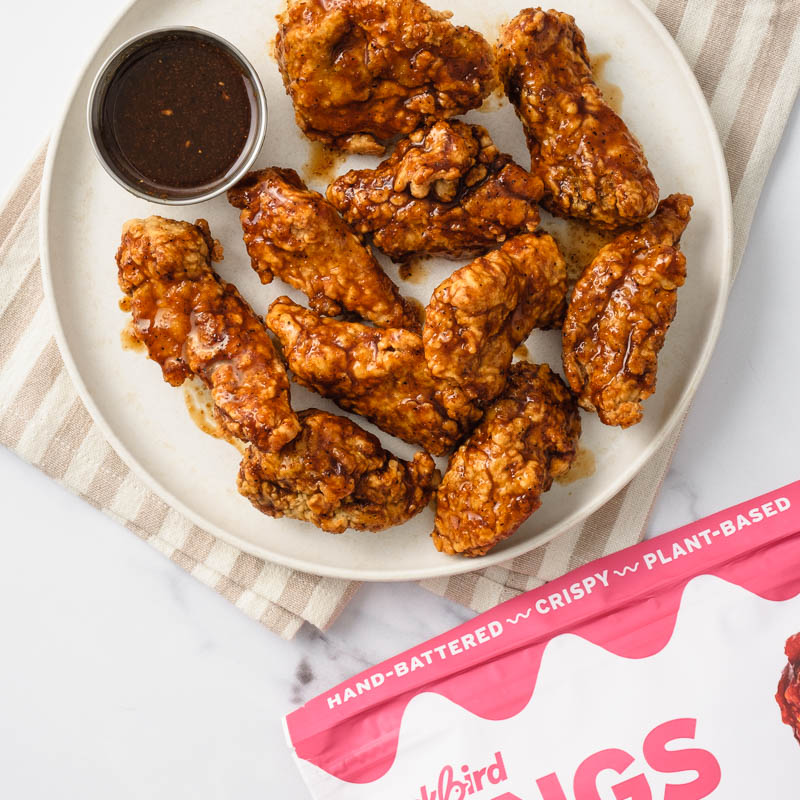 Hungryroot
6 Blackbird Foods Korean BBQ Seitan Wings
Chicken wings are a game-day classic, but if you don't want to eat meat, you can still join in the fun. Blackbird Foods' Korean BBQ wings are made with seitan, and they're perfectly crispy, juicy, and tender all at once.
Get it here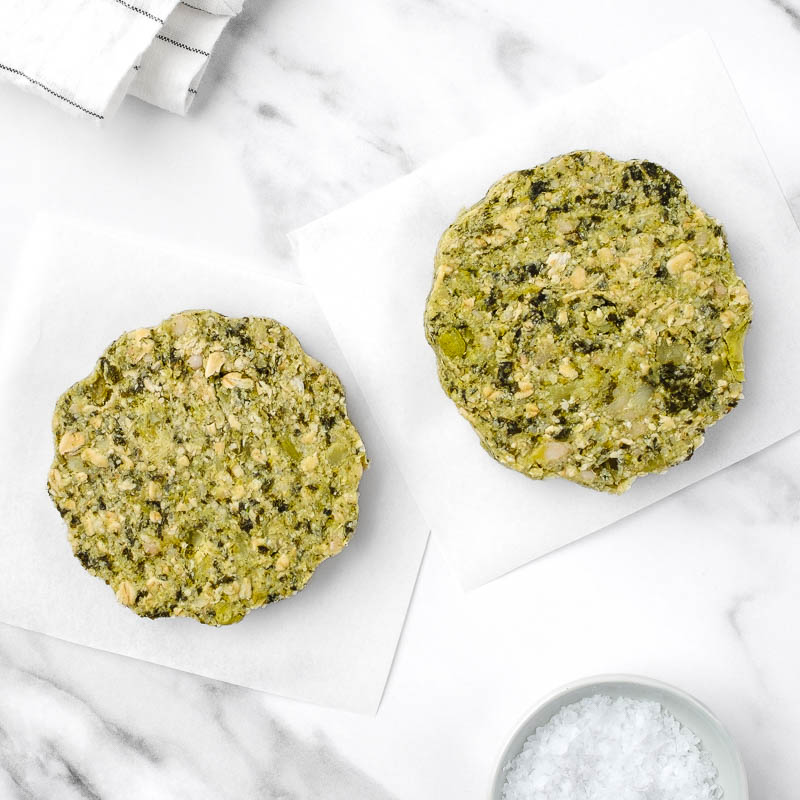 Hungryroot
7 Actual Veggies Green Veggie Burger Patties
Nowadays, there are plenty of meaty vegan burger options on the market (thank you, Beyond Meat, Impossible Foods, and more). But sometimes, nothing hits the spot like a good old-fashioned veggie patty. Pack in the nutrition and the flavor with these plant-based burgers from Actual Veggies, which are made with all your green favorites.
Get it here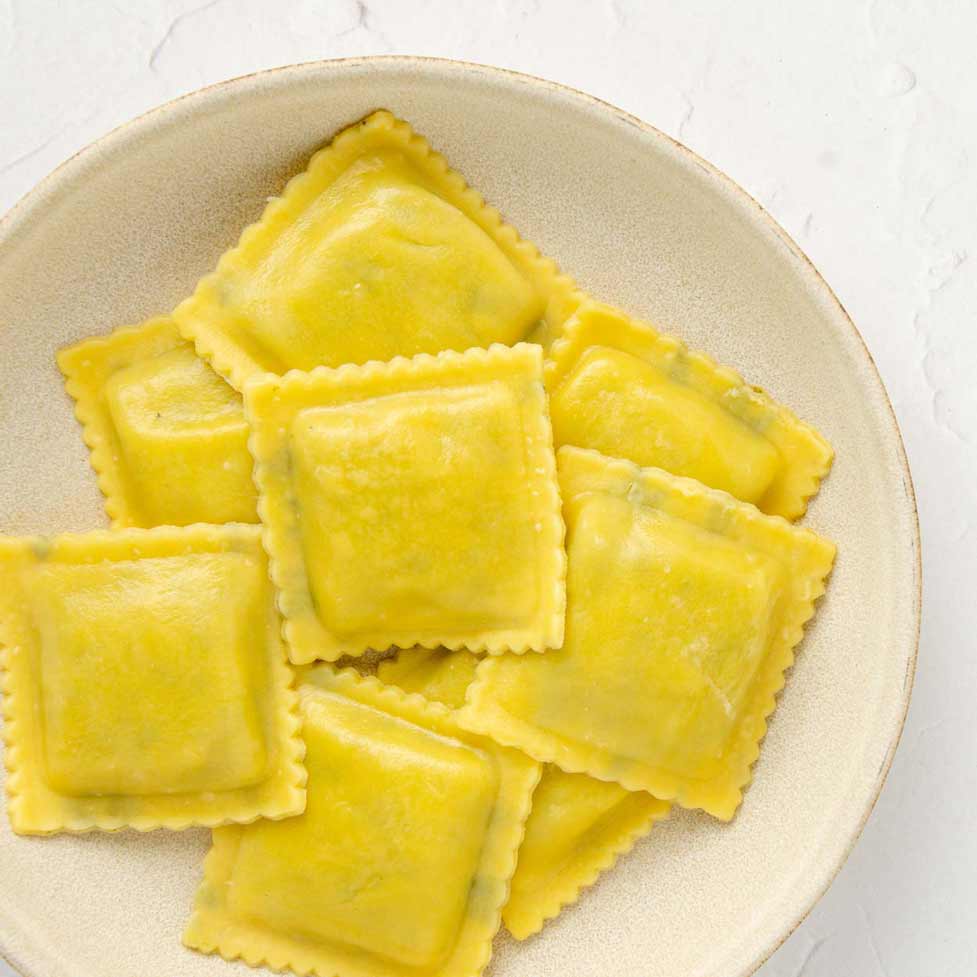 Hungryroot
8 Kite Hill Spinach Ricotta Ravioli
All pasta is delicious, but arguably, you can't beat ravioli stuffed with vegan ricotta and spinach. Serve with vegan butter and a sprinkling of dairy-free parmesan. Simple but incredibly satisfying.
Get it here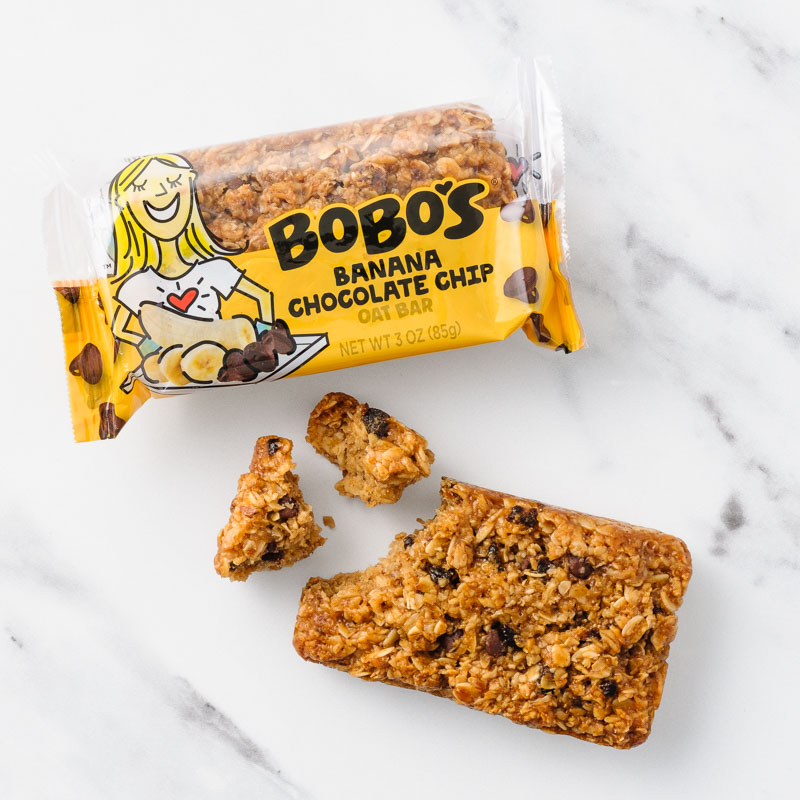 Hungryroot
9 Bobo's Banana Chocolate Chip Oat Bar
These oat bars from Bobo's were made to please everyone, and we do mean everyone. They're kid- and adult-friendly, and, as well as a tasty, filling snack, they also make for a great on-the-go breakfast.
Get it here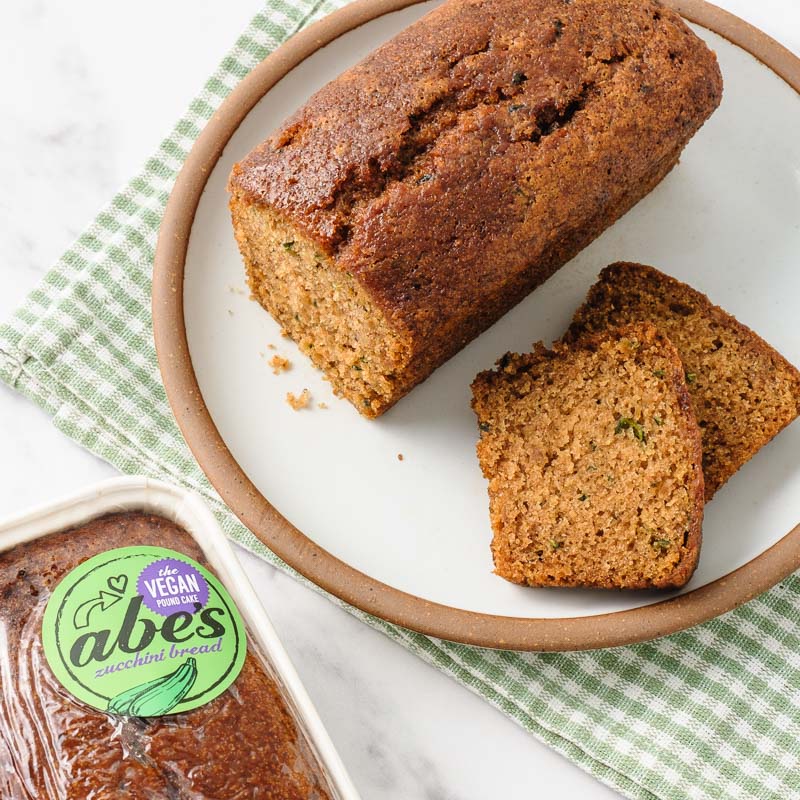 Hungryroot
10 Abe's Zucchini Bread Loaf
It's a cake, but it's made with … zucchini? Vegetables in a cake sound so wrong, but it tastes so right. Don't believe us? Put it to the taste test for yourself. Prepare to make it your new go-to snack.
Get it here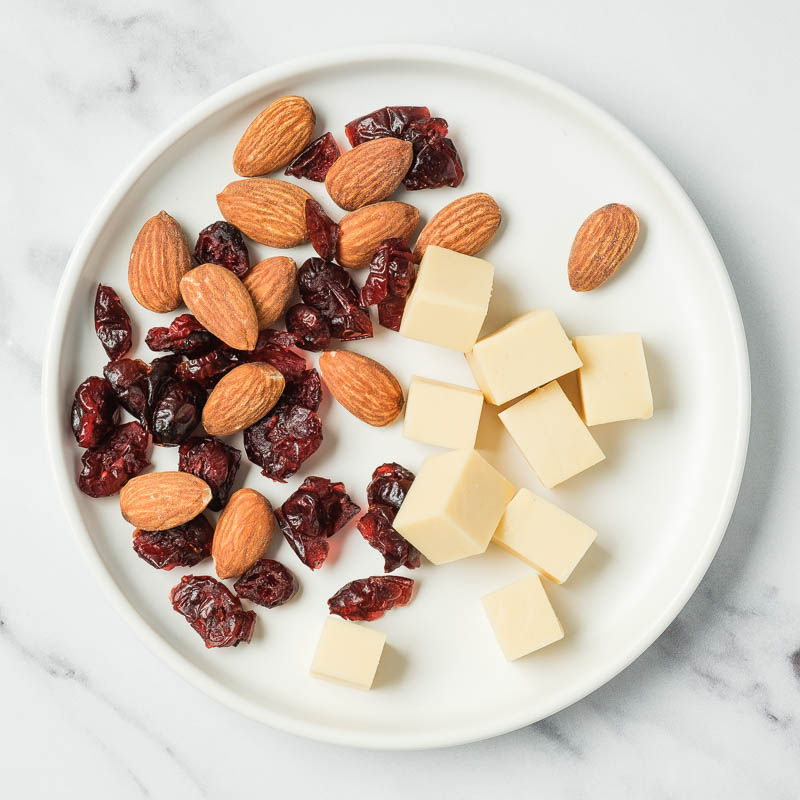 Hungryroot
11 Good Planet Foods Plant-Based Gouda Snack Pack
Vegan gouda, salted almonds, and dried cranberries make for the perfect flavor combination of salty and sweet. Ideal for kids' lunch boxes and on-the-go car treats, these snack boxes are also packed with protein.
Get it here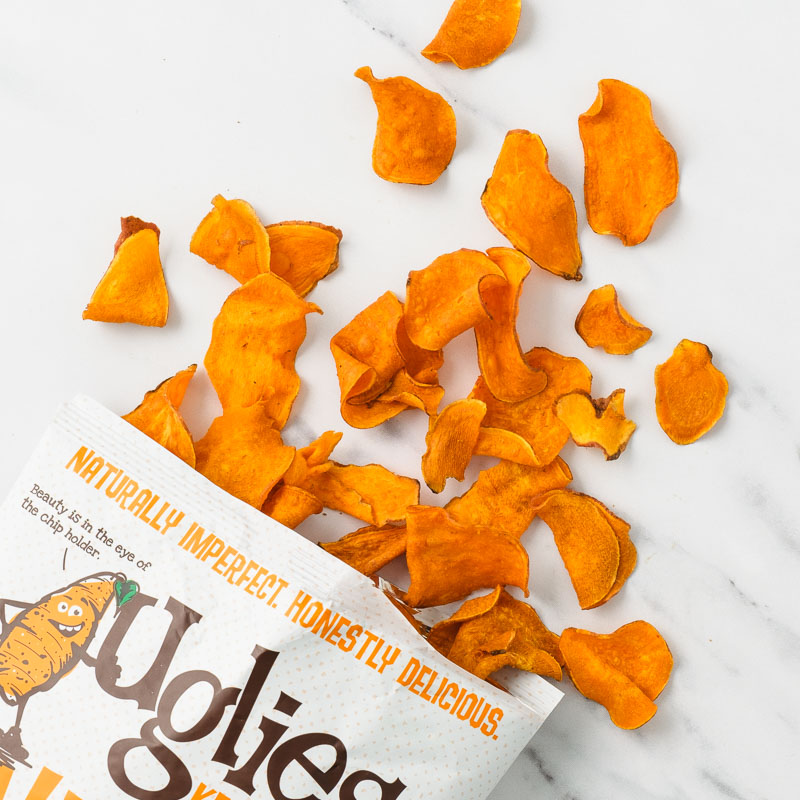 Uglies
12 Uglies Sweet Potato Chips
These sweet potato chips are crispy, crunchy, and incredibly addictive. But they're also good for the planet, because they're made with imperfect sweet potatoes. It's a total win-win.
Get it here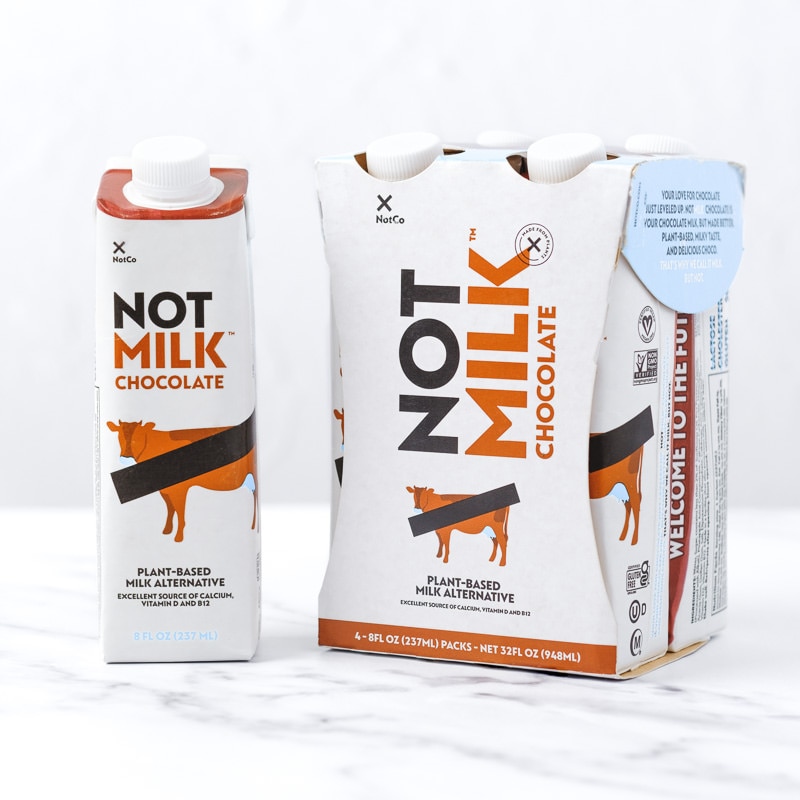 Hungryroot
13 Notco Not Chocolate Milk
Chocolate milk is the ultimate nostalgic treat. It's creamy, it's rich, it's sweet, but unfortunately, it's usually made with dairy. But times are changing. Get all the flavors you love, without cow's milk, in these cartons of Not Chocolate Milk from Notco.
Get it here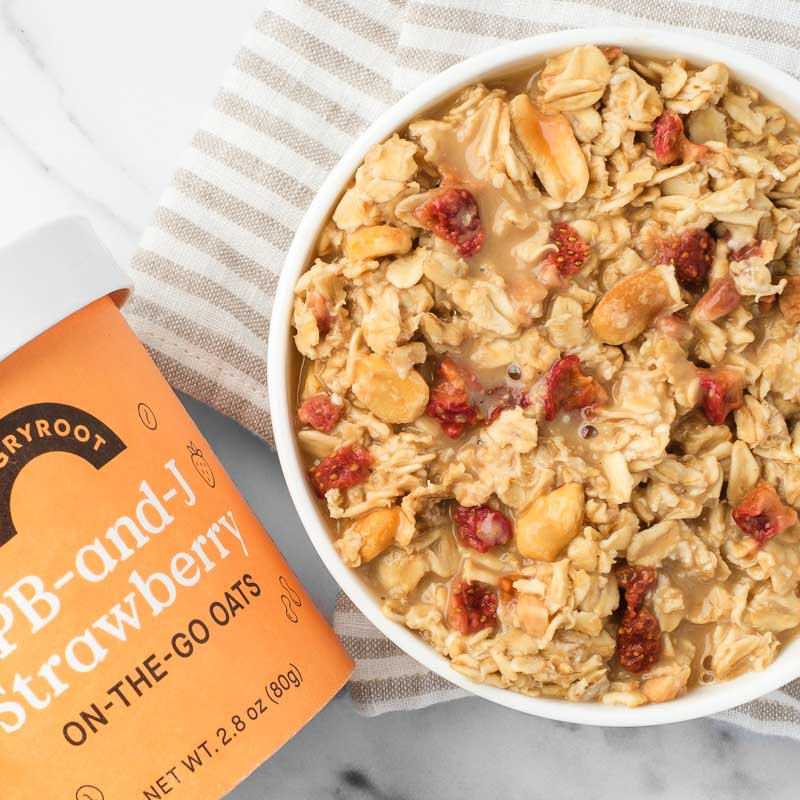 Hungryroot
14 PB-and-J Strawberry Oats
Breakfast time just got an upgrade. These rolled oats are tossed with an ultra-delicious mix of peanut butter, coconut sugar, and dried strawberries. Nutritious and tasty is the best way to start the day.
Get it here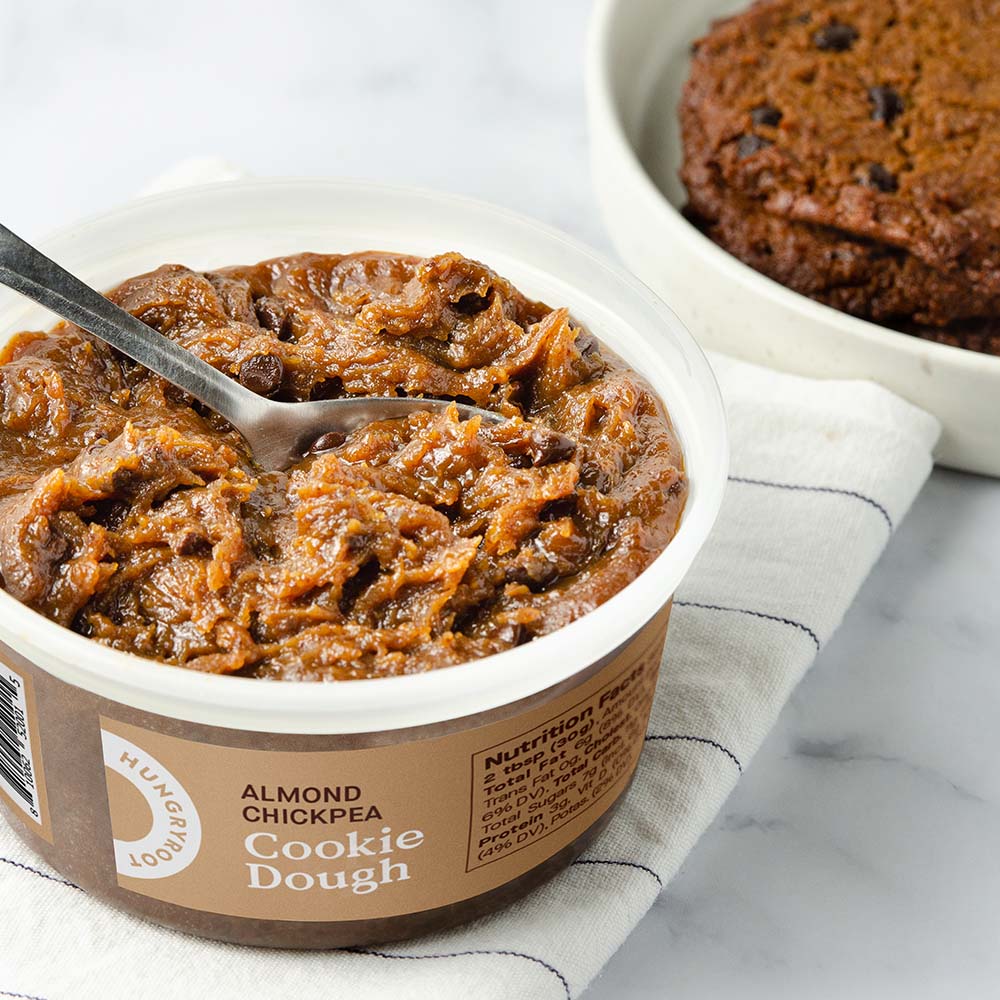 Hungryroot
15 Almond Chickpea Cookie Dough
You know those days when you just want to sit on the couch eating cookie dough and watching trash TV? Yeah, us too. That's why we're so glad this egg-free, sweet, gooey almond chickpea cookie dough exists. Thank you, Hungryroot.
Get it here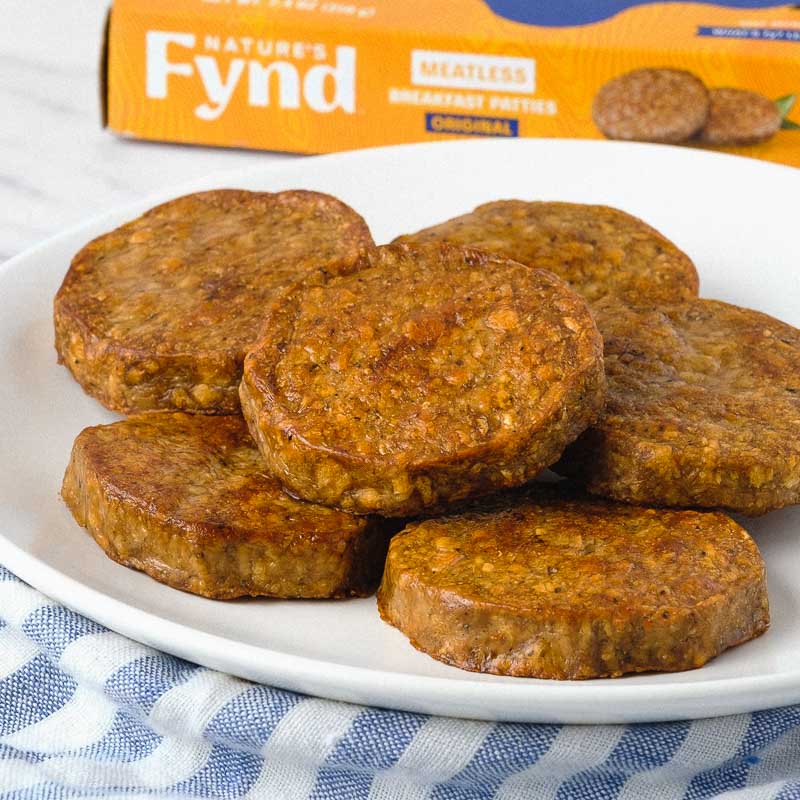 Hungryroot
16 Nature's Fynd Meatless Breakfast Patties
They're meaty, satisfying, and protein-packed, but they're not made with meat. Instead, they're made with a fungi protein called Fy (not that you'd be able to tell the difference). Eat them in the morning, in an English muffin, with a tofu egg patty. It's the breakfast of dreams.
Get it here
For more on vegan grocery shopping, read:
Here at VegNews, we live and breathe the vegan lifestyle, and only recommend products we feel make our lives amazing. Occasionally, articles may include shopping links where we might earn a small commission. In no way does this effect the editorial integrity of VegNews.