The summer months might be drawing to a close, but it's not over yet. And before the fall hits, you need to make this tasty, spicy potato salad by Rachael Ray. It's quick to make, and arguably tastes best when enjoyed outside in the sunshine, preferably with loved ones, and maybe with a glass of sparkling mineral water, or if you fancy something a little stronger, a glass of chilled white wine. And the best part? It's vegan-friendly.
Rachael Ray loves vegan food
Ray is a popular celebrity chef and, while not vegan, she is a supporter of plant-based food. In fact, earlier this year she told Tasting Table that, together with her husband John Cusimano, she follows a flexitarian diet and "eats more plant-based than people would imagine."
Last year, she even headed the first-ever Chefs Council in New York City and helped to bring more scratch-cooked, plant-based, and culturally relevant recipes to schools across the city. Back in the spring, she joined Meati's Culinary Collective, creating 10 recipes for the Colorado-based vegan brand.
But not all of Ray's plant-based recipes involve vegan meat. Find out how to make her tasty, animal-free, and deliciously spicy potato salad below.
Jeff Lipsky
How to make Rachael Ray's potato salad
Published on the Food Network, Ray's potato salad has a little more heat than you might be used to in this simple, tasty side dish, and that's all thanks to the hot peppers. According to the chef, you can add any kind of spicy pepper you like. "Jalapeños, hot pepper rings, hot cherry peppers, your choice," she notes.
While most traditional potato salad recipes don't involve spice, this adds an extra kick of flavor to the classic dish—just make sure you warn people before they tuck in if you've made it extra spicy, particularly those who like to keep things on the mild side (and keep the drinks flowing!).
"For spicy food lovers, Ray's added ingredients make perfect sense," Tasting Table notes. "After all, potatoes have a mild, earthy taste on their own, so they serve as the ideal base for more robust flavors, whether you're opting for the spicy or herbaceous."
The chef recommends using baby Yukon gold peppers, as well as red bell peppers, scallions, hot pepper juice, wine vinegar, and olive oil. Notice the absence of mayonnaise and eggs, which are not vegan-friendly, but often found in potato salad recipes. This means that all of your loved ones can enjoy this flavorful recipe, regardless of dietary choices.
You can find a link to Ray's full recipe here, and if you're in need of more vegan potato salad recipe inspiration, we've also got you covered. Check out some of our favorites below.
5 more vegan potato salad recipes to try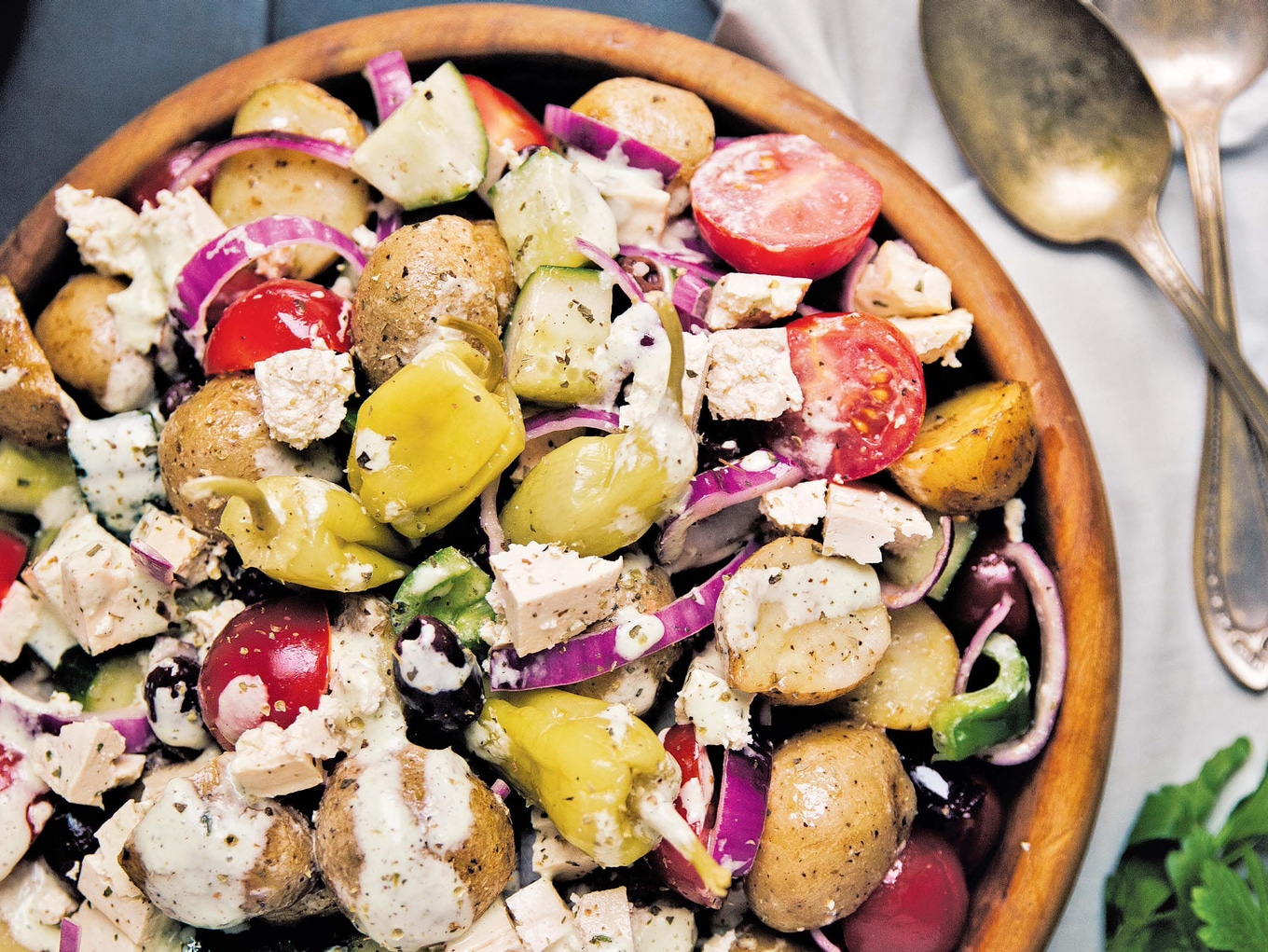 Lauren Toyota
1 Greek Potato Feta Salad
This tasty recipe combines two favorite salads in one: Greek and potato. Perfect for a late summer barbecue, cookout, or picnic, it involves mixing together small red potatoes, tofu feta (made with vegan milk and extra-firm tofu), and creamy cucumber dressing. It's simple to make and bursting with flavor.
Get the recipe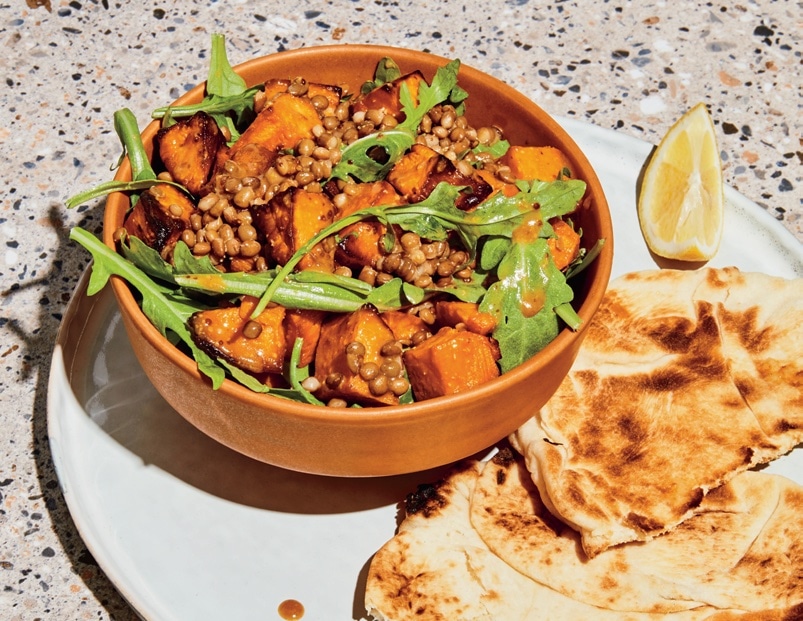 2 Warm Lentil, Sweet Potato, and Arugula Salad
Not all salads have to be cold, in fact, sometimes they're even better when they're served warm, as this nourishing recipe demonstrates. Instead of red potatoes, it features sweet potatoes, which are combined with leafy greens and lentils for a tangy, salty, nutritious lunchtime meal.
Get the recipe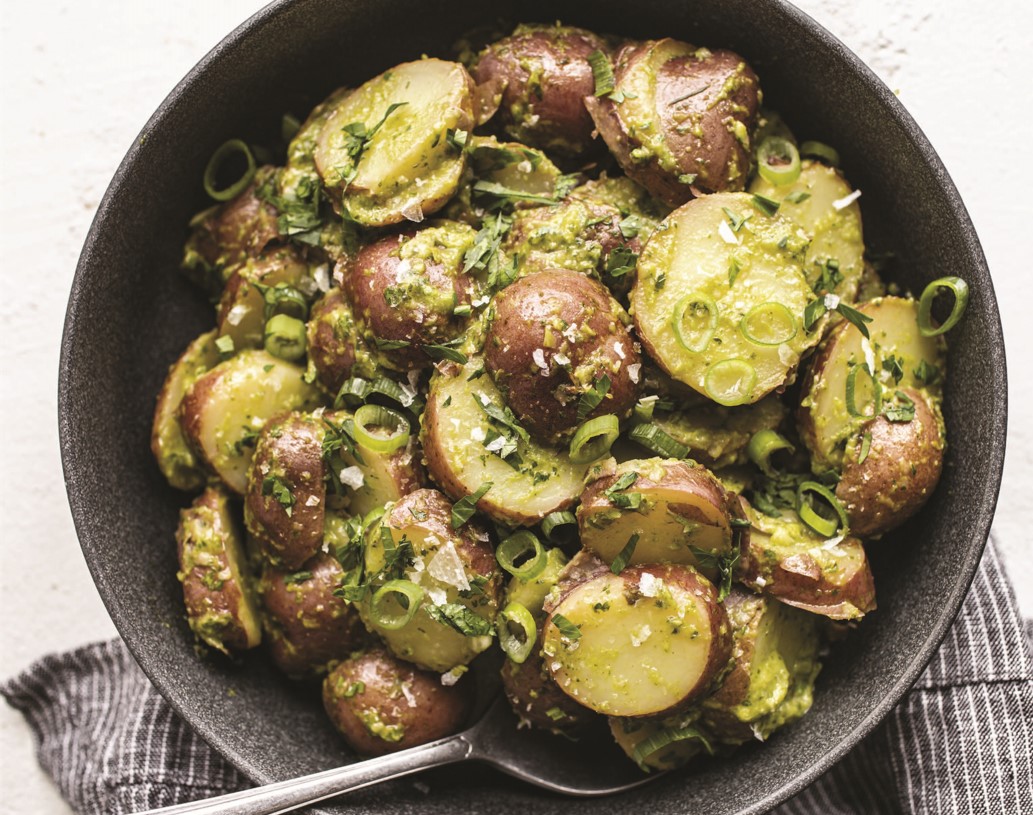 Ashley McLaughlin
3 Simple Herbed Potato Salad
If you prefer to keep things simple, you can't wrong with this potato salad recipe, which combines small red potatoes with fresh, flavorful ingredients like parsley, garlic, and sliced scallions. For a little bit of extra flavor, consider adding some vegan bacon bits or some crunchy croutons.
Get the recipe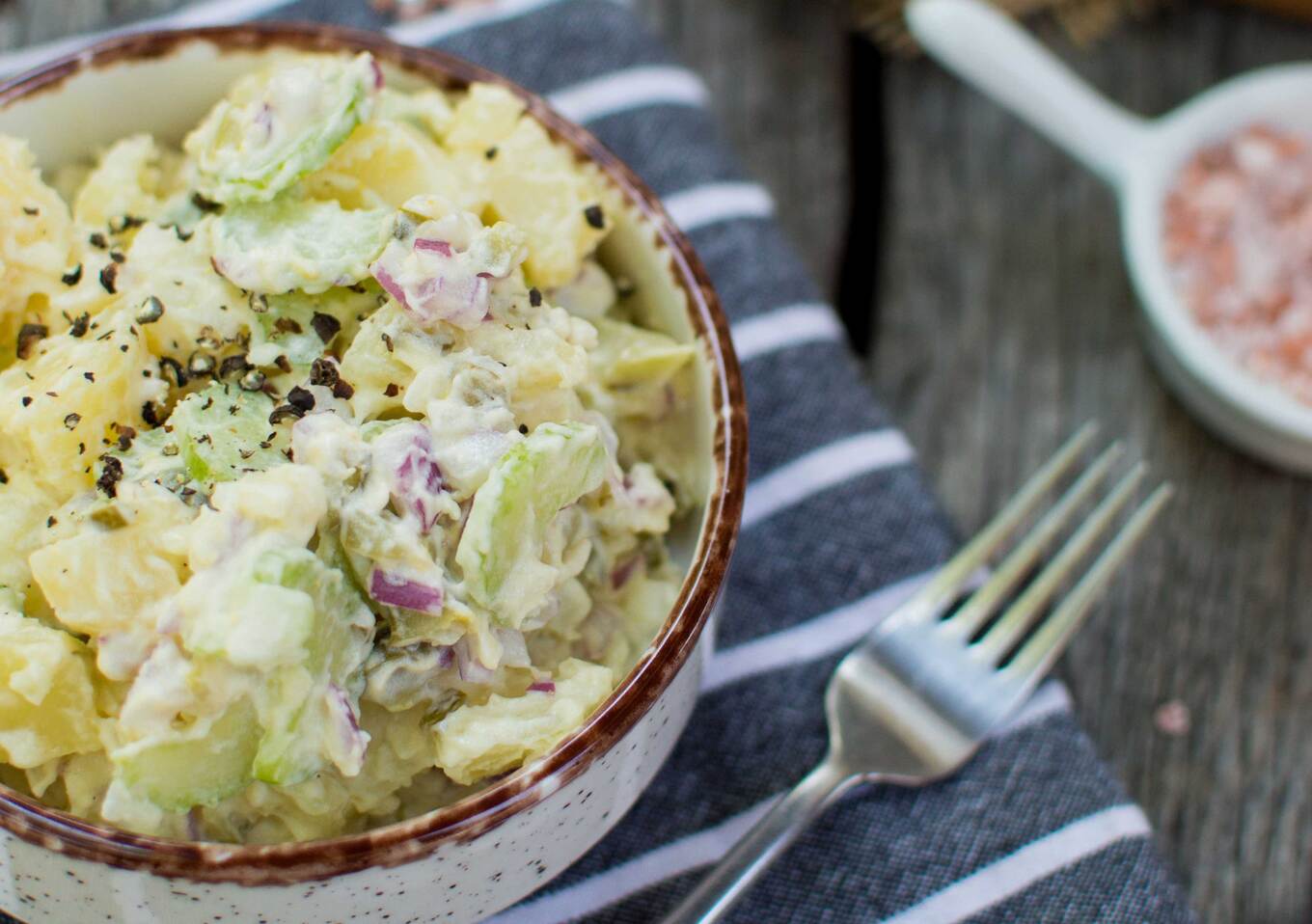 Zhoro Apostolov and Michelle Cehn
4 Picnic Potato Salad
As the name suggests, this recipe is perfect for a late summer picnic in the park or on the beach. It takes just 20 minutes to whip up, and involves only six ingredients, including creamy vegan mayonnaise, large Russet potatoes, dill pickle (for a little tang), and mustard. If you're craving a bit more, chopped olives take this easy dish to the next level.
Get the recipe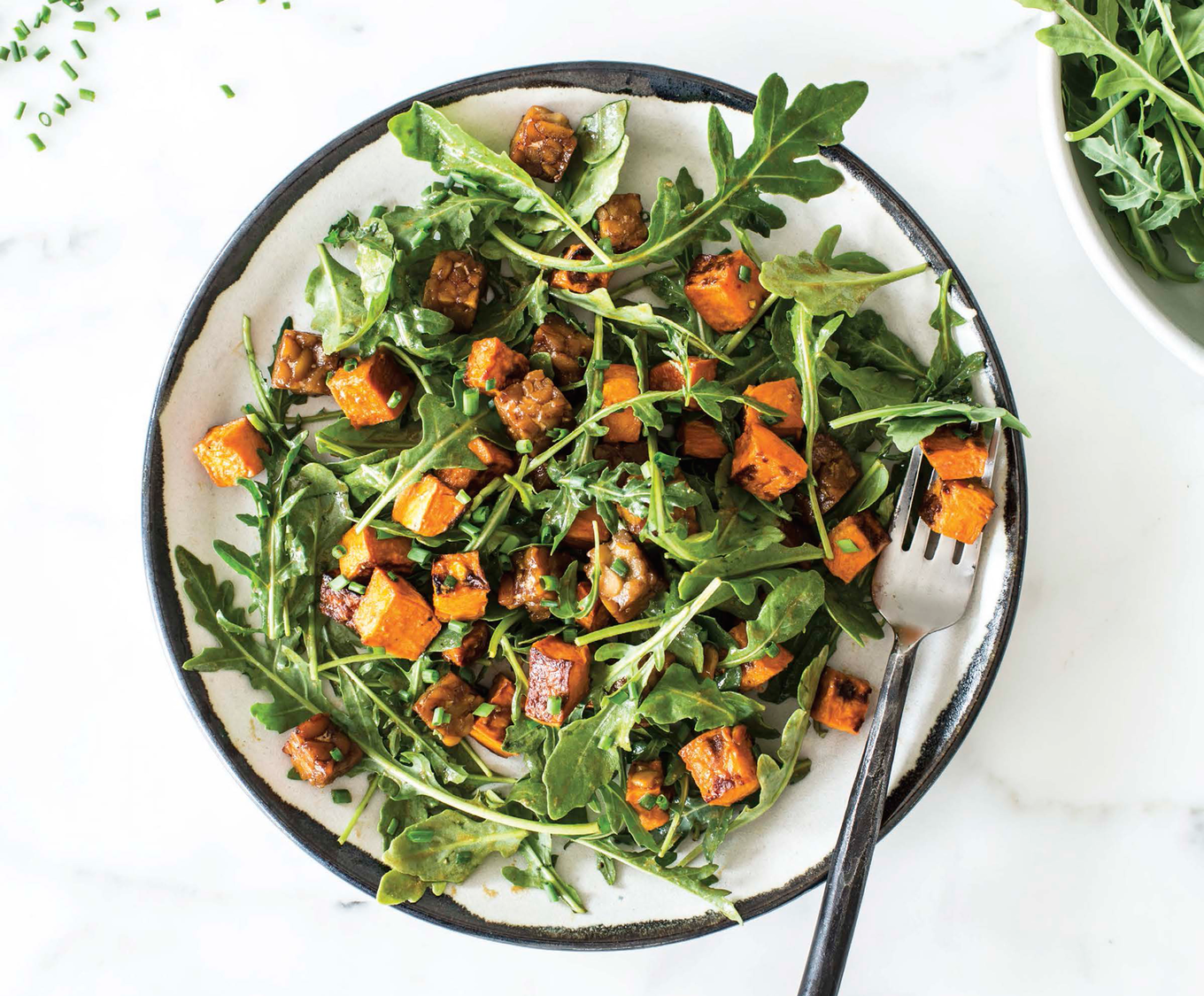 Gena Hamshaw
5 Sweet Potato Salad With Tempeh
Again, if you want extra vitamins and minerals (and flavor!), you can't go wrong by swapping out red or Russett potatoes for sweet potatoes instead, just like in this recipe. Tempeh gives this dish an extra kick of vegan protein, but it's the maple mustard dressing that is the real show-stealer.
Get the recipe
For more late summer recipes, read: